Management and Impact of Electronic Commerce in Hotels in Tabasco
Rosa del Carmen SÁNCHEZ TRINIDAD

Popular University of Chontalpa de Tabasco, México

Rocío del Carmen CASTILLO MÉNDEZ

Popular University of Chontalpa de Tabasco, México

Raymundo MARQUEZ AMARO

Popular University of Chontalpa de Tabasco, México

Antonio AGUIRRE ANDRADE

Popular University of Chontalpa de Tabasco, México

Samantha SÁNCHEZ CRUZ

Popular University of Chontalpa de Tabasco, México

Adriana del Carmen SÁNCHEZ TRINIDAD

Popular University of Chontalpa de Tabasco, México

Wilber DE DIOS DOMINGUEZ

Popular University of Chontalpa de Tabasco, México
Abstract
The research work meets viable characteristics and conditions for carrying out this study, since its development consists of observing the management and impact of electronic commerce in the services provided in the selected companies. This implies, in principle, carrying out a series of on-site visits to the hotels with the aim of interviewing those responsible for the reservations departments and any other area that sells a service through this channel.
References
[1] Fernández-Portillo, A., Sánchez-Escobedo, M., Hernández-Mogollón, R. and Jiménez- Naranjo, H. 2015. La importancia de la innovación en el comercio electrónico. Available at: https://ubr.universia.net/article/view/1528/importancia-la-innovacion-el-comercio-electronico
[2] Ferrer-Gomila J., Huguet-Rotger, L. and Payeras-Capella, M. 2016. Sistemas de pago electrónicos. Barcelona: Universidad Oberta de Catalunya.
[3] Fuentes-Moraleda, L., Figueroa-Domecq, C. and Bendrao-Balthasar, M. 2003. La distribución electrónica de productos hoteleros: la importancia de los canales basados en internet.
[4] Gomes-de-Moraes, A. 2009. El uso de Internet en la comunicación con los clientes. La atención on-line en los hoteles de Florianópolis (Santa Catarina - Brasil). Estudios y Perspectivas en Turismo, 18: 123-143.
[5] Guerrero-Gonzalez, P.E and Ramos-Mendoza, J.R 2014. Introduccion a turismo. Mexico: Grupo Editorial Patria.
[6] Héctor J. G. S. 2004. Tesis de grado: Seguridad en el comercio electrónico: Bogotá, D. C.: Pontificia Universidad Javeriana Facultad de Derecho. Hernández-Sampieri, R., Fernández-Collado, C. y Baptista-Lucio, P. (2010) Metodología de la investigación. México: McGraw-Hill Interamericana Informe Tecnocom sobre Tendencias en medios de pagos. (2015). Madrid.
[7] Instituto Nacional de Estadística y Geografía [INEGI]. 2016. Anuario estadístico y geográfico de tabasco 2016. México.
[8] J-Vallegos, S. 2010. Tesis de licenciatura en sistemas de información corriente: Comercio Electrónico: Argentina: Universidad Nacional del Nordeste.
[9] Kaba, I. 2008. Elementos básicos del comercio electrónico. Ciudad de la Habana: Editorial Universitaria.
[10] Kotler, P. and Armstrong, G. 2003. Fundamentos de marketing. México: Prentice Hall México.
[11] Kotler, P., Kartajaya, H. and Setiawan, I. 2010. Marketing 3.0. Madrid, Españana: LID Editorial.
[12] Marchant, I. 2010. Comscore: Retail y comportamiento del consumidor online.
[13] Martín-Moreno, M. and Sáez, F. 2004. Aplicaciones y abusos de Internet como canal de comunicación del comercio electrónico.
[14] Meyer, S. 2011. Tesis de magister en dirección de empresas: Factores de satisfacción de clientes en el E-commerce en Argentina. Córdoba: Universidad Católica de Córdoba.
[15] Navarro, C., Rodriguez-Abella, R., Dalle-Pezze, F. and Miotti, R. 2004. La comunicación especializada. Italia: Peter Lang AG.
[16] Neilson, J. 2009. Comercio electrónico. Córdoba, AR: El Cid Editor
[17] Nicolau, J. 2010. La distribución de los productos turísticos. Available at: https://rua.ua.es/dspace/bitstream/10045/16114/9/Tema_209.pdf
[18] Pentratonio, S. 2009. Análisis del impacto económico de las agencias de viajes emisivas tradicionales en Argentina en el escenario contextual actual.
[19] Plaza, T. and Auquilla, C. 2013. Tesis de ingeniería en turismo: Análisis de los portales Web de los hoteles boutique en la ciudad de cuenca. Ecuador: Universidad de Cuenca.
[20] Puetate Puetate, G. C. 2013. Tesis de ingeniería en Comercio Exterior y Negociación Comercial Internacional: El Comercio Electrónico y las PYMEs en la ciudad de Tulcán: Ecuador: Universidad Politécnica Estatal del Carchi.
[21] Relaño, A. 2011. Consumidores digitales, un nuevo interlocutor.
[22] Rodríguez, G., Gil Flores, J. and García Jiménez, E. 1996. Metodología de la investigación cualitativa. Málaga: España.
[23] Rodríguez-Vázquez, C., Juanate-Bogas, O. and De la Torre-Álvarez, J. 2014. Adaptación del modelo de negocio de las agencias de viajes a las TICS.
[24] Santander Sepúlvedad, L. R. 2002. Tesis de ingeniero civil en informática: Diseño e implementación de un sistema de reserva y venta de entradas en línea para eventos artístico/culturales utilizando comercio electrónico. Chile: Valdivia.
[25] Santomá, J. 2004. Medios de pagos electrónicos hacia la desintermediación bancaria.

[26] Serje, S. 2006. Tesis doctoral: Evaluación de los Sitios Web de los Hoteles e Implicaciones para la Gestión de Marketing Hotelero: Brasil: Universidad de las Illes Balears.
[27] Centro de Computación Profesional de México [CCPM] (2001). Comercio Electrónico. México: McGraw-Hill.
[28] Grupo Yacord Servicios Contables, S.A. de C.V. 2017 Forma de pago vs. método de pago en tus CFDI. Available at: http://iofacturo.mx/tips-sobre-facturacion-electronica/forma-de-pago-vs-metodo-de-pago-en-tus-cfdi
[29] MD, Marketing Digital 2015. Marketing Digital. Available at: http://www.mdmarketingdigital.com/que-es-el-marketing-digital.php
[30] Observatorio Regional de la Sociedad de la Información de Castilla y León [ORSI]. 2012. Marketing Digital para Pymes. España.
[31] Organización Mundial del Turismo. 1998. Introducción al turismo. España: OMC Parra-López E., Navarro-Melchior M. y Ramos-Dominguez A. (2003). Análisis e impacto de los touroperadores y las agencias de viaje en el transporte turístico: nuevas tendencias en Canarias.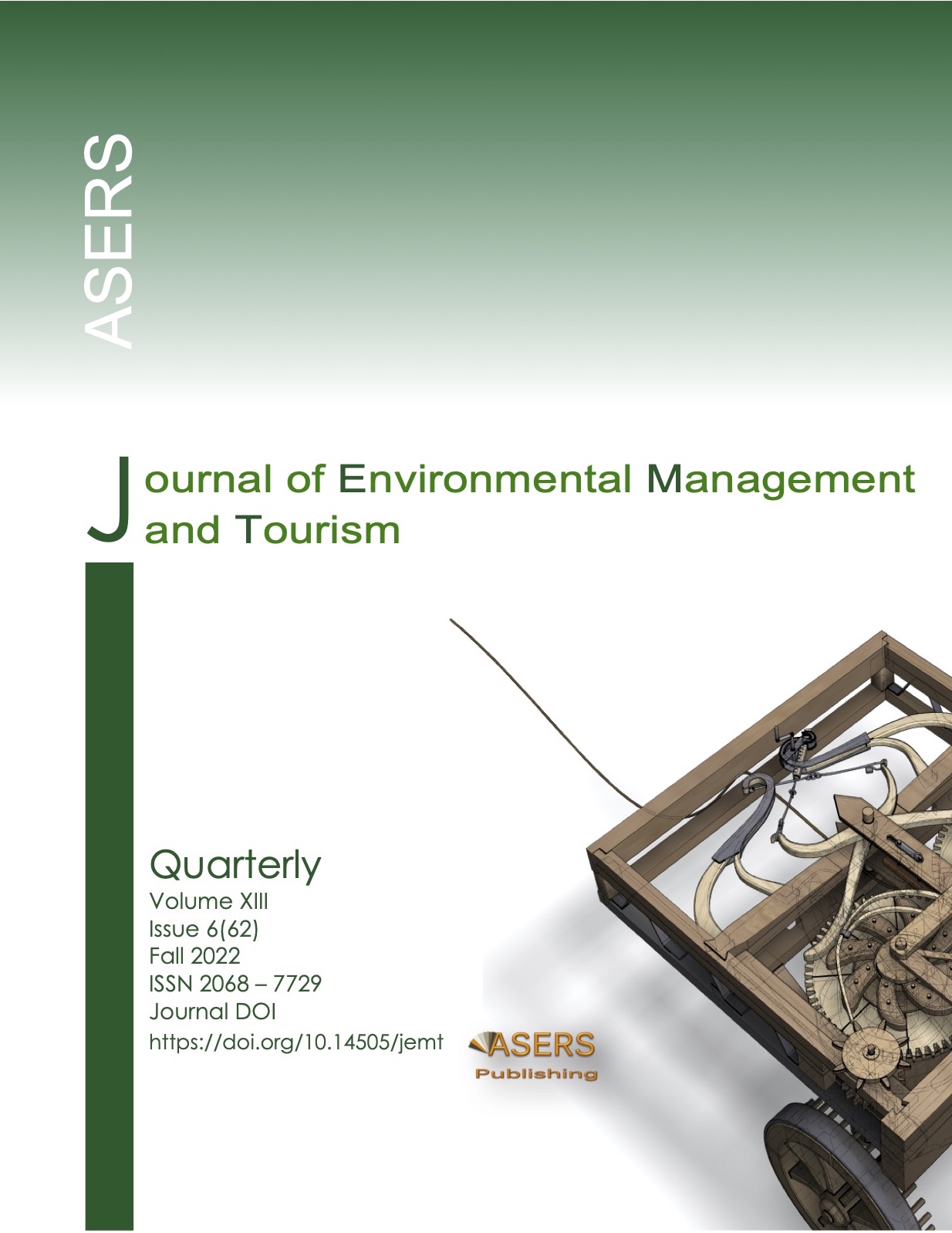 How to Cite
SÁNCHEZ TRINIDAD, Rosa del Carmen et al. Management and Impact of Electronic Commerce in Hotels in Tabasco.
Journal of Environmental Management and Tourism
, [S.l.], v. 13, n. 6, p. 1770-1778, sep. 2022. ISSN 2068-7729. Available at: <
https://journals.aserspublishing.eu/jemt/article/view/7288
>. Date accessed: 05 dec. 2022.
The Copyright Transfer Form to ASERS Publishing (The Publisher)
This form refers to the manuscript, which an author(s) was accepted for publication and was signed by all the authors.
The undersigned Author(s) of the above-mentioned Paper here transfer any and all copyright-rights in and to The Paper to The Publisher. The Author(s) warrants that The Paper is based on their original work and that the undersigned has the power and authority to make and execute this assignment. It is the author's responsibility to obtain written permission to quote material that has been previously published in any form. The Publisher recognizes the retained rights noted below and grants to the above authors and employers for whom the work performed royalty-free permission to reuse their materials below. Authors may reuse all or portions of the above Paper in other works, excepting the publication of the paper in the same form. Authors may reproduce or authorize others to reproduce the above Paper for the Author's personal use or for internal company use, provided that the source and The Publisher copyright notice are mentioned, that the copies are not used in any way that implies The Publisher endorsement of a product or service of an employer, and that the copies are not offered for sale as such. Authors are permitted to grant third party requests for reprinting, republishing or other types of reuse. The Authors may make limited distribution of all or portions of the above Paper prior to publication if they inform The Publisher of the nature and extent of such limited distribution prior there to. Authors retain all proprietary rights in any process, procedure, or article of manufacture described in The Paper. This agreement becomes null and void if and only if the above paper is not accepted and published by The Publisher, or is with drawn by the author(s) before acceptance by the Publisher.