Cloud Gaming: An Antipandemic Case for Restaurants
Liudmyla BOVSH

Kyiv National University of Trade and Economics, Ukraine

Inna LEVYTSKA

National University of Life and Environmental Sciences of Ukraine, Ukraine

Larysa HOPKALO

National University of Life and Environmental Sciences of Ukraine, Ukraine

Alla RASULOVA

Kyiv National University of Trade and Economics, Ukraine

Kateryna KOMPANETS

Kyiv National University of Trade and Economics, Ukraine
Abstract
The study covers a review and testing of solutions for gamification of the restaurant business, which in a pandemic lockdown makes information services attractive to consumers. An architectural composition of gaming client environment of the restaurant was built. A priori probabilities of increasing consumer loyalty to the restaurant entity, which attracts its own server platform, complementing it with cloud gaming, have been determined.
References
[1] Basyuk, D. et al. 2020. Optimization of the menu for institutions of restaurant industry based on mathematical modelling methods. Intellectual Economics, 14(1): 130-143. Available at: https://ojs.mruni.eu/ojs/intellectual-economics/article/view/5714
[2] Bonnstetter, B.J. and Suiter, J.I. 2011. Universal Language DISC. Reference Manual (14th edition). - рр. 41, 339-342., TTI International.
[3] Bosovska, M. et al. 2022. Digital distribution of hospitality services in the context of the COVID-19 pandemic. Tourism and Travelling, 3(1): 34 - 44. DOI: 10.21511/tt.3(1).2022.05
[4] Bramandita, B. 2020. Managing Digital Organization in Restaurant Company during Corona Outbreak. SSRN Electronic Journal.
[5] Butt, H. S., Jalil, S., Umair, S. and Khan, S.S. 2019. "Mobile Cloud Gaming and Today's World." In Cloud Security: Concepts, Methodologies, Tools, and Applications. edited by Management Association, Information Resources, 1346-1359. Hershey, PA: IGI Global, 2019. DOI: https://doi.org/10.4018/978-1-5225-8176-5.ch068
[6] Carrascosa, M. and Bellalta, B. 2022. Cloud-gaming: Analysis of Google Stadia traffic. Computer Communications, 188: 99-116. DOI: doi.org/10.1016/j.comcom.2022.03.006
[7] Gavrichenkov, I. 2019. Popularity of cloud gaming will grow six times over the next five years. 24.05.2019. Available at: https://3dnews.ru/988016
[8] Gianvecchio, S. Wu, Z. Xie, M. and Wang, H. 2009. Battle of botcraft: Fighting bots in online games with human observational proofs. Computer and Communications Security, pp.256–268. USA.
[9] Hu, J. and Zambetta, F. 2008. Security issue sin massive online games. Security and Communication Networks, 1(2008): 83–92.
[10] Kang, A.R. Woo, J. Park, J. and Kim, H.K. 2013. Online game bot detection based on party-play log analysis. Computers & Mathematics with Applications, 65(9): 1384-1395. DOI:https://doi.org/10.1016/j.camwa.2012.01.034
[11] Kelly, J.N. 2004. Playtime: an overview of the MMORPGgenre. Available at: http://www.anthemion.org
[12] Lavrenchuk, C. and Tovstenyuk, B. 2020. Information chatbot for Telegram messaging service in the field of education. Computer-integrated technologies: education, science, production, 41: 180–185.
[13] Leung, X. Y. and Wen, H. 2020. Chatbot usage in restaurant takeout orders: A comparison study of three ordering methods. Journal of Hospitality and Tourism Management, 45: 377–386.
[14] Makrinova, E.I. and Matuzenko, E.V. 2020. Chat bot as a modern digital technology of advertising communications and business promotion. Herald of the Belgorod University of Cooperation, Economics and Law, 5(84): 187–195. DOI: https://doi.org/10.21295/2223-5639-2020-5-187-195
[15] McCallum‐Stewart, E. 2015. Online Games, Player Behavior. The International Encyclopedia of Digital Communication and Society, pp. 1–8, Feb. 2015.
[16] Myths about 5G, cloud gaming and the corporation war. Available at: https://vc.ru/services/166553-mify-o-5g-oblachnom-geyminge-i-voyna-korporaciy-playkey-na-russian-creative-week
[17] Report on 2D-animation software for 2018-2025 in the global market and the US market, status and forecast by players, types and programs. Crystal Market Research. Available at: https://www.crystalmarketreport.com/2018-2025-2d-animation-software-report-on-global-and-united-states-market-status-and-forecast-by-players-types-and-applications
[18] Ryan, S., Liu, J., Ngai, E.C.-H. and Cui, Y. 2013. Cloud Gaming: Architecture and Performance. IEEE Network, рр. 16–21 July–August 2013.
[19] Shrivastava, P. and Damle, M. 2022. Investment decision in cloud gaming-based businesses opportunities: An analysis of the cloud gaming industry. 2022 International Conference on Decision Aid Sciences and Applications (DASA), pp. 1224-1228. DOI: 10.1109/DASA54658.2022.9765298
[20] Spindle, A. A. and Kushkov, E. A. 2019. Messengers and chat bots are impossible assistants in brand formation. Eurasian Union Scientists, 9(62): 39–43.
[21] Stuckey, B. 2020. Foodservice and Restaurant Trends Driving Innovation In 2020. Available at: https://www.forbes.com/sites/barbstuckey/2020/01/08/foodservice--restaurant-trends-drivinginnovation-in-2020/#162994fb2f8e
[22] Tsukruk, V. Development of game telegram-bot - Mode of access to the resource: http://ir.lib.vntu.edu.ua/bitstream/handle/123456789/29391/9344.pdf?Sequence=3
[23] Yan, J. 2009. Bot, cyborg and automated Turing test. Computer Science, рр. 190–197. England.
[24] Zadtootaghaj, S. 2022. Gaming Quality of Experience. Quality of Experience Modeling for Cloud Gaming Services (2022): 7–40. DOI: 10.1007/978-3-030-98249-2_2.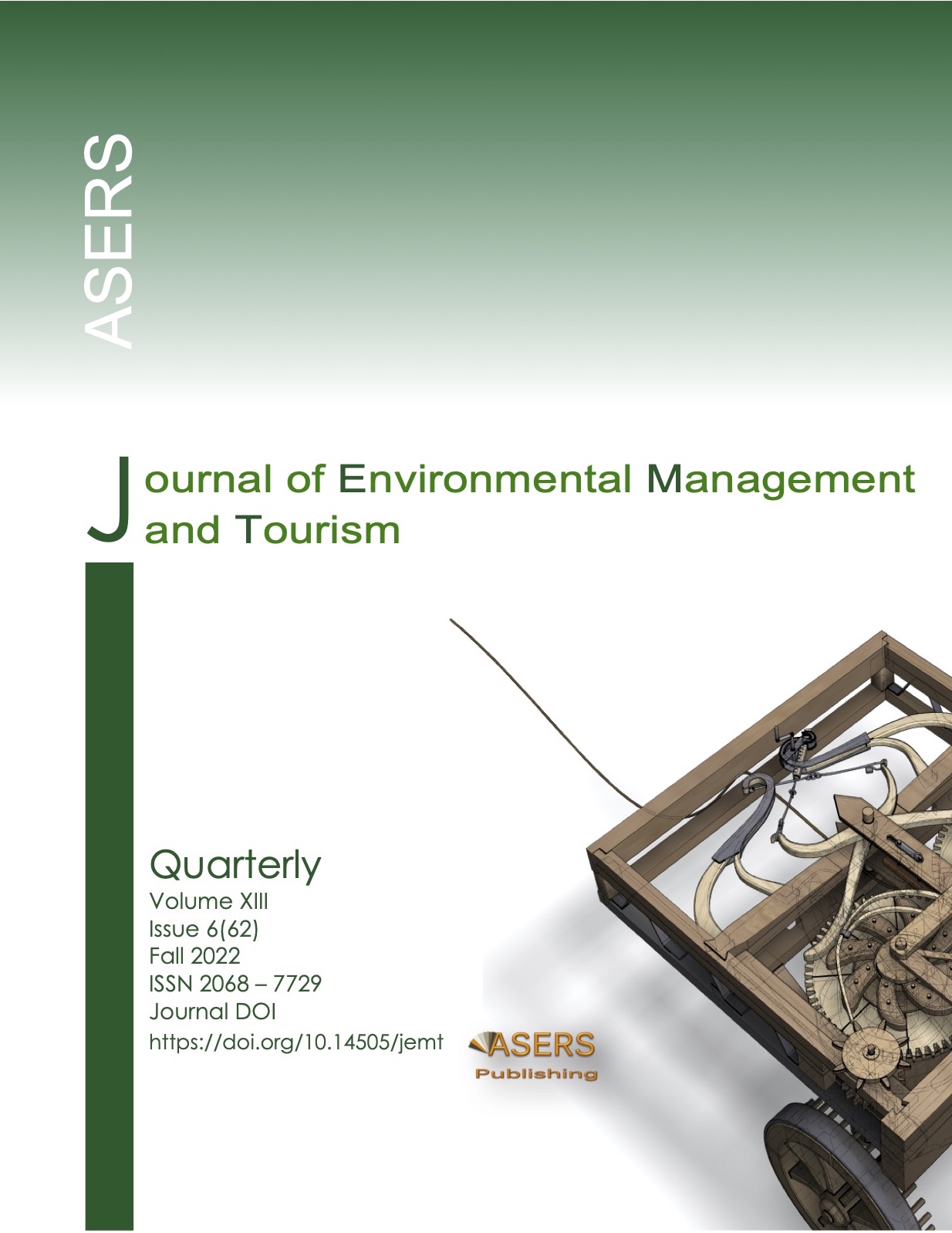 How to Cite
BOVSH, Liudmyla et al. Cloud Gaming: An Antipandemic Case for Restaurants.
Journal of Environmental Management and Tourism
, [S.l.], v. 13, n. 6, p. 1705-1711, sep. 2022. ISSN 2068-7729. Available at: <
https://journals.aserspublishing.eu/jemt/article/view/7282
>. Date accessed: 05 dec. 2022.
The Copyright Transfer Form to ASERS Publishing (The Publisher)
This form refers to the manuscript, which an author(s) was accepted for publication and was signed by all the authors.
The undersigned Author(s) of the above-mentioned Paper here transfer any and all copyright-rights in and to The Paper to The Publisher. The Author(s) warrants that The Paper is based on their original work and that the undersigned has the power and authority to make and execute this assignment. It is the author's responsibility to obtain written permission to quote material that has been previously published in any form. The Publisher recognizes the retained rights noted below and grants to the above authors and employers for whom the work performed royalty-free permission to reuse their materials below. Authors may reuse all or portions of the above Paper in other works, excepting the publication of the paper in the same form. Authors may reproduce or authorize others to reproduce the above Paper for the Author's personal use or for internal company use, provided that the source and The Publisher copyright notice are mentioned, that the copies are not used in any way that implies The Publisher endorsement of a product or service of an employer, and that the copies are not offered for sale as such. Authors are permitted to grant third party requests for reprinting, republishing or other types of reuse. The Authors may make limited distribution of all or portions of the above Paper prior to publication if they inform The Publisher of the nature and extent of such limited distribution prior there to. Authors retain all proprietary rights in any process, procedure, or article of manufacture described in The Paper. This agreement becomes null and void if and only if the above paper is not accepted and published by The Publisher, or is with drawn by the author(s) before acceptance by the Publisher.