National and European Actions for the Development of Rural Areas - Stimulus for Ensuring the Sustainability of Economic Development
Teodor Marian COJOCARU

West University of Timisoara, Romania

Ramona PÎRVU

University of Craiova, Romania

Sorin DINULESCU

University of Craiova, Romania

Lili ȚENEA

University of Craiova, Romania
Abstract
The policies of the European Union pursue a sustainable and balanced development of the territory of the Community, these aspects being found in the objectives of the UN Agenda for Sustainable Development 2030. Among these objectives are some in the field of agriculture and rural development such as: SDG 2: eradicating world hunger, EU agriculture ensures that food is produced sustainably for all EU citizens, and that EU food exports contribute to food security in third countries. EU rural development and agriculture policies also support other SDGs: SGD 1 (without poverty), DGS 8 (decent work and growth), SGD12 (responsible consumption and production) and SGD 15 (terrestrial life). The article analyses the National Rural Development Program that was created to support through non-reimbursable funds from the European Union and the Romanian Government the economic and social growth of rural areas in Romania, starting from the 6 priorities defined at the European Union level. Thus, we will study the rural development measures financed through the NRDP, in the period 2014-2020, with a total financial allocation of 9.333 billion euros, of which 8.015 billion euros from the EAFRD and 1.347 billion euros representing the national contribution. We will present these measures in detail, based on public data available in August 2021.
References
[1] Adam, W., Julian, K. and Paweł, C. 2021. Complementarity of the measures of the common agricultural policy and the cohesion policy for rural development between 2021 and 2027 in the light of programing documents (No. 916-2022-293, pp. 31-47).
[2] Avram, C., Pîrvu, G., Radu, R. C. and Gruescu, R. C., 2007. Romania and the demands of European integration. Alma.
[3] Biczkowski, M., Jezierska-Thöle, A. and Rudnicki, R., 2021. The impact of RDP measures on the diversification of agriculture and rural development—Seeking additional livelihoods: The case of Poland. Agriculture, 11(3): 253.
[4] Cowie, P., Townsend, L. and Salemink, K. 2020. Smart rural futures: Will rural areas be left behind in the 4th industrial revolution? Journal of rural studies, 79: 169-176.
[5] Dăianu, D., Fugaru, A., Mihailovici, G. and Volintiru, C. 2019. Multiannual Financial Framework post-2020: risks and opportunities for Romania, SPOS Strategy and Policy Studies 2018. Available at: http://ier.gov.ro/wp-content/uploads/2019/03/Final_Studiul-1_SPOS-2018_CFM.pdf
[6] Dinu, M., Pătărlăgeanu, S., R., Chiripuci, B. and Constantin, M. 2020. Accessing the European funds for agriculture and rural development in Romania for the 2014-2020 period. Proceedings of the International Conference on Business Excellence, 14 (1): 717-727. Available at: https://ideas.repec.org/a/vrs/poicbe/v14y2020i1p717-727n68.html
[7] Ferrari, A. et al. 2022. Drivers, barriers and impacts of digitalisation in rural areas from the viewpoint of experts. Information and Software Technology, 106816.
[8] Keim-Klärner, S. et al. 2021. Analyzing social disadvantage in rural peripheries in Czechia and Eastern Germany: Conceptual model and study design (No. 170). Thünen Working Paper.
[9] Komorowski, Ł., Mróz, A. and Stanny, M., 2021. The Spatial Pattern of the Absorption of Cohesion Policy Funds in Polish Rural Areas. Land, 10(1): 26.
[10] Lekhanya, L. M. 2018. The digitalisation of rural entrepreneurship. In Entrepreneurship-Trends and Challenges. IntechOpen.
[11] Long, Hualou, et al. 2022. Multifunctional rural development in China: Pattern, process and mechanism. Habitat International, 121: 102530.
[12] Nowack, W., Schmid, J. C. and Grethe, H., 2021. Social dimensions of multifunctional agriculture in Europe-towards an interdisciplinary framework. International Journal of Agricultural Sustainability, 1-16.
[13] Papadopoulos, A., G. 2017. EU Rural Development Policy: The Drive for Integration Policy. Policy Integration for Complex Environmental Problems: The Example of Mediterranean Desertification, 117
[14] Pîrvu, G., Lolescu, E., Pîrvu, R.C. and Tănasie, A., 2011. European Economy, Universitaria Publishing House.
[15] Rusu, A. 2021. The role of Local Action Groups in rural Romania in the period 2011-2021. Scientific Papers: Management, Economic Engineering in Agriculture & Rural Development, 21 (2): 551-554.
[16] Van der Ploeg, J., D. 2018. The new peasantries: rural development in times of globalization. Routledge. Available at: https://www.routledge.com/The-New-Peasantries-Rural-Development-in-Times-of-Globalization/Ploeg/p/book/9315
[17] Wasilewski, A., Krzyżanowski, J. and Chmieliński, P. 2021. Complementarity of The Measures of The Common Agricultural Policy and The Cohesion Policy for Rural Development Between 2021 and 2027.
[18] Yanbo, Q., Guanghui, J., Wenqiu, M. and Zitong, L. 2021. How does the rural settlement transition contribute to shaping sustainable rural development? Evidence from Shandong, China. Journal of Rural Studies, 82: 279-293.
[19] Zhang, X. and Zhang, Z. 2020. How do smart villages become a way to achieve sustainable development in rural areas? Smart village planning and practices in China. Sustainability, 12(24): 10510.
[20] European Commission, 2020. Commission Staff Working Document. Analysis of Links between CAP Reform and Green Deal. SWD/2020/0093. Brussels, Belgium. 2020.
[21] Ministry of Agriculture and Rural Development, 2021. Available at: https://www.madr.ro/pndr-2014-2020.html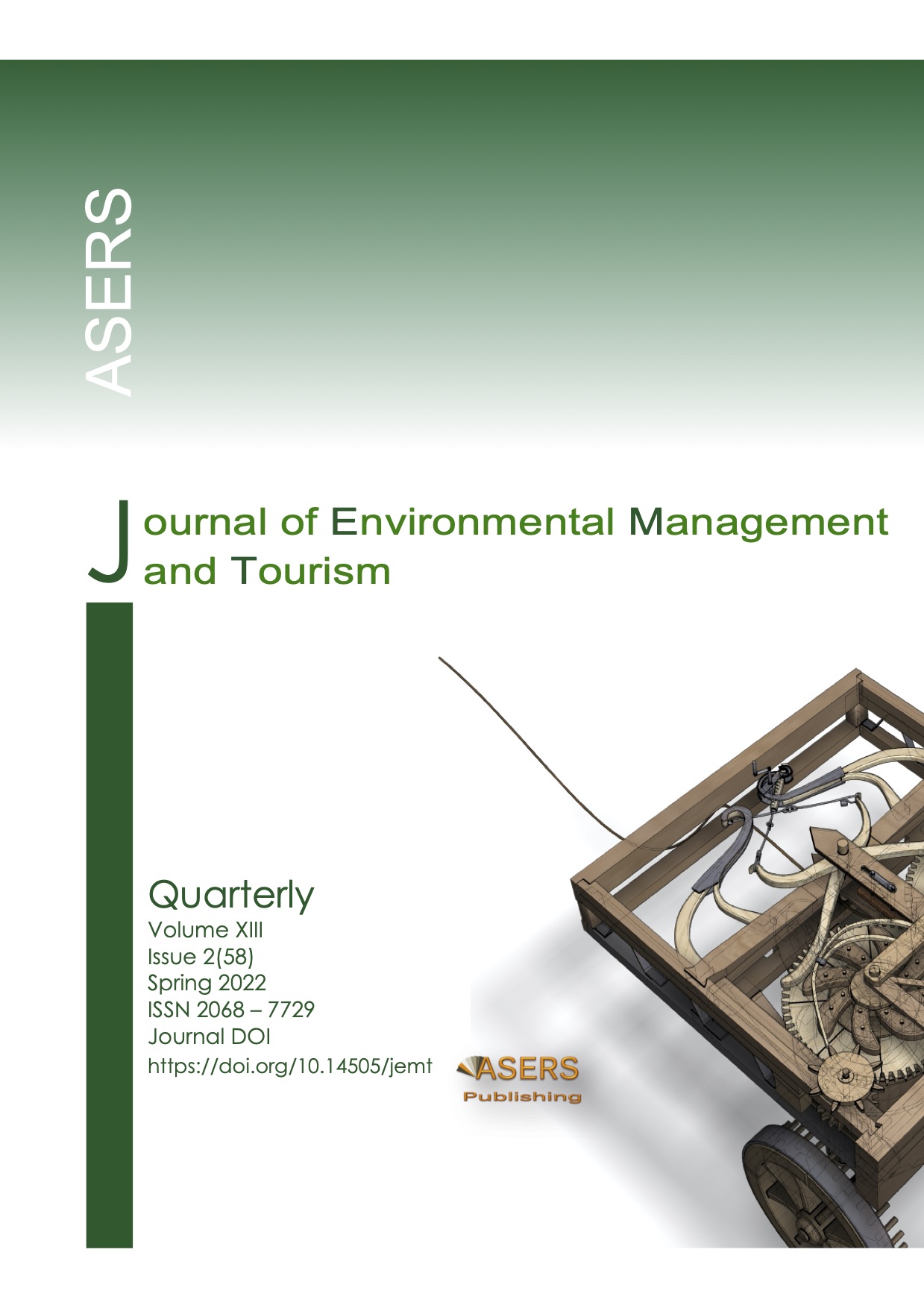 The Copyright Transfer Form to ASERS Publishing (The Publisher)
This form refers to the manuscript, which an author(s) was accepted for publication and was signed by all the authors.
The undersigned Author(s) of the above-mentioned Paper here transfer any and all copyright-rights in and to The Paper to The Publisher. The Author(s) warrants that The Paper is based on their original work and that the undersigned has the power and authority to make and execute this assignment. It is the author's responsibility to obtain written permission to quote material that has been previously published in any form. The Publisher recognizes the retained rights noted below and grants to the above authors and employers for whom the work performed royalty-free permission to reuse their materials below. Authors may reuse all or portions of the above Paper in other works, excepting the publication of the paper in the same form. Authors may reproduce or authorize others to reproduce the above Paper for the Author's personal use or for internal company use, provided that the source and The Publisher copyright notice are mentioned, that the copies are not used in any way that implies The Publisher endorsement of a product or service of an employer, and that the copies are not offered for sale as such. Authors are permitted to grant third party requests for reprinting, republishing or other types of reuse. The Authors may make limited distribution of all or portions of the above Paper prior to publication if they inform The Publisher of the nature and extent of such limited distribution prior there to. Authors retain all proprietary rights in any process, procedure, or article of manufacture described in The Paper. This agreement becomes null and void if and only if the above paper is not accepted and published by The Publisher, or is with drawn by the author(s) before acceptance by the Publisher.