Socio-Economic Consequences of the Transition to Organic Agriculture and Its Impact on Ecotourism
Rassul KARABASSOV

S. Seifullin Kazakh Agro Technical University, Kazakhstan

Kairat NURMAGANBETOV

S. Seifullin Kazakh Agro Technical University, Kazakhstan

Kairat BODAUKHAN

S. Seifullin Kazakh Agro Technical University, Kazakhstan

Aisulu KULMAGANBETOVA

S. Seifullin Kazakh Agro Technical University, Kazakhstan

Gulnar ORYNBEKOVA

S. Seifullin Kazakh Agro Technical University, Kazakhstan

Zhibek OMARKHANOVA

S. Seifullin Kazakh Agro Technical University, Kazakhstan zhynysova@mail.ru
Abstract
In recent decades, the growing interest of consumers in visiting relatively less commercialized natural areas has contributed to the growth of ecotourism. The impact of mass and uncontrolled ecotourism on natural resources has increased significantly. However, research in the field of ecotourism is fragmentary, creating gaps in the modern understanding of this topic. The author tries to restore the relationship between loyalty and ecological and careful recognition, attachment to places and healthy lifestyles that contribute to the development of ecotourism, because the integration of organic agrotourism and rural tourism, organic agriculture and non-toxic and healthy environment helps tourists to escape from the hustle and bustle of the city, enjoy rural life and meet the needs of healthy and a leisurely lifestyle. The aim of the study is to analyze the socio-economic consequences of the transition to organic agriculture in the Republic of Kazakhstan and its impact on ecotourism. With the growing interest and awareness of the ecological environment, ecotourism is becoming more and more popular, but it still creates problems for the sustainable development of the environment. To solve such problems, it is necessary to review the literature on ecotourism and identify important research topics and areas for future research.
References
[1] Agardi, M. T. 2018. Adapting ecotourism in multi-purpose planning of coastal and marine protected areas. Ocean Coastal Management, 20: 219-239. DOI: https://doi.org/10.1016/0964-5691(93)90068-A
[2] Ahmad, F., et al. 2018. Tourism and pollution: Evidence from Western China's Belt and Road (OBOR) provinces. Sustainability, 10(10): 3520. DOI: https://doi.org/10.3390/su10103520
[3] Blau, M. L., and Panagopoulos, T. 2022. Designing therapeutic destinations: a practical guide to eco-conscious tourism development. Grounds, 11: 1595. DOI: https://doi.org/10.3390/land11091595
[4] Chiu, Y.-T.H., Lee, W.-I., and Chen, T.-H. 2018. Environmentally responsible behavior in ecotourism: background and consequences. Tourism Management, 40: 321–329. DOI:https://doi.org/10.1016/j.tourman.2017.06.013
[5] Chu, H., and Jamal, T. 2019. Organic farm tourism in South Korea: A new form of ecotourism. Journal of Sustainable Tourism, 17 (4): 431-454. DOI: https://doi.org/10.1080/09669580802713440
[6] Cooper, M., Wafadari, K., and Hida, M. 2018. Current issues and emerging trends in health tourism. IGI Global: New York, NY, USA, 201pp. ISBN: 9781466685758. DOI:10.4018/978-1-4666-8574-1
[7] Han, J.-C., Lee, T. J., and Ryu, K. 2018. The promotion of health tourism products to domestic tourists. International. Journal Tourism Research, 20: 137-146. DOI: https://doi.org/10.1002/jtr.2161
[8] Hashemi, S. S., and Habibi, M. 2018. Zoning of ecotourism potentials. Case study: Sadeqabad, Bafg, Yazd. Journal of Tourism Planning and Development, 5(2): 41-50.
[9] Kim, H. D., Lee, T. J., and Ko, T. G. 2018. A comparative study of satisfaction and subjective well-being assessment of health tourism seekers: The case of Japanese and Korean tourists. Journal Tourist Tour Tagged, 33: 742-756. DOI: https://doi.org/10.1080/10548408.2016.1167392
[10] Lee, T. H., and Yang, F. H. 2019. Can community-based tourism contribute to sustainable development? Evidence from residents' perceptions of sustainability Tourism Management, 70: 368-380. DOI: https://doi.org/10.1016/j.tourman.2018.09.003
[11] Lukpanova, Z., Jumabekova, A., Mukushev, A., Mataibayeva, G., Kadrinov, M., Baimagambetova, Z. 2022. Environmental concerns associated with the development of the agro-industrial complex and analysis of its financing, Journal of Environmental Management and Tourism, 5 (61): 1396 – 1406. DOI: https://doi.org/10.14505/jemt.v13.5(61).15
[12] Marcis, J., Bortoluzzi, S.C., and de Lima, E.P. 2019. Sustainability performance evaluation of agricultural cooperatives' operations: A systemic review of the literature. Environment, Development and Sustainability 21(3):1111–1126. DOI: https://doi.org/10.1007/s10668-018-0095-1
[13] Oshkordina, A. A., Ohrimenko, E. I., and Goncharova, N. A. 2021. Organic agriculture as a factor in the development of rural tourism in the Sverdlovsk region. International Scientific and Practical Conference "Sustainable Development of Traditional and Organic Agriculture in the Concept of Green Economy" (SDGE 2021), 42: 420-427. DOI: https://doi.org/10.1051/bioconf/20224202015
[14] Phelan, A., Ruhanen, L., and Mair, J. 2020. An ecosystem-based approach to ecosystem services for community-based ecotourism: Towards a just and sustainable blue economy. Journal of Sustainable Tourism. 28: 1665-1685. DOI: https://doi.org/10.1080/09669582.2020.1747475
[15] Privitera, D. 2020. The importance of organic farming in rural tourism. Appl. Stad. Agrobus. Commercial, 4: 59-64. DOI: https://doi.org/10.19041/APSTRACT/2019/1-2/8
[16] Shang, F., and Zhu, W. 2022. Planning of ecological agricultural tourist attractions based on the concept of circular economy, Acta Agriculturae Scandinavica, 72(1): 538-552. DOI: https://doi.org/10.1080/09064710. 2021.2021278
[17] Shasha, Z. T., Geng, Y., Sun, H.-P., Musakwa, W., and Sun, L. 2020. Past, current and future perspectives of ecotourism: A bibliometric survey between 2001 and 2018. Environmental Science and Pollution Research, 27: 23514–23528. DOI: https://doi.org/10.1007/s11356-020-08584-9
[18] Sigalat-Signes, E., Calvo-Palomares, R., and Roig-Merino, B. 2020. Transition towards a tourist innovation model: The smart tourism destination: Reality or territorial marketing? Journal of Innovation & Knowledge, 5(2):96–104. DOI: https://doi.org/10.1016/j.jik.2019.06.002
[19] Sobhani, P., et al. 2022. Analyzing the relationship of local community participation in sustainable ecotourism development in protected areas. Iran, 11(10): 1871. DOI: https://doi.org/10.3390/land11101871
[20] Temirgaliyeva, Z., et al. 2021. Economic analysis and factors influencing the development of tourism. Journal of Environmental Management and Tourism, 12(8): 2109 – 2120. Available at: https://journals.aserspublishing.eu/jemt/article/view/6655
[21] Turekulova, D. et al. 2022 Analysis of sustainable development of SMEs and factors influencing to the ecotourism industry. Journal of Environmental Management and Tourism, 13(1): 211-222. DOI:https://journals.aserspublishing.eu/jemt/article/view/6824
[22] Turner, P. A. M., Ximenes, F. A., and Penman, T. D. 2019. Accounting for biodiversity in life cycle impact assessments of forestry and agricultural systems - the BioImpact metric. International Journal Life Cycle Assess, 24(11): 1985–2007. DOI: https://doi.org/10.1007/s11367-019-01627-5
[23] Xu, L., Ao, C., Liu, B., and Cai, Z. 2022. Ecotourism and sustainable development: A scientometric review of global research trends. Environment, 25: 1-27. DOI: https://doi.org/10.1007/s10668-022-02190-0
[24] Xu, L., et al. 2020. What is more important, environmental protection or recreational service? Data from a selection experiment in Wetland Nature Resource Management. Wetlands, 40: 2381–2396. DOI:https://doi.org/10.1007/s13157-020-01348-8
[25] Yee, J. H., Lok, H. H., and Poh, Y. L. 2021. Socio-geographic assessment of ecosystem services in an ecotourism destination: A PGIS application in Trum Chim National Park. Vietnam Journal of Environmental Management, 291: 656-662. DOI: https://doi.org/10.1016/j.jenvman.2021.112656
[26] *** Official resource of Development of organic agriculture in the world and in Kazakhstan. Available at: https://www.fao.org/documents/card/ru
[27] *** Official resource of the Bureau of National Statistics of the Agency for Strategic Planning and Reforms of the Republic of Kazakhstan for 2010-2021. Available at: http://www.stat.gov.kz
[28] *** E-APK Program - Astana.: 2022
[29] *** Environmental Performance Reviews. UNECE. www.https://unece.org/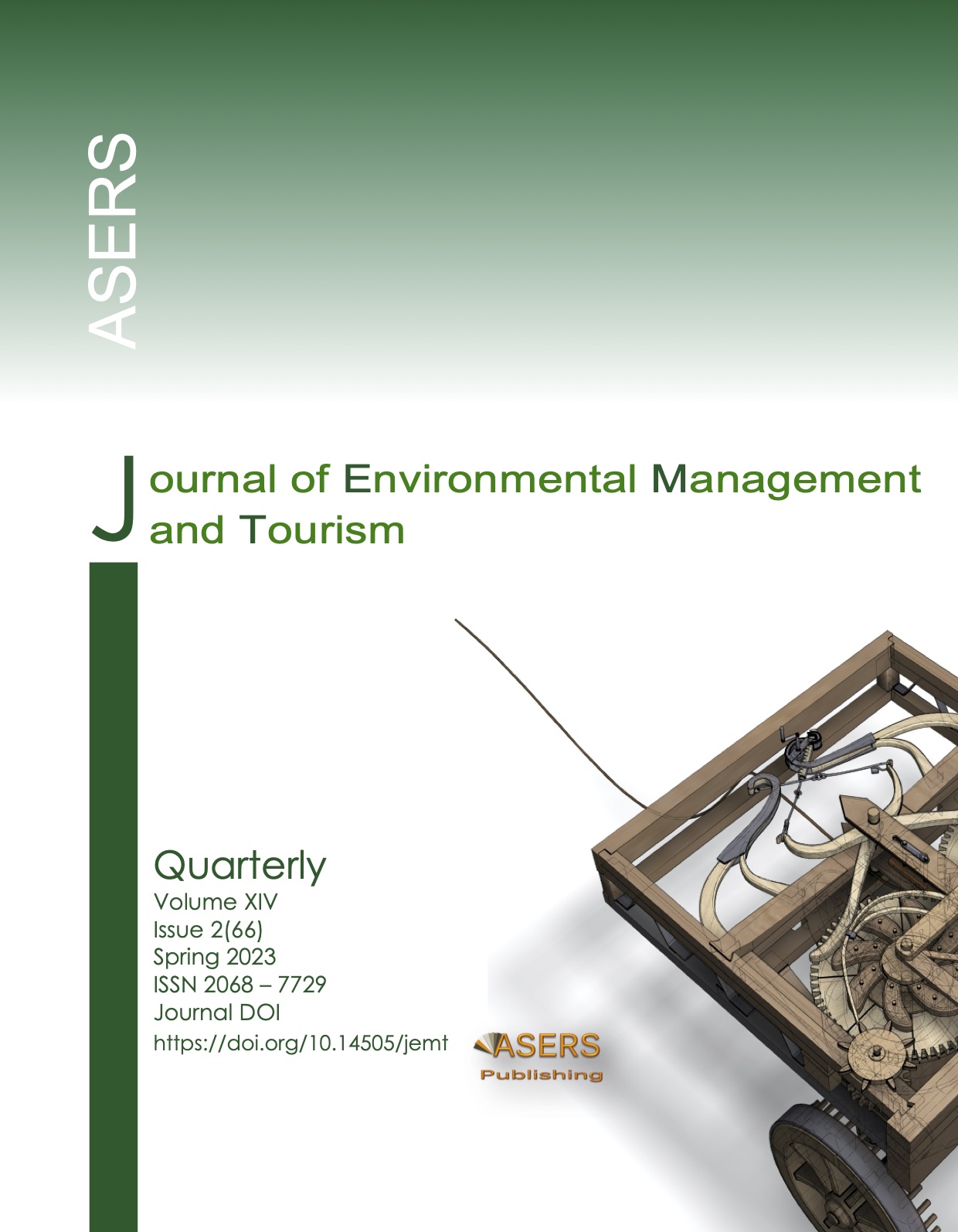 The Copyright Transfer Form to ASERS Publishing (The Publisher)
This form refers to the manuscript, which an author(s) was accepted for publication and was signed by all the authors.
The undersigned Author(s) of the above-mentioned Paper here transfer any and all copyright-rights in and to The Paper to The Publisher. The Author(s) warrants that The Paper is based on their original work and that the undersigned has the power and authority to make and execute this assignment. It is the author's responsibility to obtain written permission to quote material that has been previously published in any form. The Publisher recognizes the retained rights noted below and grants to the above authors and employers for whom the work performed royalty-free permission to reuse their materials below. Authors may reuse all or portions of the above Paper in other works, excepting the publication of the paper in the same form. Authors may reproduce or authorize others to reproduce the above Paper for the Author's personal use or for internal company use, provided that the source and The Publisher copyright notice are mentioned, that the copies are not used in any way that implies The Publisher endorsement of a product or service of an employer, and that the copies are not offered for sale as such. Authors are permitted to grant third party requests for reprinting, republishing or other types of reuse. The Authors may make limited distribution of all or portions of the above Paper prior to publication if they inform The Publisher of the nature and extent of such limited distribution prior there to. Authors retain all proprietary rights in any process, procedure, or article of manufacture described in The Paper. This agreement becomes null and void if and only if the above paper is not accepted and published by The Publisher, or is with drawn by the author(s) before acceptance by the Publisher.