Hotel Recovery Post Pandemic: Is Rebranding Required?
Ni Made ERNAWATI

Bali State Polytechnic, Indonesia

Mihai VODĂ

Dimitrie Cantemir University, Romania

I Wayan JENDRA

Bali State Polytechnic, Indonesia

Gusti Ayu Diah TANTRI

Bali State Polytechnic Alumni, Indonesia

Eleonora Laura AVRAM

Dimitrie Cantemir University, Romania
Abstract
For hotel business to survive during COVID-19 Pandemic requires to conduct major adjustment in almost all aspects of operation. This qualitative study was conducted to assess the operation adjustment that may affect the hotel brand. Data was gathered from respondents comprising managers and decision-makers of 5-to-3-star hotels in Bali, Indonesia that remain open during the pandemic, using online survey and interview.
The results show that during the pandemic, hotels have made major operation adjustment to survive; whilst, maintaining the same quality standard, applying meticulous CHSE (Cleanliness Health Safety Environment) protocol, and keeping the customers informed through online promotion platforms regarding the hotel's condition being ready to host guests. The adjustment made includes reducing operation cost, shifting target market into domestic market to maintain cash flow to cover operation, adjusting the rate and prices to adapt the weaker customer's buying power, applying flexible booking and refund conditions, human resource policy and planning rearrangement, reducing the quantity of room offered and menu list items in Food and Beverage outlets. The hotel business resilient was owned to the professionalism of hoteliers, thus hotel rebranding is not required as the quality of the products offered is the same with those before the pandemic; at post-pandemic, it would be simply sifting the target market back to pre-pandemic.
References
[1] Andika, I K.E.S., Armoni, N.L.E., Mudana, I G., and Arta, I P.K. 2021. Widana Marketing communication strategy using online platforms to build brand image at The Westin Resort Nusa Dua Bali. International Journal of Green Tourism Research and Applications, 3(1): 27-34. DOI:http://dx.doi.org/10.31940/ijogtra.v3i1.1988
[2] Armstrong, G. M., Kotler, P., Harker, M., and Brennan, R. 2018. Marketing: An introduction. Pearson: UK. ISBN: 978-1-292-20067-5
[3] Assael, H. 2001. Perilaku konsumen Dan Pemasaran. Edisi Keenam. Salemba Empat: Jakarta
[4] Batey, M. 2015. Brand Meaning: Meaning, Myth and Mystique in Today's Brands. Routledge. ISBN: 978-1315733456
[5] Benoit, W.L. 1995. Accounts, Excuses, Apologies: A Theory of Image Restoration Discourse, State University of New York Press, Albany, NY. DOI: https://doi.org/10.2307/2393739
[6] Kotler, P. and Keller, K. L. 2009. Marketing Management, 13th Edition, Pearson Prentice Hall. ISBN: 978-0136009986
[7] Kotler, P., and Armstrong, G. 2012. Principles of marketing 14th Edition. New Jersey: Pearson Education Inc. ISBN: 978-0132167123
[8] Kotler, P., et al. 2019. Marketing Management. Pearson UK. ISBN: 978-1292248448
[9] Kotler, P. and Armstrong, G. 2007. Principles of Marketing, 9th Edition, Jakarta: PT. Indeks
[10] Maurya, U. K., and Mishra, P. 2012. What is a brand? A Perspective on Brand Meaning. European Journal of Business and Management, 4(3): 122-133.
[11] Ogilvy, D., and Horgan, P. 1963. Confessions of an advertising man (p. 93). New York: Atheneum. Avaialbale at: https://world radiohistory.com/BOOKSHELF-ARH/Business/Confesions-of-an-Advertising-Man-Ogilvy-1963.pdf
[12] Palmer, A. 2012. Introduction to Marketing: Theory and Practice. Oxford University Press. ISBN: 978-0199602131
[13] Saeed, R., et al. 2011. Factors Affecting Consumer Purchase Decision in Clothing Industry of Sahiwal, Pakistan. World Applied Sciences Journal, 24(7): 844 - 849.
[14] Sari, I.F.K., Mataram, I G.A.B., Antara, D.M.S., and Murni, N.G.N.S. 2021. Analysis of service quality towards repeater guest satisfaction at The Samaya Seminyak. International Journal of Green Tourism Research and Applications, 3(1): 15-20. DOI: http://dx.doi.org/10.31940/ijogtra.v3i1.2026
[15] Sharma, E. 2021. Brandanew. Available at: http://www.brandanew.co/10-branding-elements-and-what-they-mean/
[16] Temporal, P. 2011. Advanced Brand Management: Managing Brands in A Changing World. John Wiley & Sons. ISBN: 978-0-470-82449-8
[17] Wang, J., and Ritchie, B. W. 2010. A theoretical model for strategic crisis planning: factors influencing crisis planning in the hotel industry. International Journal of Tourism Policy, 3(4): 297-317.
[18] Wulandari, A.W., et al. 2021. Contribution of online platform reservations to increase room occupancy at The Haven Hotel Bali Seminyak. International Journal of Green Tourism Research and Applications, 3(1): 1-8. DOI: http://dx.doi.org/10.31940/ijogtra.v3i1.2071
[19] Bali Province Central Statistical Office (Badan Pusat Statistik Provinsi Bali). 2021. Berita Resmi Statistik Perkembangan Pariwisata Provinsi Bali (Official News Tourism Statistic Update), No. 53/09/51/Th. XV, 2.
[20] PHRI. 2020. Laproran Perkembangan Pariwisata Ramah Muslim Daerah. Jakarta: Komite Nasional Ekonomi dan Keuangan Syariah (KNEKS). (in Indonesian)
[21] Think With Google. 2020. The State of Travel in APAC: Identifying trends to prepare for the road ahead. Available at: https://www.thinkwithgoogle.com/intl/en-apac/consumer-insights/consumer-trends/state-travel-apac-identifying-trends-prepare-road-ahead/
[22] UNWTO. 2020. Impact assessment of the COVID-19 outbreak on international tourism: United Nation World Tourism Organization.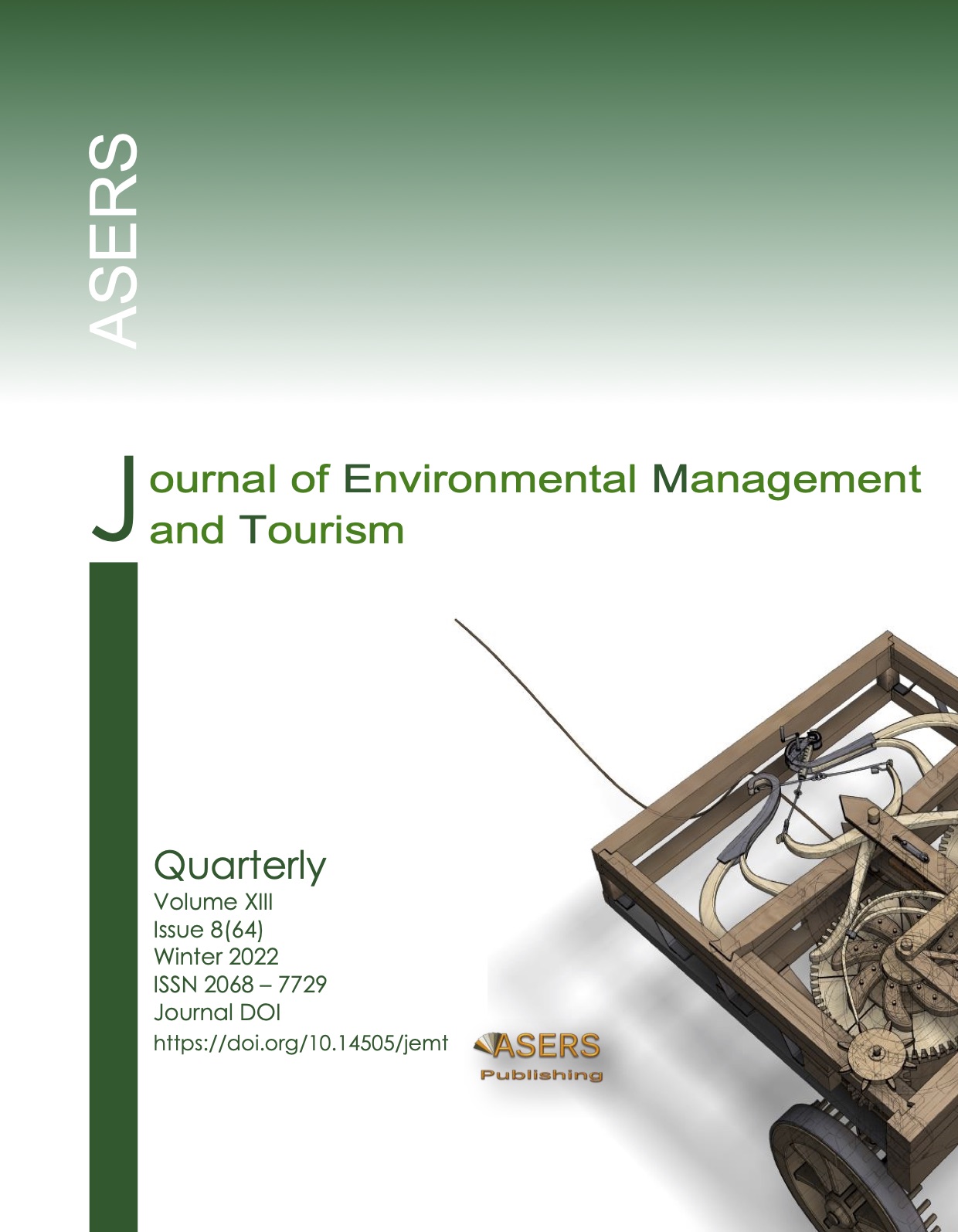 The Copyright Transfer Form to ASERS Publishing (The Publisher)
This form refers to the manuscript, which an author(s) was accepted for publication and was signed by all the authors.
The undersigned Author(s) of the above-mentioned Paper here transfer any and all copyright-rights in and to The Paper to The Publisher. The Author(s) warrants that The Paper is based on their original work and that the undersigned has the power and authority to make and execute this assignment. It is the author's responsibility to obtain written permission to quote material that has been previously published in any form. The Publisher recognizes the retained rights noted below and grants to the above authors and employers for whom the work performed royalty-free permission to reuse their materials below. Authors may reuse all or portions of the above Paper in other works, excepting the publication of the paper in the same form. Authors may reproduce or authorize others to reproduce the above Paper for the Author's personal use or for internal company use, provided that the source and The Publisher copyright notice are mentioned, that the copies are not used in any way that implies The Publisher endorsement of a product or service of an employer, and that the copies are not offered for sale as such. Authors are permitted to grant third party requests for reprinting, republishing or other types of reuse. The Authors may make limited distribution of all or portions of the above Paper prior to publication if they inform The Publisher of the nature and extent of such limited distribution prior there to. Authors retain all proprietary rights in any process, procedure, or article of manufacture described in The Paper. This agreement becomes null and void if and only if the above paper is not accepted and published by The Publisher, or is with drawn by the author(s) before acceptance by the Publisher.