Analysis of Spatial Concentration of Accommodation Establishments Using Machine Learning Techniques and Spatial Analysis Tools
Helien PARRA

Management Group in Organizational Processes GIPO, Santo Tomas University Bogota, Colombia

Diana M. Ayala VALDERRAMA

Comprehensive Management of Productivity and Agroindustrial Services GISPA, Santo Tomas University, Tunja, Colombia

Sebastián MORENO

NAKOTA Research Group: Education, Society and Entrepreneurship, Santo Tomas University, Colombia
Abstract
Tourism as an economic activity is influenced by social dynamics that can be measured by spatial analysis processes where phenomena such as concentration, trajectory and extension are evidenced, which can guide policy makers effectively for decision-making. In this document, the results of a study of spatial analysis of the concentration of accommodation establishments in the department of Boyacá, Colombia are presented in order to identify the correlation that exists between the territorial concentration, the natural attractions of the department and the type of establishment. It was found that there is evidence of a strong concentration in five clusters associated with three municipalities of the department's offer, however it is observed that statistically there is a high level of dispersion of the establishments explained by the road corridors and a growing development towards the natural attractions which are not fully covered by the current offer.
References
[1] Alem, F. 2006. Importance of MSMEs in Business Agglomerations: A Strategy for Regional Development in Colombia. Revista Facultad de Ciencias Económicas: Investigación y Reflexión, 14(1): 173–186.
[2] Álvarez, F. J., et al. 2006. Agglomeration economy: cognitive distance in the creation of a company. Morea, Francisco y Fornoni, Mariel, (Eds.) La Formación de Emprendedores Como Clave Para El Desarrollo, 203–214.
[3] Avella, J., et al. 2019. Boyacá in Figures.
[4] De Siano, R., & Canale, R. R. 2022. Controversial effects of tourism on economic growth: A spatial analysis on Italian provincial data. Land Use Policy, 117. DOI: https://doi.org/10.1016/j.landusepol.2022.106081
[5] Garofoli, G. 1995. Economic development, organization of production and territory. Desarrollo Económico Local En Europa, 113–123.
[6] Hua, H., & Wondirad, A. 2021. Tourism network in urban agglomerated destinations: Implications for sustainable tourism destination development through a critical literature review. Sustainability (Switzerland), 13(1): 1–16. DOI: https://doi.org/10.3390/su13010285
[7] Kang, J., Guo, X., Fang, L., Wang, X., & Fan, Z. 2022. Integration of Internet search data to predict tourism trends using spatial-temporal XGBoost composite model. International Journal of Geographical Information Science, 36(2). DOI: https://doi.org/10.1080/13658816.2021.1934476
[8] Kaushal, V., & Srivastava, S. 2020. Hospitality and tourism industry amid COVID-19 pandemic: Perspectives on challenges and learnings from India. International Journal of Hospitality Management, 92.
[9] Kim, R., Williams, A., Park, S., & Chen, J. 2020. Spatial spillovers of agglomeration economies and productivity in the tourism industry: The case of the UK. Tourism Management, 82.
[10] Lanlan, L., & Qiang, Y. 2017. Spatial econometric analysis of the relationship between Chinese tourism industry agglomeration and economic growth. Agro Food Industry Hi-Tech, 28(1): 2754–2758.
[11] Ma, X., Yang, Z., & Zheng, J. 2022. Analysis of spatial patterns and driving factors of provincial tourism demand in China. Scientific Reports, 12(1). DOI: https://doi.org/10.1038/s41598-022-04895-8
[12] Manrique, O. L. 2006. Agglomeration Economies in the Context of the New Economic Geography. Cuadernos de Economía, XXV(45): 53–73.
[13] Martí, F., & Muñoz, C. 2009. Business location and agglomeration economies: the debate around spatial aggregation. Investigaciones Regionales, 15: 139–166.
[14] Mitchell, A. 2005. The ESRI guide to GIS analysis: Geographic patterns & relationships. In Geographic Information System at Work in the Community (Vol. 2).
[15] Qiangyuan, C., Xinhua, G., & Tzung-Cheng, H. 2021. The spatial agglomeration productivity premium of hotel and catering enterprises. Cities: The International Journal of Urban Policy and Planning, 112.
[16] Ruiz, C. 2015. Metropolization and economic governance: bases for a proposal of economic analysis. Suma de Negocios, 6(13): 52–65. DOI: https://doi.org/10.1016/j.sumneg.2015.04.003
[17] Semerena, I. E., & Olmos, I. L. 2005. Relationship between economic growth and external agglomeration economies in Mexico, 36: 131–153.
[18] Triviño, J. 2020. Evolution of The Tourism Sector and Its Impact on The Economic Growth of The Department of Boyacá.
[19] Trullén, J. 2002. The Barcelona economy and the generation of agglomeration economies: towards a new development model.
[20] UniMOOC. 2021. Aprendizaje supervisado: Algoritmos de clasificación y regresión.
[21] Villegas, J. E. V. 2009. The agglomeration processes in Colombia in the light of the new economic geography. Ensayos Sobre Politica Economica, 58(1): 106–139. DOI: https://doi.org/10.32468/espe.5803
[22] Walle, R. E. 2017. Agglomeration Economies in the Context of the New Economic Geography. Revista Contribuciones a La Economia, June.
[23] Wang, Z., & Chen, Q. 2022. Comprehensive partitions and optimisation strategies based on tourism urbanisation and resources environment carrying capacity in the Yellow River Basin, China. Environmental Science and Pollution Research, 29(16). DOI: https://doi.org/10.1007/s11356-021-17498-z
[24] World Tourism Organization. 2021. Tourism Definitions.
[25] Zhou, B., Qu, H., & Li, N. 2016. How tourist attraction agglomeration affects a regional tourism economy. Tourism Analysis, 21(6): 603–616. DOI: https://doi.org/10.3727/108354216X14713487283129
[26] Zhou, H., & Cao, G. 2010. A Spatial Econometric Analysis of the Relationship betweenEconomic Clusters and Economic Growth: Evidence fromJiangsu Province. Contemporary Finance & Economics.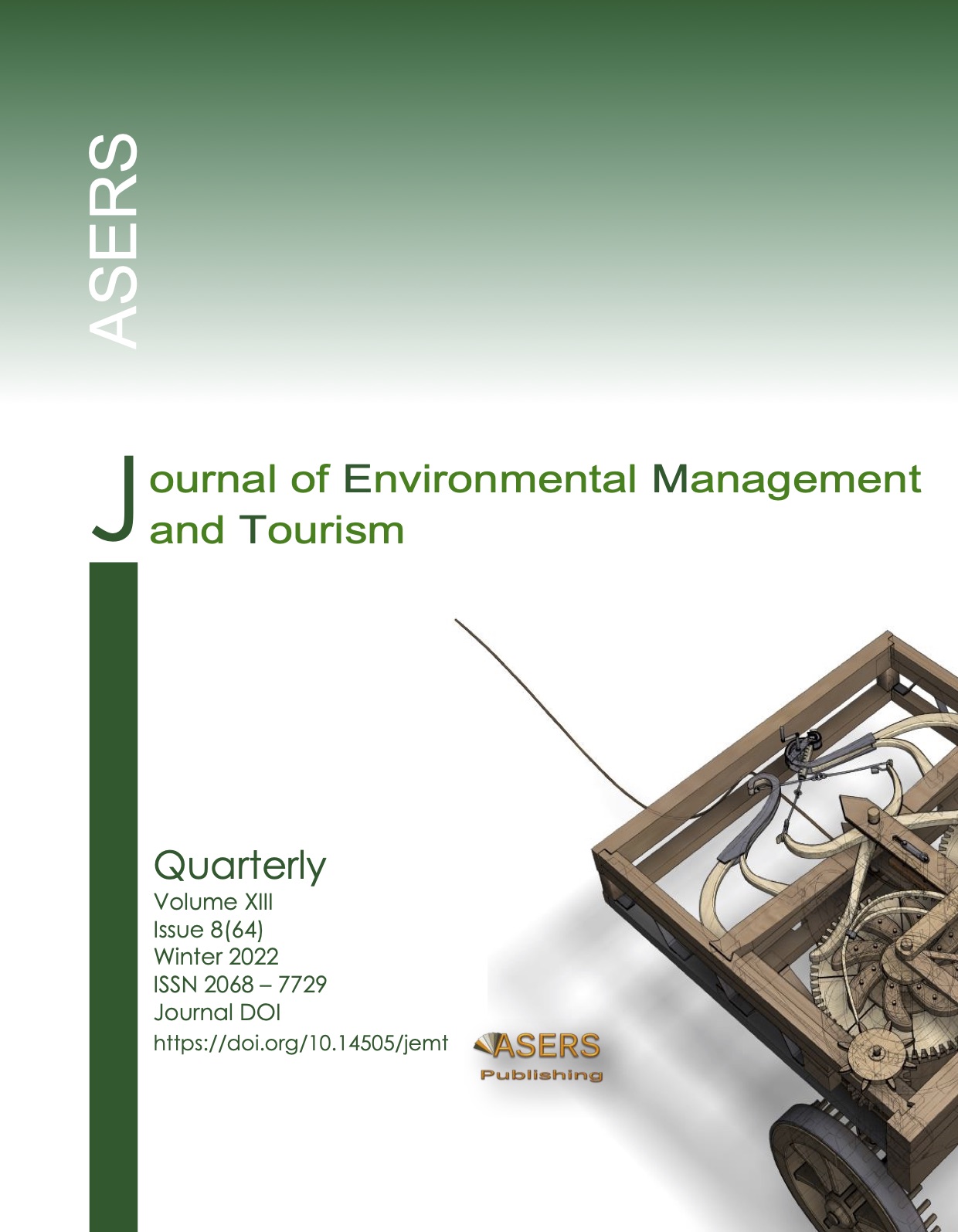 The Copyright Transfer Form to ASERS Publishing (The Publisher)
This form refers to the manuscript, which an author(s) was accepted for publication and was signed by all the authors.
The undersigned Author(s) of the above-mentioned Paper here transfer any and all copyright-rights in and to The Paper to The Publisher. The Author(s) warrants that The Paper is based on their original work and that the undersigned has the power and authority to make and execute this assignment. It is the author's responsibility to obtain written permission to quote material that has been previously published in any form. The Publisher recognizes the retained rights noted below and grants to the above authors and employers for whom the work performed royalty-free permission to reuse their materials below. Authors may reuse all or portions of the above Paper in other works, excepting the publication of the paper in the same form. Authors may reproduce or authorize others to reproduce the above Paper for the Author's personal use or for internal company use, provided that the source and The Publisher copyright notice are mentioned, that the copies are not used in any way that implies The Publisher endorsement of a product or service of an employer, and that the copies are not offered for sale as such. Authors are permitted to grant third party requests for reprinting, republishing or other types of reuse. The Authors may make limited distribution of all or portions of the above Paper prior to publication if they inform The Publisher of the nature and extent of such limited distribution prior there to. Authors retain all proprietary rights in any process, procedure, or article of manufacture described in The Paper. This agreement becomes null and void if and only if the above paper is not accepted and published by The Publisher, or is with drawn by the author(s) before acceptance by the Publisher.