Directions of Stimulation of the Development of Tourism Infrastructure by Attraction of Investments
Zhassulan SADYKOV

Kazakh University of Economics, Finance and International Trade, Kazakhstan

Dariga KHAMITOVA

International University of Tourism and Hospitality, Kazakhstan

Turdibuvi KAZAKBAYEVA

University of International Business, Kazakhstan

Aigerim AKIZHANOVA

Astana IT University, Kazakhstan

Symbat NAKHIPBEKOVA

International University of Tourism and Hospitality, Kazakhstan

Nurshuak KHASSENKHANOV

Karaganda Buketov University, Kazakhstan
Abstract
This article notes that the uncertainty of the consequences of the pandemic has shown the need for the development of domestic tourism, the creation of modern health resort and tourism services and improving the quality of tourism infrastructure by attracting investments for maintenance and provision of transport and the development of tourism products and services, the introduction of environmental protection measures. Using the given statistical data on the development of the tourism and hospitality industry of the Republic of Kazakhstan, the authors analyzed the influence of some factors influencing the development of the tourism industry. The indicators of the structure of the population's expenditures on paid services, the distribution of resident visitors by purpose of travel at places of accommodation for 2021, the number of visitors served at places of accommodation for tourists in general in Kazakhstan, the main indicators of financial and economic activities in the field of tourism for 2016-2021 are given, performance indicators of tourist infrastructure facilities for the analyzed period. Proposals are given for the transformation of the most significant tourist sites included in the Touristification Map of Kazakhstan into one tourist cluster with a unique dominant experimental structure with transfer to foreign tourism markets in the future.
References
[1] Al Suwaidi M., Eid R. and Agag G. 2021. Understanding the link between CSR and employee green behaviour. Journal of Hospitality and Tourism Management, 46 (14): 50-61. DOI: 10.1016/j.jhtm.2020.11.008
[2] Chambers, N. and Cifter, A. 2022. Working capital management and firm performance in the hospitality and tourism industry. International Journal of Hospitality Management, 102: 103144. DOI10.1016/j.ijhm.2022.103144
[3] Costa, J., Varum, C., Montenegro, M. and Gomes, J. 2022. Measuring tourism success: are we on the brink of a new paradigm? Worldwide Hospitality and Tourism Themes, 14(1): 3-7
[4] Gamage, N., Kumara, S., Kumudumali, S.H. and Otamurodov, Sh. 2020. The Nexus between Tourism and Economic Growth: A Systematic Literature Review and Future Research Directions. Available at: https://mpra.ub.uni-muenchen.de/104181/1/MPRA_paper_104181.pdf.
[5] Gamage, S.K.N., Kuruppuge, R.H. and Haq, I.U. 2017. Energy consumption, tourism development, and environmental degradation in Sri Lanka, Energy Sources. Part B: Economics, Planning, and Policy, 12(10): 910-916.
[6] He, X., et al. 2021. The effect of destination employee service quality on tourist environmentally responsible behavior: A moderated mediation model incorporating environmental commitment, destination social responsibility and motive attributions. Tourism Management, 14(90): 104470. DOI10.1016/j.tourman.2021.104470
[7] Kuklina, M., et al. 2022. Transport Accessibility and Tourism Development Prospects of Indigenous Communities of Siberia. Sustainability (Switzerland), 14(3): 1750. DOI: 10.3390/su14031750
[8] Kumar, N., Kumar, R.R., Patel, A. and Stauvermann, P.J. 2019. Exploring the effect of tourism and economic growth in Fiji: Accounting for capital, labor, and structural breaks. Tourism Analysis, 24(2): 115-130. DOI:http://doi.org/10.3727/108354218X15391984820468
[9] Omarova A., et al. 2021. Analysis of the development of innovative activities of the tourism industry in the influence of pandemic. Journal of Environmental Management and Tourism, 12(6): 1442–1453. DOI:10.14505/jemt.v12.6(54).02
[10] Saarinen, J. 2019. Critical Sustainability: Setting the Limits to Growth and Responsibility in Tourism. Sustainability, 6(1):1-17. DOI: https://doi.org/10.3390/su6010001
[11] Salinas Fernández J.A., Guaita Martínez J.M., Martín Martín J.M. 2021. An analysis of the competitiveness of the tourism industry in a context of economic recovery following the COVID19 pandemic. Technological Forecasting and Social Change, 174: 121301. DOI: 10.1016/j.techfore.2021.121301
[12] Tavakoli, M., Monavari, M., Farsad, F. and Robati, M. 2022. Ecotourism spatial-time planning model using ecosystem approaches and landscape ecology. Environmental Monitoring and Assessment, 194(2): 116-125. DOI: 10.1007/s10661-021-09558-1
[13] Wieczorek-Kosmala, M. 2022. A study of the tourism industry's cash-driven resilience capabilities for responding to the COVID-19 shock. Tourism Management, 88: 104396. DOI:10.1016/j.tourman.2021.104396
[14] Zhang, F., Sarker, M.N.I. and Lv, Y. 2022. Coupling Coordination of the Regional Economy. Tourism Industry, and the Ecological Environment: Evidence from Western China. Sustainability (Switzerland), 14(3): 1654. DOI: 10.3390/su14031654
[15] Official resource of the Bureau of National Statistics of the Agency for Strategic Planning and Reforms of the Republic of Kazakhstan for 2010-2021. Available at: http://www.stat.gov.kz
[16] Official resource of UNWTO World Tourism Barometer. 2021. Available at: https://www.e-unwto.org/toc/wtobarometereng/19/1
[17] State program for the development of the tourism industry of the Republic of Kazakhstan for 2019 - 2025. Available at: https://adilet.zan.kz/rus/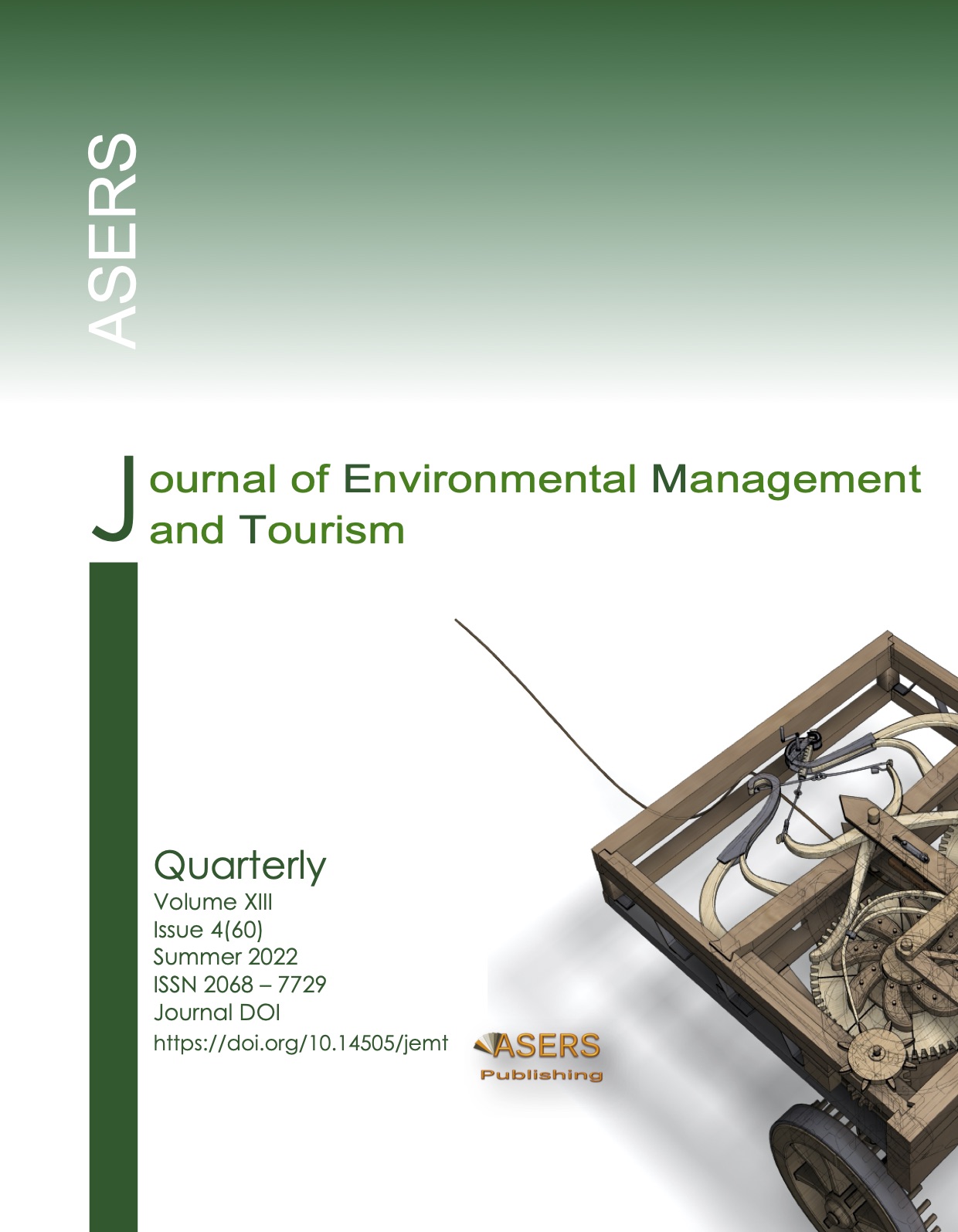 Copyright© 2023 The Author(s). Published by ASERS Publishing 2023. This is an open access article distributed under the terms of CC-BY 4.0 license.