Influence of Environmental Factors of Influence on the Volume of Financing in the Agro-Industrial Complex
Zhibek OMARKHANOVA

S. Seifullin Kazakh AgroTechnical University, Kazakhstan

Olessya MISNIK

L. N. Gumilyov Eurasian National University, Kazakhstan

Gaukhar MATAIBAYEVA

S. Seifullin Kazakh Agrotechnical University, Kazakhstan

Gulzhan MUKASHEVA

S. Seifullin Kazakh Agrotechnical University, Kazakhstan

Gulden ZHOLDOYAKOVA

S. Seifullin Kazakh Agrotechnical University, Kazakhstan

Shynar RAMAZANOVA

North Kazakhstan University named after Manash Kozybayev, Kazakhstan
Abstract
The availability of financing for agricultural innovation activities through business loans remains one of the most influential factors in the business environment and entrepreneurship development. A gradual improvement in lending conditions with government intervention will attract more customers to banks, which will allow the SME segment to grow and remain competitive, including in the agro-industrial complex. Agribusiness financing and lending issues are of great importance in financial accounting and taxation, so it is necessary to cover this topic by updating important points.
The purpose of the study is to substantiate the theoretical provisions and develop recommendations for improving the accounting for financing and estimating the cost of developing agricultural organizations in the Republic of Kazakhstan.
References
[1] Abdulova, T.G., Sultanova, Z.K., and Begeyeva, M.K. 2022. Bank lending to agricultural enterprises in Kazakhstan: current state and problems. Problems of Agri Market, 1(1): 75-82. DOI:https://doi.org/10.46666/2022-1.2708-9991.08
[2] Abdykalieva, Z.S. 2022. Research of problematic issues of agricultural cooperation in agro-industrial complex of Kazakhstan and Almaty region. Problems of Agri Market, 1(1): 178-187. DOI:https://doi.org/10.46666/2022-1.2708-9991.21
[3] Ben Amara, D., and Chen, H. 2022. Driving factors for eco-innovation orientation: Meeting sustainable growth in Tunisian agribusiness. International Entrepreneurship Management Journal. DOI:https://doi.org/10.1007/s11365-021-00792-0
[4] Hultgren, J., et al. 2022. Environmental Quality and Compliance with Animal Welfare Legislation at Swedish Cattle and Sheep Farms. Sustainability, 14(3): 1095. DOI: https://doi.org/10.3390/su14031095
[5] Malorgio, G., and Marangon, F. 2021. Agricultural business economics: the challenge of sustainability. Agriculture Economy, 9(6): 3-10. DOI: https://doi.org/10.1186/s40100-021-00179-3
[6] Pilipuk, A.V. 2022. Topical issues of development of the AIC of the Republic of Belarus. Problems of Agri Market, 1(1): 24-31. DOI: https://doi.org/10.46666/2022-1.2708-9991.02
[7] Poore, J., and Nemecek, T. 2018. Reducing food's environmental impacts through producers and consumers. Science, 360, 987. DOI: 10.1126/science.aaq0216
[8] Revenko, L.S. 2018. World food market in the era of the "gene" revolution. Moscow: CJSC Publishing House Economics, 302 p.
[9] Stamkulova, K.U., and Stamkulova, M.U. 2022. Assessment of environmental safety indicators of rural areas. Problems of Agri Market, 1(1): 45-51. DOI: https://doi.org/10.46666/2022-1.2708-9991.04
[10] Turekulova, D., et al. 2022. Analysis of Sustainable Development of SMEs and Factors Influencing to the Ecotourism Industry. Journal of Environmental Management and Tourism, 13(1): 211-222.
[11] Zholmukhanova, A.Z., Mukaliyeva, M.N., and Koitanova, A.Z. 2022. Monitoring of public support for agricultural producers in Germany and Kazakhstan. Problems of Agri Market, 1(1): 52-60. DOI:https://doi.org/10.46666/2022-1.2708-9991.05
[12] Analytical digest of Agricultural sector. 2021. Available at: www.https://www.1cb.kz/
[13] Decree of the Government of the Republic of Kazakhstan. 2021. On approval of the Concept for the development of the agro-industrial complex of the Republic of Kazakhstan for 2021–2030. Available at: www.https://adilet.zan.kz/
[14] Electronic resource: https://public.wmo.int/
[15] Impact of the programs implemented by the Damu Fund on the development of the SME sector and the diversification of the economy (macroeconomic effect). Review for 2014-2020. Available at: https://damu.kz/
[16] Official resource of "KazHydroMet". Available at: http://www.kazhydromet.kz
[17] Official resource of Data from the Bureau of National Statistics of the Agency for Strategic Planning and Reforms of the Republic of Kazakhstan for 2011-2021. Available at: http://www.stat.gov.kz
[18] Official resource: https://primeminister.kz/ru/news/reviews/itogi-apk-za-4-mesyaca-2020-goda-sozdanie-novyh-moshchnostey-uvelichenie-ploshchadi-selhozkultur-i-cifrovizaciya-352342
[19] Strategy of scientific and technological development. 2021. Kazakhstan is a country of quality life and active longevity in the post-pandemic world. Available at: https://en.wikipedia.org/wiki/Almaz_Sharman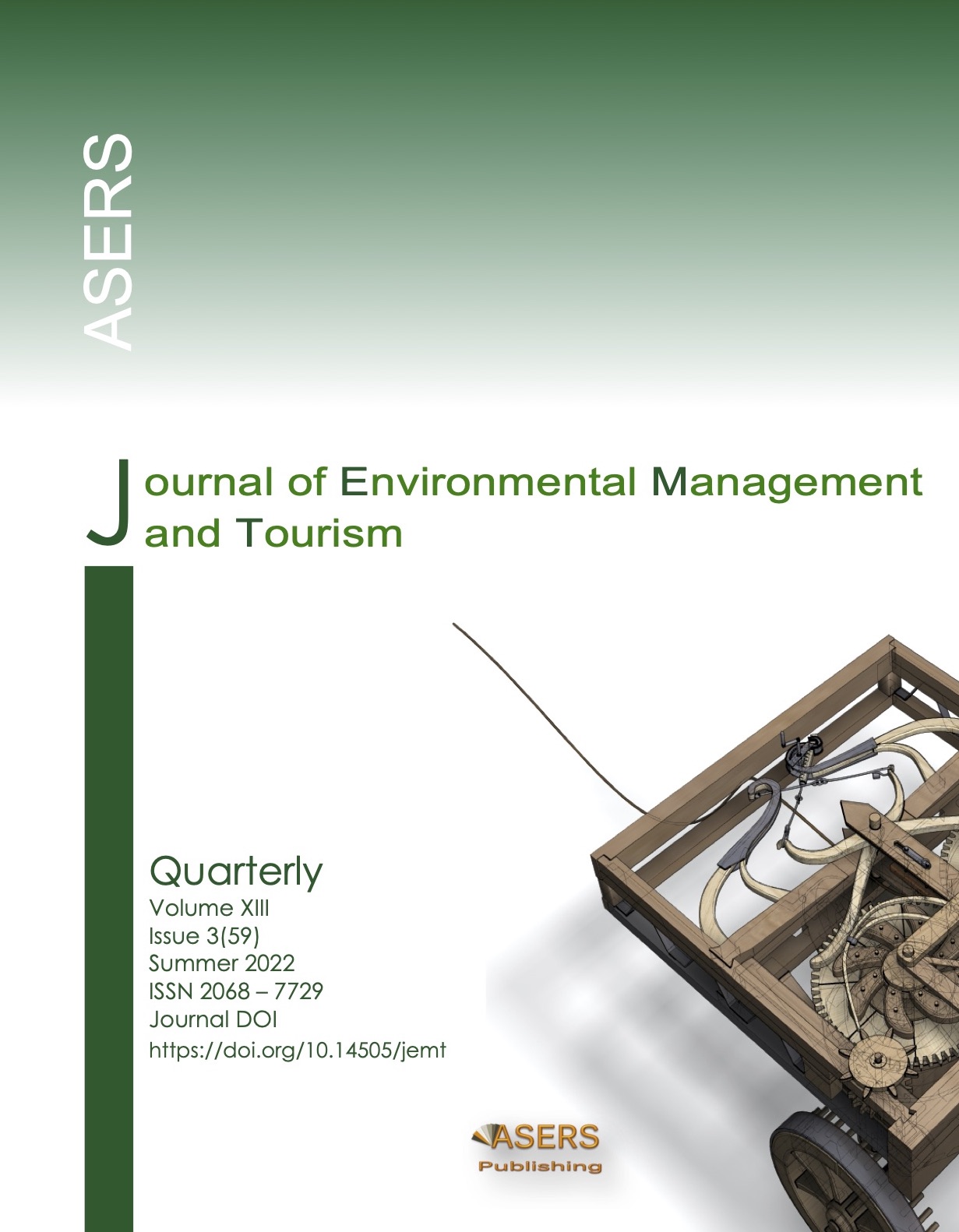 The Copyright Transfer Form to ASERS Publishing (The Publisher)
This form refers to the manuscript, which an author(s) was accepted for publication and was signed by all the authors.
The undersigned Author(s) of the above-mentioned Paper here transfer any and all copyright-rights in and to The Paper to The Publisher. The Author(s) warrants that The Paper is based on their original work and that the undersigned has the power and authority to make and execute this assignment. It is the author's responsibility to obtain written permission to quote material that has been previously published in any form. The Publisher recognizes the retained rights noted below and grants to the above authors and employers for whom the work performed royalty-free permission to reuse their materials below. Authors may reuse all or portions of the above Paper in other works, excepting the publication of the paper in the same form. Authors may reproduce or authorize others to reproduce the above Paper for the Author's personal use or for internal company use, provided that the source and The Publisher copyright notice are mentioned, that the copies are not used in any way that implies The Publisher endorsement of a product or service of an employer, and that the copies are not offered for sale as such. Authors are permitted to grant third party requests for reprinting, republishing or other types of reuse. The Authors may make limited distribution of all or portions of the above Paper prior to publication if they inform The Publisher of the nature and extent of such limited distribution prior there to. Authors retain all proprietary rights in any process, procedure, or article of manufacture described in The Paper. This agreement becomes null and void if and only if the above paper is not accepted and published by The Publisher, or is with drawn by the author(s) before acceptance by the Publisher.