The Relationship between Academic Performance and Environmental Sustainability Consciousness: A Case Study in Higher Education
Kevin FUCHS

Prince of Songkla University, Thailand
Abstract
Environmental sustainability is a very articulated and complex concept that is widely discussed in many disciplines and many streams of the literature, wherein tourism is dependent upon the environment for much of its well-being. With that being said, tourism education is at the forefront of impacting environmental sustainability in one way or another by educating tomorrow's tourism stakeholders. This study presents preliminary findings of a larger study that examines a possible relationship between academic performance and tourism students' consciousness towards environmental sustainability. The Environmental Sustainability Consciousness Questionnaire (ESCQ) was used to gather quantitative data from a sample of undergraduate students (n=100) through the cluster sampling method. The empirical findings of this study suggest that students in the top as well as bottom percentile ranked by academic performance have generally the highest consciousness toward environmental sustainability. Furthermore, a statistically significant correlation was detected between the academic performance of students and their perceived knowledge with regard to environmental sustainability. The results of the study add to the existing boy of knowledge end reveal that academic performance is not an indicator that better-performing students have a higher consciousness toward environmental sustainability.
References
[1] Ali, E. B., & Anufriev, V. P. (2020). Towards environmental sustainability in Russia: Evidence from Green Universities. Heliyon, 6(8): e04719. DOI: https://doi.org/10.1016/j.heliyon.2020.e04719
[2] Averchenkova, A., Fankhauser, S., & Finnegan, J. J. (2021). The impact of strategic climate legislation: evidence from expert interviews on the UK Climate Change Act. Climate Policy, 21(2): 251-263. DOI:https://doi.org/10.1080/14693062.2020.1819190
[3] Bateman, I. J., & Mace, G. M. (2020). The natural capital framework for sustainably efficient and equitable decision making. Nature Sustainability, 3(10): 776-783. DOI: https://doi.org/10.1038/s41893-020-0552-3
[4] Bauer, D., Arnold, J., & Kremer, K. (2018). Consumption-intention formation in education for sustainable development: An adapted model based on the theory of planned behavior. Sustainability, 10(10): 3455. DOI:https://doi.org/10.3390/su10103455
[5] Cimatti, B. (2016). Definition, development, assessment of soft skills and their role for the quality of organizations and enterprises. International Journal for quality research, 10(1). DOI:https://doi.org/10.18421/IJQR10.01-05
[6] Correia, E., Conde, F., Nunes, R. & Viseu, C. (2020). Students' perceptions of HEI regarding environmental sustainability–a comparative analysis. International Journal of Sustainability in Higher Education, 21(4): 629-648. DOI: https://doi.org/10.1108/IJSHE-10-2019-0320
[7] Fuchs, K. (2021). The Ideation of Environmental Sustainability: Evidence from Phuket, Thailand. Journal of Environmental Management and Tourism, 12(5): 1229-1235. DOI: https://doi.org/10.14505/jemt.v12.5(53).07
[8] Jackson, D. (2017). Developing pre-professional identity in undergraduates through work-integrated learning. Higher Education, 74(5): 833-853. DOI: https://doi.org/10.1007/s10734-016-0080-2
[9] Kagawa, F. (2007). Dissonance in students' perceptions of sustainable development and sustainability. International Journal of Sustainability in Higher Education, 8(3): 317-338. DOI:https://doi.org/10.1108/14676370710817174
[10] Kamau, M., Chasek, P., & O'Connor, D. (2018). Transforming multilateral diplomacy: The inside story of the Sustainable Development Goals. Routledge.
[11] Kirby, C. K., & Zwickle, A. (2021). Sustainability behaviors, attitudes, and knowledge: comparing university students and the general public. Journal of Environmental Studies and Sciences, 1-9. DOI:https://doi.org/10.1007%2Fs13412-021-00717-x
[12] Leal Filho, W., et al. (2019). Using the sustainable development goals towards a better understanding of sustainability challenges. International Journal of Sustainable Development & World Ecology, 26(2): 179-190. DOI: https://doi.org/10.1080/13504509.2018.1505674
[13] Mahat, H., et al. (2019, June). Environmental sustainability knowledge, attitude and practices among pre-school students. In IOP Conference Series: Earth and Environmental Science (Vol. 286, No. 1, p. 012003). IOP Publishing. DOI: https://doi.org/:10.1088/1755-1315/286/1/012003
[14] Malik, M. N., et al. (2019). Investigating students' sustainability awareness and the curriculum of technology education in Pakistan. Sustainability, 11(9): 2651. DOI: https://doi.org/10.3390/su11092651
[15] Mio, C., Panfilo, S., & Blundo, B. (2020). Sustainable development goals and the strategic role of business: A systematic literature review. Business Strategy and the Environment, 29(8): 3220-3245. DOI:https://doi.org/10.1002/bse.2568
[16] Msengi, I., et al. (2019). Assessment of knowledge and awareness of "sustainability" initiatives among college students. Renewable Energy and Environmental Sustainability, 4(6): 1-11. DOI:https://doi.org/10.1051/rees/2019003
[17] Norwegian National Research Ethics Committees. (2019, June 8). Guidelines for Research Ethics in the Social Sciences, Humanities, Law and Theology. NESH. Available at: https://www.forskningsetikk.no/en/guidelines/
[18] Swaim, J. A., Maloni, M. J., Napshin, S. A., & Henley, A. B. (2014). Influences on student intention and behavior toward environmental sustainability. Journal of Business Ethics, 124(3): 465-484. DOI:https://doi.org/10.1007/s10551-013-1883-z
[19] Tomislav, K. (2018). The concept of sustainable development: From its beginning to the contemporary issues. Zagreb International Review of Economics & Business, 21(1): 67-94. DOI: https://doi.org/10.2478/zireb-2018-0005
[20] Wals, A. E., & Benavot, A. (2017). Can we meet the sustainability challenges? The role of education and lifelong learning. European Journal of Education, 52(4): 404-413. DOI: https://doi.org/10.1111/ejed.12250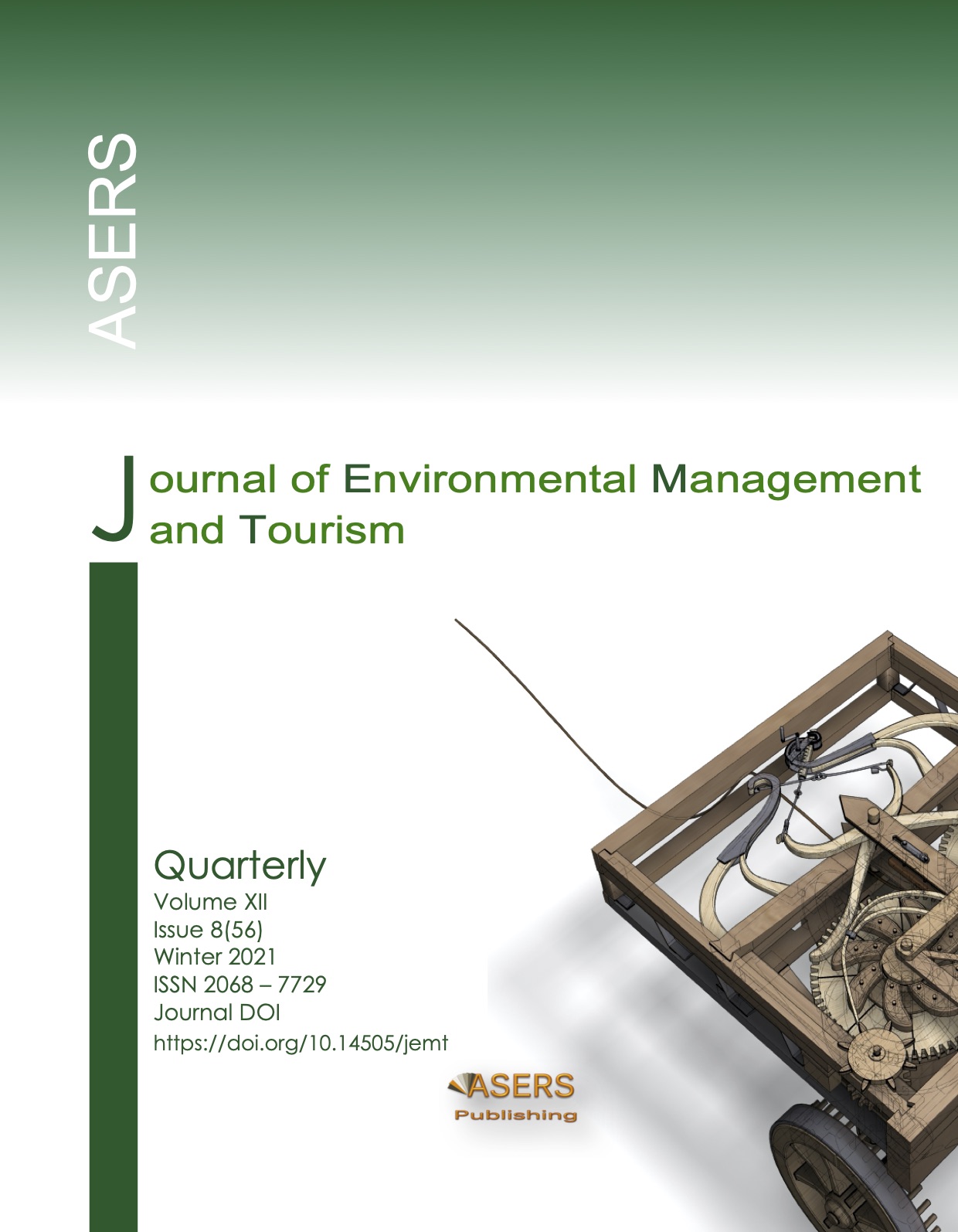 How to Cite
FUCHS, Kevin. The Relationship between Academic Performance and Environmental Sustainability Consciousness: A Case Study in Higher Education.
Journal of Environmental Management and Tourism
, [S.l.], v. 12, n. 8, p. 2168 - 2176, dec. 2021. ISSN 2068-7729. Available at: <
https://journals.aserspublishing.eu/jemt/article/view/6660
>. Date accessed: 16 aug. 2022.
The Copyright Transfer Form to ASERS Publishing (The Publisher)
This form refers to the manuscript, which an author(s) was accepted for publication and was signed by all the authors.
The undersigned Author(s) of the above-mentioned Paper here transfer any and all copyright-rights in and to The Paper to The Publisher. The Author(s) warrants that The Paper is based on their original work and that the undersigned has the power and authority to make and execute this assignment. It is the author's responsibility to obtain written permission to quote material that has been previously published in any form. The Publisher recognizes the retained rights noted below and grants to the above authors and employers for whom the work performed royalty-free permission to reuse their materials below. Authors may reuse all or portions of the above Paper in other works, excepting the publication of the paper in the same form. Authors may reproduce or authorize others to reproduce the above Paper for the Author's personal use or for internal company use, provided that the source and The Publisher copyright notice are mentioned, that the copies are not used in any way that implies The Publisher endorsement of a product or service of an employer, and that the copies are not offered for sale as such. Authors are permitted to grant third party requests for reprinting, republishing or other types of reuse. The Authors may make limited distribution of all or portions of the above Paper prior to publication if they inform The Publisher of the nature and extent of such limited distribution prior there to. Authors retain all proprietary rights in any process, procedure, or article of manufacture described in The Paper. This agreement becomes null and void if and only if the above paper is not accepted and published by The Publisher, or is with drawn by the author(s) before acceptance by the Publisher.