Influence of Human Capital on the Development of Tourism Industry
Gulmira NAKIPOVA

Karaganda Economic University of Kazpotrebsoyuz, Kazakhstan

Zhanna ARYNOVA

Buketov Karagandy University, Kazakhstan

Erlan KUNYAZOV

Toraigyrov University, Kazakhstan

Valentina BEREZYUK

Karaganda Economic University of Kazpotrebsoyuz, Kazakhstan

Aliya ZHUNUSOVA

Turan - Astana University, Kazakhstan

Bakyt SYZDYKBAYEVA

L.N. Gumilyov Eurasian National University, Kazakhstan
Abstract
Human capital is the main economic resource that increases the country's GDP, which has become the main productive and social factor in the development of the economy and is a major supplier of knowledge in achieving sustainability and competitiveness in the world market. It is not only about generating knowledge, but also about the opportunities that the industry has in integrating this new knowledge into its products, services and processes and disseminating it to people through education, training and information. The importance of the knowledge, competencies and skills of workers is increasing due to the specific characteristics of the product and services offered by the tourism sector. The aim of the study is to analyze the main indicators of the tourism industry, which consider the capabilities of human capital as a key factor in determining competitiveness. While human capital is not always emphasized when assessing competitiveness in the tourism industry, human capital capacity is a key factor. In many countries, the competitiveness of human capital in tourism is lower than desired, providing opportunities for additional investment in competitiveness through education and better labor market practices.
References
[1] Bourouaha, A., Bouredja, S. and Baha-Eddine, M.S. 2017. Human capital for Tourism industry: Evidence from Algeria. TED, 33(86): 242-254. Available at: https://www.researchgate.net/publication/334283086
[2] Cobo-Soler, S., Fernández-Alcantud, M., López-Morales, J.M. and Santamaría-García, M. 2018. Public support for entrepreneurship, human capital and talent in the context of Spanish tourism. Journal of Regional Research, 9(42): 53-74.
[3] Flores, E., Xu, X. and Lu, Y. 2020. Human Capital 4.0: a workforce competence typology for Industry 4.0. Journal of Manufacturing Technology Management, 31(4): 687-703. DOI: https://doi.org/10.1108/JMTM-08-2020-0309
[4] Frechtling, D. and Smeral, E. 2020. Measuring and Interpreting the Economic Impact of Tourism: 20/20 Hindsight and Foresight. TOURISM RESEARCH: A 20-20 VISION. Oxford, England: Goodfellow Publishing, 67–79pp. Available at: https://home.gwu.edu/
[5] Frey, C.B. and Osborne, M. 2017. The future of employment: How susceptible are jobs to computerization? Technological Forecasting and Social Change, 19(114): 254-280. DOI:https://doi.org/10.1016/j.techfore.2017.08.019
[6] Gadzhiev, N., et al. 2020. Management mechanism of human capital formation under a postindustrial economy. Topical Problems of Green Architecture, Civil and Environmental Engineering, 10(164): 100-115. DOI: https://doi.org/10.1051/e3sconf/202016410005
[7] Hajiyeva, M. and Teymurova, V. 2019. Analysis of the impact of the human capital on tourism development in Azerbaijan. Economic and Social Development, 33(13): 210-221. Available at: https://www.researchgate.net/publication/331302210
[8] Hjalager, A.-M. 2018. A review of innovation research in tourism. Journal of Tourism management, 31(1): 1-12. DOI: https://doi.org/10.1016/j.tourman.2018.08.012
[9] Ilic, I. and Nikolic, A. 2018. Implications of modern technology development for the tourism sector of the republic of Serbia. Journal of Economics, 1(64): 37-52.
[10] Kamysbaev, M.K., Omarbakiev, L.A. and Yeralina, E.M. 2020. Features of personnel management principles in developed countries and possibilities of using them in Kazakhstan. Bulletin of Turan University, 1(4): 96-101. DOI: https://doi.org/10.46914/1562-2959-2020-1-4-96-101
[11] Kasa, M., et al. 2020. Competently skilled human capital through education for the hospitality and tourism industry. Worldwide Hospitality and Tourism Themes, 2(12): 175-184. DOI: https://doi.org/10.1108/WHATT-12-2020-0081
[12] Pelinescu, E. 2017. The impact of human capital on economic growth. Procedia Economics and Finance, 22(12): 184-190. DOI: https://doi.org/10.1016/S2212-5671(15)00258-0
[13] Pérez, M. 2020. Uncovering Innovativeness in Spanish Tourism Firms: The Role of Transformational Leadership. Sustainability, 12(39): 89-87. DOI: 10.3390/su12103989
[14] Pirozhenko, N. T. 2018. State regulation of tourism development at the federal and regional levels. Economics, 11(68): 15-23. Available at: http://www.rusnauka.com/29_NIOXXI_/Economics/15_116815.doc.htm
[15] Rahim, A., Atan, R. and Kamaluddin, A. 2017. Human capital efficiency and firm performance: an empirical study on Malaysian technology industry. Governance and Accountability, 36(12): 26-37. DOI:https://doi.org/10.1051/shsconf/20173600026
[16] Scavarda, A., Daú, G., Scavarda, L.F. and Caiado, R.G. 2019. An Analysis of the Corporate Social Responsibility and the Industry 4.0 with Focus on the Youth Generation. Sustainable Human Resource Management Framework, 11(18): 30-42. DOI: https://doi.org/10.3390/su11185130
[17] Shсhipanova, D.G., Burkaltseva, D.D., Osmanova, E.U. and Yanovskayav, A.A. 2017. The Role and Influence of the Tourism Industry of the Crimean Region on Economic Development. MIR, 1(29): 167-177. DOI: https://doi.org/10.18184/2079-4665.2017.8.1.167-177
[18] Sigala, M. 2020. Tourism and COVID-19: Impacts and implications for advancing and resetting industry and research. Journal of Business Research, 9(117): 312-321. DOI: 10.1016/j.jbusres.2020.06.015
[19] Stachová, K., Papula, J., Stacho, Z. and Kohnová, L. 2019. External Partnerships in Employee Education and Development as the Key to Facing Industry 4.0 Challenges. Journal of Manufacturing Technology Management, 2(11): 45-54. DOI: https://doi.org/10.3390/su11020345
[20] Stryzhak, O. 2019. Institutional System of Human Development and Institutional Environment: Relationship Features. International Transport Infrastructure, Industrial Centers and Corporate Logistics, 6(67): 49-57. DOI: https://doi.org/10.1051/shsconf/20196706049
[21] Sukharev, M.V. 2017. Human capital management in the information society. Economics and management of management systems, 2(24): 235-243.
[22] Tran, N.P. and Vo, D. H. 2020. Human capital efficiency and firm performance across sectors in an emerging market. Cogent Business & Management, 7(1): 32-39. DOI: https://doi.org/10.1080/23311975.2020.1738832
[23] Voronkina, V.V. 2020. Domestic and world experience in personnel management. Young scientist, 25 (315): 149-151. Available at: https://moluch.ru/archive/315/71868/
[24] Whysall, Z., Owtram, M. and Brittain, S. 2019. The new talent management challenges of Industry 4.0. Journal of Management Development, 6(38): 118-129. DOI: https://doi.org/10.1108/JMD-06- 2018-0181
[25] Official resource of a digital and sustainable future today. Tourism (world market). Available at: https://www.tadviser.ru
[26] Official website of the Committee on Statistics of the Ministry of National Economy of the Republic of Kazakhstan. Available at: www.stat.gov.kz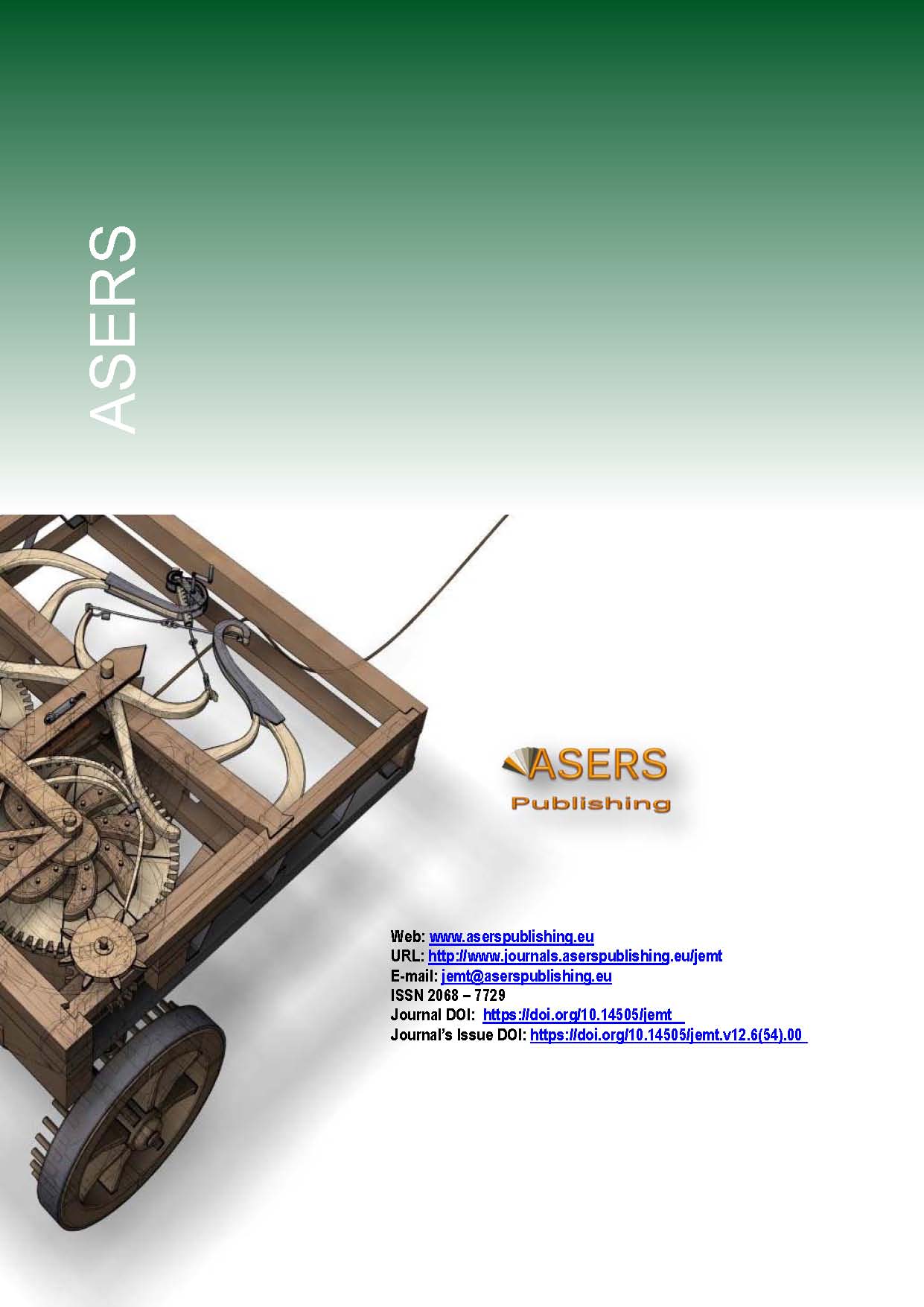 The Copyright Transfer Form to ASERS Publishing (The Publisher)
This form refers to the manuscript, which an author(s) was accepted for publication and was signed by all the authors.
The undersigned Author(s) of the above-mentioned Paper here transfer any and all copyright-rights in and to The Paper to The Publisher. The Author(s) warrants that The Paper is based on their original work and that the undersigned has the power and authority to make and execute this assignment. It is the author's responsibility to obtain written permission to quote material that has been previously published in any form. The Publisher recognizes the retained rights noted below and grants to the above authors and employers for whom the work performed royalty-free permission to reuse their materials below. Authors may reuse all or portions of the above Paper in other works, excepting the publication of the paper in the same form. Authors may reproduce or authorize others to reproduce the above Paper for the Author's personal use or for internal company use, provided that the source and The Publisher copyright notice are mentioned, that the copies are not used in any way that implies The Publisher endorsement of a product or service of an employer, and that the copies are not offered for sale as such. Authors are permitted to grant third party requests for reprinting, republishing or other types of reuse. The Authors may make limited distribution of all or portions of the above Paper prior to publication if they inform The Publisher of the nature and extent of such limited distribution prior there to. Authors retain all proprietary rights in any process, procedure, or article of manufacture described in The Paper. This agreement becomes null and void if and only if the above paper is not accepted and published by The Publisher, or is with drawn by the author(s) before acceptance by the Publisher.