The Formation of the Concept of Smart Sustainable City with the Purpose of Environmental Protection
Suzana L. BALOVA

Financial University under the Government of the Russian Federation, Russian Federation

Judith J. Hernández García de VELAZCO

Universidad de la Costa, Colombia

Irina V. POLOZHENTSEVA

K.G. Razumovsky Moscow State University of Technologies and Management, Russian Ferderation

Mikhail Yurjevich CHERNAVSKY

K.G. Razumovsky Moscow State University of Technologies and Management, Russian Ferderation

Lyudmila Vladimirovna SHUBTSOVA

Financial University under the Government of the Russian Federation, Russian Federation
Abstract
The article is aimed at identifying the main areas of a smart sustainable city formation that can help to protect the environment.
The article presents the results and definitions of a smart city and its variant, a smart sustainable city. Based on an expert survey, the main areas of a smart sustainable city formation have been identified, some measures recommended for implementation in these areas have been formulated, and examples of their implementation in international practice have been presented.
References
[1] Angelidou, M. 2017. The role of smart city characteristics in the plans of fifteen cities. Journal of Urban Technology, 24: 3-28.
[2] Beatley, T., and Collins, R. 2000. Smart growth and beyond: transitioning to a sustainable society. Virginia Environmental Law Journal, 19(3): 287-322.
[3] Benouaret, K., Valliyur-Ramalingam, R. and Charoy, F. 2013. CrowdSC: building smart cities with large-scale citizen participation. IEEE Internet Computing, 17(6): 57–63.
[4] Bogomolova, L., and Ustyuzhantseva, A. 2020. Issues of ensuring the economic security of the northern regions of Russia. Utopía y Praxis Latinoamericana, 5(Extra 5): 51-62.
[5] Bondaletova, N.F., Evstratova, T.A., Demchenko, T.S. and Medvedeva, N.V. 2020. Assessment of the work of authorities in the field of social security of citizens discharged from military service and their family members. Utopía y Praxis Latinoamericana, 5(Extra 5): 356-369.
[6] Caragliu, A., Del Bo, C. and Nijkamp, P. 2011. Smart cities in Europe. Journal of Urban Technology. 18(2): 65–82.
[7] Dameri, R.P., and Benevolo, C. 2016. Governing smart cities: an empirical analysis. Social Science Computer Review, 34: 693-707.
[8] De Jong, M., et al. 2015. Sustainable–smart–resilient–low carbon–eco–knowledge cities; making sense of a multitude of concepts promoting sustainable urbanization. Journal of Cleaner Production, 109: 25–38.
[9] Dudin, M.N., Zasko, V.N. Dontsova, O.I. and Osokina, I.V. 2020. The energy politics of the European Union and the possibility to implement it in Post-soviet States. International Journal of Energy Economics and Policy, 10(2): 409-416.
[10] Gorokhova, A.E., et al. 2020. The development of digital economy technologies and implementation of manufacturing execution systems. Revista Inclusiones, 7(Especial): 422-434.
[11] Hollands, R. 2008. Will the real smart city please stand up? Intelligent, progressive or entrepreneurial? City, 12(3): 303–320.
[12] Ivantsova, E.A. 2016. Problems and perspectives of the solid waste management. Vestnik Volgogradskogo gosudarstvennogo universiteta. Issue 3. Economy, Ecology, 2(35): 148-159. (in Russian)
[13] Kramers, A., M. Höjer, N. Lövehagen, and J. Wangel. 2014. Smart sustainable cities: exploring ICT solutions for reduced energy use in cities. Environmental Modelling & Software, 56: 52-62.
[14] Kremcheev, E.A., Danilov, A.S. and Smirnov, Yu.D. 2019. State of metrological support of monitoring systems based on unmanned aircraft. Zapiski Gornogo Instituta, 235: 96-105. (in Russian)
[15] Letaifa, S.B. 2015. How to strategize smart cities: revealing the smart model. Journal of Business Research, 68(7): 1414-1419.
[16] Lombardi, P., Giordano, S. Farouh, H. and Yousef, W. 2012. Modelling the smart city performance. Innovation: The European Journal of Social Science Research, 25(2): 137–149.
[17] Morozova, V.V. 2019. Processes of distribution of the population of Russia. In Innovative development path of modern science: theory, methodology and practice: collection of conference proceedings, October 29, 2019, Petrozavodsk, Russia, I.I. Ivanovskaya (ed.), 60-63. Petrozavodsk: International Center for Scientific Partnership "New Science". (in Russian)
[18] Neirotti, P., et al. 2014. Current trends in smart city initiatives – some stylised facts. Cities, 38: 25–36.
[19] Savina, S.V. 2020. Artificial intelligence in analyzing the capital structure effect on financial stability. Bulletin of the National Academy of Sciences of the Republic of Kazakhstan, 1(383): 277-287. DOI:https://doi.org/10.32014/2020.2518-1467.33
[20] Savina, S.V., et al. 2020. Application of telecommunications technologies in the management of territories. Journal of Environmental Management and Tourism, 11(5): 1143-1151. DOI:https://doi.org/10.14505//jemt.v11.5(45).12
[21] Van Winden, W. 2008. Urban governance in the knowledge-based economy: challenges for different city types. Innovation: Management, Policy & Practice, 10(2-3): 197-210.
[22] Zygiaris, S. 2011. Smart city reference model: assisting planners to conceptualize the building of smart city innovation ecosystems. Journal of the Knowledge Economy, 4(2): 217–231.
[23] Rio+20. 2012. United Nations Conference on Sustainable Development. The future we want, June 20-22, 2012, Rio de Janeiro, Brazil. Available at: https://www.un.org/ru/events/pastevents/pdf/brochure_rio.pdf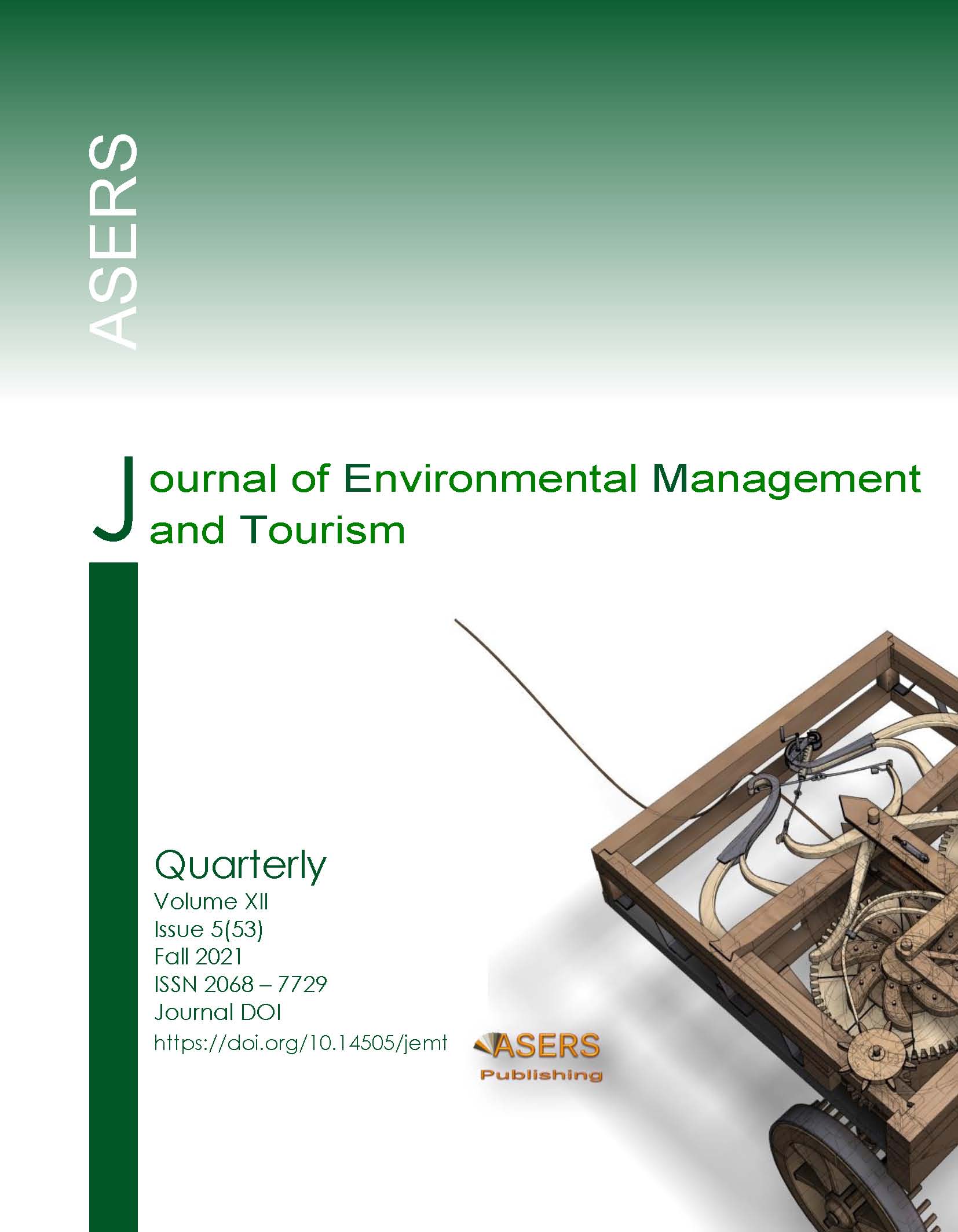 The Copyright Transfer Form to ASERS Publishing (The Publisher)
This form refers to the manuscript, which an author(s) was accepted for publication and was signed by all the authors.
The undersigned Author(s) of the above-mentioned Paper here transfer any and all copyright-rights in and to The Paper to The Publisher. The Author(s) warrants that The Paper is based on their original work and that the undersigned has the power and authority to make and execute this assignment. It is the author's responsibility to obtain written permission to quote material that has been previously published in any form. The Publisher recognizes the retained rights noted below and grants to the above authors and employers for whom the work performed royalty-free permission to reuse their materials below. Authors may reuse all or portions of the above Paper in other works, excepting the publication of the paper in the same form. Authors may reproduce or authorize others to reproduce the above Paper for the Author's personal use or for internal company use, provided that the source and The Publisher copyright notice are mentioned, that the copies are not used in any way that implies The Publisher endorsement of a product or service of an employer, and that the copies are not offered for sale as such. Authors are permitted to grant third party requests for reprinting, republishing or other types of reuse. The Authors may make limited distribution of all or portions of the above Paper prior to publication if they inform The Publisher of the nature and extent of such limited distribution prior there to. Authors retain all proprietary rights in any process, procedure, or article of manufacture described in The Paper. This agreement becomes null and void if and only if the above paper is not accepted and published by The Publisher, or is with drawn by the author(s) before acceptance by the Publisher.