Rehabilitation Tourism Opportunities in the Russian Federation for Recovering COVID-19 Patients
Mikhail A. OSADCHUK

Federal State Autonomous Educational Institution of Higher Education I.M. Sechenov First Moscow State Medical University of the Ministry of Health of the Russian Federation - Sechenov University, Russia

Maxim V. TRUSHIN

Kazan Federal University, Russia

Alexey M. OSADCHUK

Samara State Medical University under the Ministry of Health of the Russian Federation, Russia

Ekaterina D. MIRONOVA

Federal State Autonomous Educational Institution of Higher Education I.M. Sechenov First Moscow State Medical University of the Ministry of Health of the Russian Federation - Sechenov University, Russia

Karina S. SOLODENKOVA

Federal State Autonomous Educational Institution of Higher Education I.M. Sechenov First Moscow State Medical University of the Ministry of Health of the Russian Federation - Sechenov University, Russia

Alisa E. LAZAREVA

Federal State Autonomous Educational Institution of Higher Education I.M. Sechenov First Moscow State Medical University of the Ministry of Health of the Russian Federation - Sechenov University, Russia
Abstract
The COVID-19 pandemic determined the necessity for prompt diagnostics and optimal routing of patients, followed by rehabilitation and secondary prevention, as domestic tourism intensifies. The epidemic increased the importance of digital systems for the tourism service market. Digitalization took leading positions in the tourism industry and made market participants adapt to these changes for optimizing their activities and increasing revenues. Further development of tourism in Russia, giving the ongoing pandemic, would require digital technologies such as multilanguage informational services overcoming language barriers, digital tourist cards, mobile apps introducing cultural and national landmarks online, web services for preparing tourist routes. Judging from scientific and practical experience, we can expect that medical, social, physical and psychological rehabilitation supervised by medical personnel will improve body functioning including heart, lungs, central nervous system as well as restore patients' quality of life in general.
References
[1] Aljadi, S. H., et al. 2017. Bacterial Contamination in Physical Therapy Departments in the State of Kuwait. Journal of Physical Therapy Science, 29 (6): 1014–18. DOI: https://doi.org/10.1589/jpts.29.1014
[2] Bhatia, R. T., et al. 2020. Exercise in the Severe Acute Respiratory Syndrome Coronavirus-2 (SARS-CoV-2) Era: A Question and Answer Session with the Experts Endorsed by the Section of Sports Cardiology & Exercise of the European Association of Preventive Cardiology (EAPC). European Journal of Preventive Cardiology, 27 (12): 1242–51. DOI: https://doi.org/10.1177/2047487320930596
[3] Choon-Huat Koh, G., and Hoenig, H. 2020. How Should the Rehabilitation Community Prepare for 2019-NCoV? Archives of Physical Medicine and Rehabilitation, 101 (6): 1068–71. DOI:https://doi.org/10.1016/j.apmr.2020.03.003
[4] Daily Electronic Newspaper of the Russian Union of Travel Industry. 2020. Rostourism Has Developed a Set of Measures to Save the Industry. Available at: https://ratanews.ru/news/news_16042020_3.stm/
[5] Del Rio, C., and Malani, P. N. 2020. 2019 Novel Coronavirus-Important Information for Clinicians. JAMA, 323 (11): 1039–40. DOI: https://doi.org/10.1001/jama.2020.1490
[6] Demeco, A., et al. 2020. Rehabilitation of Patients Post-COVID-19 Infection: A Literature Review. The Journal of International Medical Research, 48 (8): 300060520948382. DOI:https://doi.org/10.1177/0300060520948382
[7] Doremalen, N., et al. 2020. Aerosol and Surface Stability of SARS-CoV-2 as Compared with SARS-CoV-1. The New England Journal of Medicine, 382 (16): 1564–67. DOI: https://doi.org/10.1056/NEJMc2004973
[8] European Centre for Disease Prevention and Control. 2020. COVID-19 Situation Update Worldwide, as of 5 October 2020. Available at: https://www.ecdc.europa.eu/en/geographical-distribution-2019-ncov-cases
[9] Grech, V., Grech, P. and Fabri, S. 2020. A risk balancing act – Tourism competition using health leverage in the COVID-19 era. International Journal of Risk & Safety in Medicine, 31 (3): 121–30. DOI:https://doi.org/10.3233/JRS-200042
[10] Huang, C., et al. 2020. Clinical Features of Patients Infected with 2019 Novel Coronavirus in Wuhan, China. Lancet, 395 (10223): 497–506. DOI: https://doi.org/10.1016/S0140-6736(20)30183-5
[11] Ivanova, G. E., et al. 2020. Medical rehabilitation at a new coronavirus infection (COVID-19). Physical and rehabilitation medicine, medical rehabilitation, 2 (2): 140–89. DOI: https://doi.org/10.36425/rehab34231
[12] Ivanova, G. E., et al. 2020. Rehabilitation Care during the New COVID-19 Coronavirus Infection Epidemic at First, Second and Th Ird Medical Rehabilitation Phases. Physical and Rehabilitation Medicine, Medical Rehabilitation, 2 (2): 98–117. DOI: https://doi.org/10.36425/rehab34148
[13] Kampf, G., Todt, D. Pfaender, S. and Steinmann, E. 2020. Persistence of Coronaviruses on Inanimate Surfaces and Their Inactivation with Biocidal Agents. The Journal of Hospital Infection, 104 (3): 246–51. DOI:https://doi.org/10.1016/j.jhin.2020.01.022
[14] Khan, F., and Amatya, B. 2020. Medical Rehabilitation in Pandemics: Towards a New Perspective. Journal of Rehabilitation Medicine, 52 (4): jrm00043. DOI: https://doi.org/10.2340/16501977-2676
[15] Kiekens, C., et al. 2020. Rehabilitation and Respiratory Management in the Acute and Early Post-Acute Phase. 'Instant Paper from the Field' on Rehabilitation Answers to the COVID-19 Emergency. European Journal of Physical and Rehabilitation Medicine, 56 (3): 323–26. DOI: https://doi.org/10.23736/S1973-9087.20.06305-4
[16] Krasnokutskiy, P., et al. 2016. The Main Trends and Prospects of Development of International Tourism. International Journal of Economics and Financial Issues, 6 (8): 257–62.
[17] Lambert, I., et al. 2000. Interferential Therapy Machines as Possible Vehicles for Cross-Infection. The Journal of Hospital Infection, 44 (1): 59–64. DOI: https://doi.org/10.1053/jhin.1999.0647
[18] Liu, K., et al. 2020. Respiratory Rehabilitation in Elderly Patients with COVID-19: A Randomized Controlled Study. Complementary Therapies in Clinical Practice 39 (May): 101166. DOI:https://doi.org/10.1016/j.ctcp.2020.101166
[19] Machalkin, S. E., and Moreva, S. N. 2018. Analysis of the Dynamics of the Main Statistical Indicators of the Tourism Industry in Russia, 13 (104): 130–34. DOI: https://doi.org/10.20310/1819-8813-2018-13-104-130-134
[20] Ministry of Health of Russia. 2020. Temporary Guidelines for the Prevention, Diagnosis and Treatment of New Coronavirus Infection (COVID-19). Version 6 (04.28.2020). Available at: https://static-1.rosminzdrav.ru/system/attachments/attaches/000/050/122/original/28042020_МR_COVID-19_v6.pdf
[21] Mobin, M., et al. 2011. The Presence of Fungi on Contact Electrical Stimulation Electrodes and Ultrasound Transducers in Physiotherapy Clinics. Physiotherapy, 97 (4): 273–77. DOI:https://doi.org/10.1016/j.physio.2010.11.010
[22] Oesterle, M. E., et al. 2019. Are Ball Pits Located in Physical Therapy Clinical Settings a Source of Pathogenic Microorganisms? American Journal of Infection Control, 47 (4): 456–58. DOI:https://doi.org/10.1016/j.ajic.2018.09.031
[23] Ornell, F., Schuch, J. B. Sordi, A. O., and Kessler, F. H. P. 2020. Pandemic Fear' and COVID-19: Mental Health Burden and Strategies. Revista Brasileira De Psiquiatria (Sao Paulo, Brazil: 1999), 42 (3): 232–35. DOI: https://doi.org/10.1590/1516-4446-2020-0008
[24] Spratt, H. G., et al. 2019. Topical Lotions Utilized in Outpatient Rehabilitation Clinics as a Potential Source of Bacterial Contamination. Physiotherapy Theory and Practice, 35 (2): 163–70. DOI:https://doi.org/10.1080/09593985.2018.1441935
[25] Stam, H. J., Stucki, G. and Bickenbach, J. 2020. Covid-19 and Post Intensive Care Syndrome: A Call for Action. Journal of Rehabilitation Medicine, 52 (4): jrm00044. DOI: https://doi.org/10.2340/16501977-2677
[26] Vlasova, I. 2020. An Unprecedented Crisis: How Many Hotels Will Lose. Gazeta.Ru. Available at: https://m.gazeta.ru/business/2020/04/30/13068283.shtml
[27] World Health Organization. 2020a. Coronavirus Disease (COVID-19) Pandemic. Available at: https://www.who.int/emergencies/diseases/novel-coronavirus-2019
[28] World Health Organization. 2020b. Support for Rehabilitation Self-Management after COVID-19- Related Illness. Available at: https://apps.who.int/iris/bitstream/handle/10665/333287/WHO-EURO-2020-855-40590-54571-eng.pdf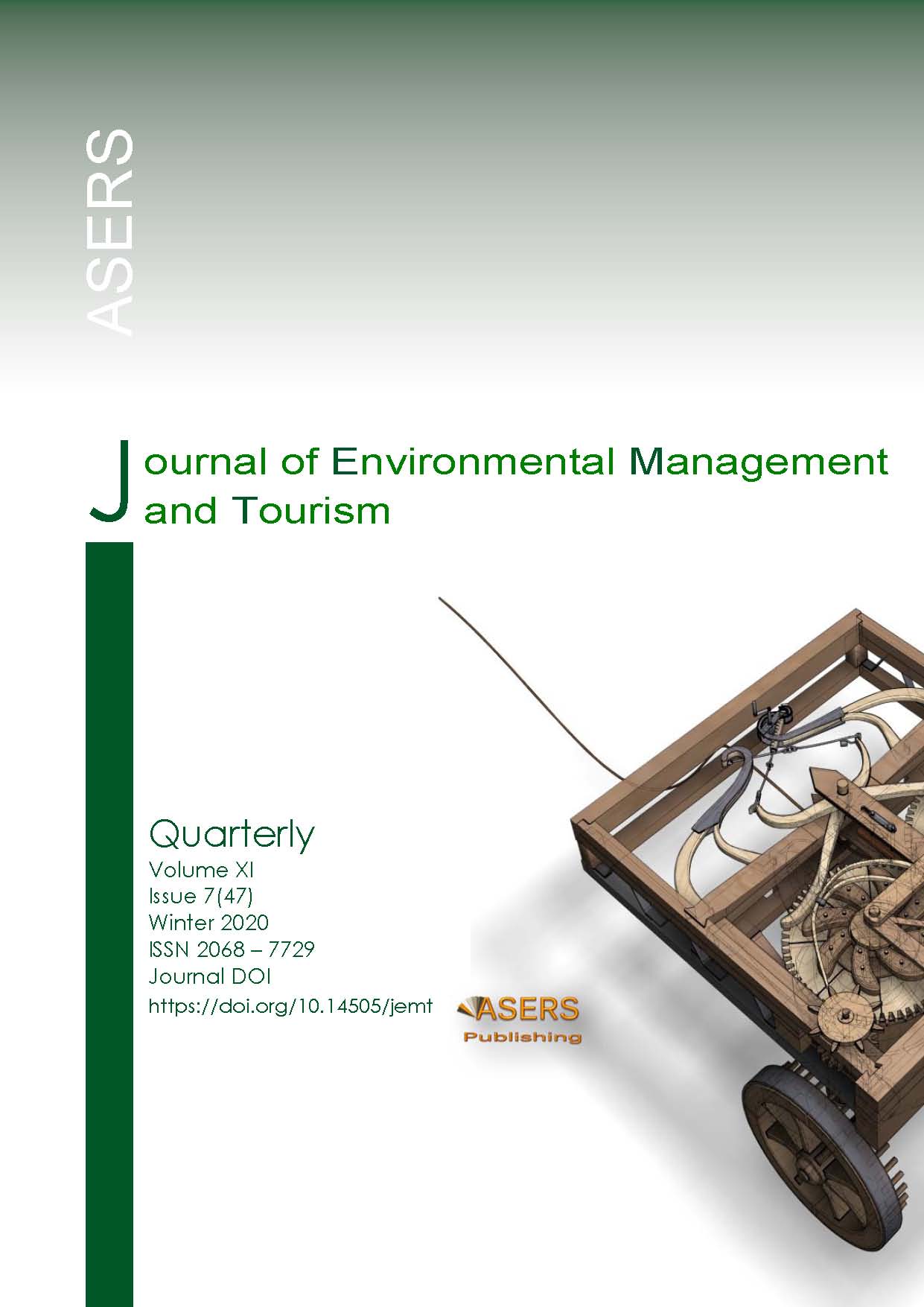 The Copyright Transfer Form to ASERS Publishing (The Publisher)
This form refers to the manuscript, which an author(s) was accepted for publication and was signed by all the authors.
The undersigned Author(s) of the above-mentioned Paper here transfer any and all copyright-rights in and to The Paper to The Publisher. The Author(s) warrants that The Paper is based on their original work and that the undersigned has the power and authority to make and execute this assignment. It is the author's responsibility to obtain written permission to quote material that has been previously published in any form. The Publisher recognizes the retained rights noted below and grants to the above authors and employers for whom the work performed royalty-free permission to reuse their materials below. Authors may reuse all or portions of the above Paper in other works, excepting the publication of the paper in the same form. Authors may reproduce or authorize others to reproduce the above Paper for the Author's personal use or for internal company use, provided that the source and The Publisher copyright notice are mentioned, that the copies are not used in any way that implies The Publisher endorsement of a product or service of an employer, and that the copies are not offered for sale as such. Authors are permitted to grant third party requests for reprinting, republishing or other types of reuse. The Authors may make limited distribution of all or portions of the above Paper prior to publication if they inform The Publisher of the nature and extent of such limited distribution prior there to. Authors retain all proprietary rights in any process, procedure, or article of manufacture described in The Paper. This agreement becomes null and void if and only if the above paper is not accepted and published by The Publisher, or is with drawn by the author(s) before acceptance by the Publisher.