Assessment of Waste Management System Among Hotels and Guest Houses in Minna
Ebenezer Adegboyega OLUWOLE

Forestry Research Institute of Nigeria Federal College of Wildlife Management, Nigeria

Hamza ATTAHIRU

Forestry Research Institute of Nigeria Federal College of Wildlife Management, Nigeria

Olorunfemi Boye OYEDIRAN

Department of Tourism and Hospitality Management Forestry Research Institute of Nigeria Federal College of Wildlife Management, Nigeria

Stephen Kayode OMOTUGBA

Forestry Research Institute of Nigeria Federal College of Wildlife Management, Nigeria

Patience Ndidi MEDUNA

Forestry Research Institute of Nigeria Federal College of Wildlife Management, Nigeria

Gbemiga Thaddaeus KOLAWOLE

Forestry Research Institute of Nigeria Federal College of Wildlife Management, Nigeria
Abstract
The production and management of waste has become an important point of interest for hoteliers and their managers globally due to its environmental impacts. In the bid to become more sustainable or environmentally responsible, hotels and guest houses are going green. Thus, this study examines waste management system adopted lodging facilities in Minna, Niger State. Data collection was performed using questionnaire administered to managers of 26 sampled lodging facilities. Result revealed that three units (rooms, kitchen and store/wharehouse) out of the nine units examined produce the highest volume of wastes As plastic, paper, organic, and water wastes are topmost in the categories of wastes produce, while large percentage of the wastes are either burnt, landfill, or dump in the water ways or municipal dump site without seperation. The findings will help foster a new paradigm shift to mitigate the environmental impact of the waste produced by accomoodation outfits.
References
[1] Abdulredha, M., et al. 2018. Estimating solid waste generation by hospitality industry during major festivals: A quantification model based on multiple regression. Waste Management, 77: 388-400. DOI:https://doi.org/10.1016/j.wasman.2018.04.025
[2] Ball, S., Taleb, M. A. 2011. Benchmarking waste disposal in the Egyptian hotel industry. Tourism and Hospitality Research, 11(1): 1-18. DOI: https://doi.org/10.1057/thr.2010.16
[3] Baxter, G., Srisaeng, P., Wild, G. 2018. An Assessment of Airport Sustainability, Part 1-Waste Management at Copenhagen Airport. Resources, 7(21). DOI: https://doi.org/10.3390/resources7010021
[4] Castiglioni, G., et al. 2018. Solid Waste Generation in a Hotel event Service. Rev. Int. Contam. Ambie., 34 (2): 237-247. DOI: http://dx.doi.org/10.20937/RICA.2018.34.02.05
[5] Davies, T., Cahill, S. 2000. Environmental implications of the tourism industry. Available at: https://www.csu.edu/cerc/documents/Environmental Implications Tourism Industry 2000.pdf
[6] Debnath, S. 2017. Case Study: Integrated Waste Management (IWM) in Hospitality Business. Environmental Sci. & Engg. Vol. 9 Environment and Energy Management: Ethics, Laws and Policies, Chapter: 10, Publisher: Studium Press LLC, Editors: Bhola R Gurjar, J N Govil, pp.80-101
[7] Eseyin-Johnson, F.A. 2011. The Necessity for Effective Waste Management in the Hospitality Industry. The Nigerian Academic Forum, 20(1).
[8] Ghadban, S., Shames, M., Mayaleh, H. A. 2016. Trash crisis and solid waste management in Lebanon: Analyzing hotels' commitment and guests' preferences. Journal of Tourism Research & Hospitality, 6(3): 1-18. DOI: https://doi.org/10.4172/2324-8807.1000171
[9] Graci, S. 2010. Examining the factors that impede sustainability in China's tourism accommodation industry: A case study of Sanya, Hainan, China. Journal of Hospitality Marketing & Management, 19(1): 38-55.
[10] Han, H., Hsu, L.T.J., Lee, J.S. and Sheu, C. 2011. Are lodging customers ready to go green? An examination of attitudes, demographics, and eco-friendly intentions. Int. J. Hosp. Manage. 30: 345-355. DOI:https://doi.org/10.1016/j.ijhm.2010.07.008
[11] Jani´c, M. 2011. Greening Airports: Advanced Technology and Operations; Springer: London, UK.
[12] Malik, S. and Kumar, S. 2012. Management of hotel waste: A case study of small hotels of Haryana state. Journal of Economics and Management, 1(9): 43-55.
[13] Mensah, I. 2020. Waste management practices of small hotels in Accra: An application of the waste management hierarchy model. Journal of Global Business Insights, 5(1): 33-46. DOI:https://www.doi.org/10.5038/2640-6489.5.1.1081
[14] Mu'azu, L., Rashid, B., Zainol, N.A. 2014. Are Hotels in Nigeria Proactive in Environmental Management Practices? Conference: Tourism and Hospitality International Conference 2014, At Langkawi, Malaysia.
[15] Nworuh, O.B. et al. 2011. Waste Management Practices in Selected Hotels in Owerri, Nigeria. Journal of Environmental Sciences and Resource Management, 3: 68-73.
[16] Park, J., Kim, H.J., McCleary, K.W. 2014. The impact of top management's environmental attitudes on hotel companies' environmental management. J. Hosp. Tour. Res., 38: 95-115. DOI:https://doi.org/10.1177/1096348012452666
[17] Rada, J. 1996. Designing and Building Eco-friendly Hotels. Green Hoteliers, 4: 10-11.
[18] Radwan, H.R.I., Jones, E., Minoli, D. 2010. Managing solid waste in small hotels. J. Sustain. Tour. 18: 175- 190. DOI: https://doi.org/10.1080/09669580903373946
[19] Radwan, H. R., Jones, E., Minoli, D. 2012. Solid waste management in small hotels: A comparison of green and non-green small hotels in Wales. Journal of Sustainable Tourism, 20(4): 533-550. DOI:https://doi.org/10.1080/09669582.2011.621539
[20] Rahman, I., Reynolds, D., Svaren, S. 2012. How 'green' are North American hotels? An exploration of low–cost adoption practices. International Journal of Hospitality Management, 31(3): 720–27. DOI:https://doi.org/10.1016/j.ijhm.2011.09.008
[21] Shanklin, C. W., Petrillose, M. J., Pettay, A. 1991. Solid waste management practices in selected hotel chains and individual properties. Hospitality Research Journal, 15(1): 59-74.
[22] Sridhar, M.K.C., Jegede, A.O., Uwadiegwu, Z. 2017. Waste Management Policy and Implementation in Nigeria. National Journal of Advanced Research, 3(3): 23-35. DOI:https://doi.org/10.9734/JERR/2018/v3i416884
[23] Tchobanoglous, G., Frank, K. 2002. Chapter 4: Functional Elements of Solid Waste Management. Available at: https://www.unescap.org/sites/default/files/CH08.PDF
[24] Yoada, R. M., Chirawurah, D., Adongo, P. B. 2014. Domestic waste disposal practice and perceptions of private sector waste management in urban Accra. MBC Public Health, 14: 697. DOI:https://doi.org/10.1186/1471-2458-14-697
[25] Zorpas, A.A. et al. 2012. Solid waste from the hospitality industry in Cyprus. WIT Transactions on Ecology and the Environment, 166: 41-49.
[26] Dynamic of Population and Planning for Waste Management in Bilaspur City Chapter 4 Functional Elements of Solid Waste Managemen. https://shodhganga.inflibnet.ac.in/bitstream/10603/76726/13/13_chapter204.pdf
[27] International Hotels Environment Initiative. 2002. Hotels care: Community action and responsibility for the environment. London, England
[28] United Nations 2017. Sustainable Development Benefits of Integrated Waste Management. Available at: https://www.unescap.org/sites/default/files/Sustainable_Development_Benefits_of_Waste_Management.pdf
[29] United Nations Environment Programme. 2015. Global Waste Management Outlook Available at: https://www.uncclearn.org/sites/default/files/inventory/unep23092015.pdf ISBN: 978-92-807-3479-9
[30] World Travel & Tourism Council. 2019. Africa 2019 Annual Research: Key Highlights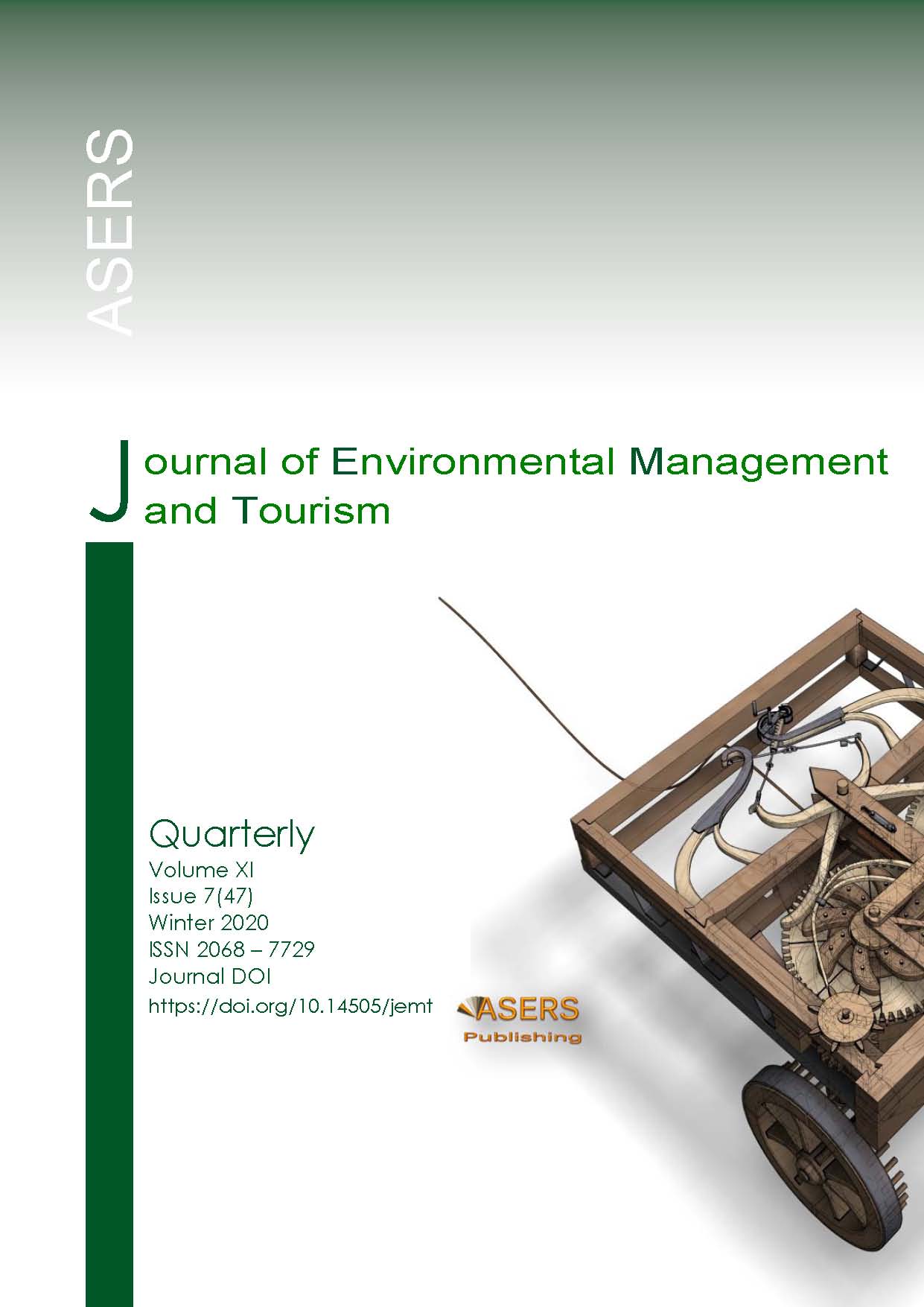 The Copyright Transfer Form to ASERS Publishing (The Publisher)
This form refers to the manuscript, which an author(s) was accepted for publication and was signed by all the authors.
The undersigned Author(s) of the above-mentioned Paper here transfer any and all copyright-rights in and to The Paper to The Publisher. The Author(s) warrants that The Paper is based on their original work and that the undersigned has the power and authority to make and execute this assignment. It is the author's responsibility to obtain written permission to quote material that has been previously published in any form. The Publisher recognizes the retained rights noted below and grants to the above authors and employers for whom the work performed royalty-free permission to reuse their materials below. Authors may reuse all or portions of the above Paper in other works, excepting the publication of the paper in the same form. Authors may reproduce or authorize others to reproduce the above Paper for the Author's personal use or for internal company use, provided that the source and The Publisher copyright notice are mentioned, that the copies are not used in any way that implies The Publisher endorsement of a product or service of an employer, and that the copies are not offered for sale as such. Authors are permitted to grant third party requests for reprinting, republishing or other types of reuse. The Authors may make limited distribution of all or portions of the above Paper prior to publication if they inform The Publisher of the nature and extent of such limited distribution prior there to. Authors retain all proprietary rights in any process, procedure, or article of manufacture described in The Paper. This agreement becomes null and void if and only if the above paper is not accepted and published by The Publisher, or is with drawn by the author(s) before acceptance by the Publisher.