The Antecedent of Environmental Attitude
Mohamad Irhas EFFENDI

University of National Development Veteran Yogyakarta, Indonesia

Dyah SUGANDINI

University of National Development Veteran Yogyakarta, Indonesia

Agus SUKARNO

University of National Development Veteran Yogyakarta, Indonesia

Muhamad KUNDARTO

University of National Development Veteran Yogyakarta, Indonesia
Abstract
This investigation means to examine the impact of environmental awareness, green pro- motion on environmental attitudes mediated by trust. The study was conducted on pro- environment consumers. The number of respondents was 150 college students in a Special Region of Yogyakarta. The data collection method used was a questionnaire, and data analysis using SEM-PLS 3.28 version. The results showed that the environmental awareness and green promotion influence the environmental attitude intervened by a trust. The impact of green promotion on environmental attitude is not significant.
References
[1] Abzari, M., Faranak S. S., Sharbiyani, A.A., and Morad, A. P. 2013. Studying the Effect of Green Marketing Mix on Market Share Increase. European Online Journal of Natural and Social Sciences, 2(3): 641-653.
[2] Agyapong, K. Q., Gloria, D., Agyapong and Kwamena, M. N. 2014. Implementation of the Green Marketing Concept: A Synthesis of Literature. International Journal of Advances in Management and Economics, 3(4): 122-134.
[3] Astini, R. 2016. Implikasi Green Brand Image, Green Satisfaction dan Green Trust terhadap Loyalitas Pelanggan. Jurnal Manajemen, 20(1): 19-34. DOi: http://dx.doi.org/10.24912/jm.v20i1.63
[4] Badulescu, A., Badulescu, D., Bac, D. and Sipos-Gug, S. 2014. Attitudes and Intentions of Business Master Students towards Sustainable Tourism and Entrepreneurship. Amfiteatru Economic, 16(8): 1110-1124.
[5] Banerjee, S., Charles, S. G., and Iyer, E. 1995. Shades of Green: A Multidimensional Analysis of Environmental Advertising. Journal of Advertising, 24(2): 21 – 31. DOI:https://doi.org/10.1080/00913367.1995.10673473
[6] Basha, H. 2015. Green Promotion: A Study on Its Impact towards the Business and Environmental Protection. International Journal of Accounting & Business Management, 3(1). DOI:http://dx.doi.org/10.24924/ijabm/2015.04/v3.iss1/222.227
[7] Belaid, S., and Behi, A.T. 2011. The role of attachment in building consumer-brand relationships: An empirical investigation in the utilitarian consumption context. Journal of Product & Brand Management, 20(1): 37–47. DOI: http://dx.doi.org/ 10.2139/ssrn.1670678
[8] Boztepe, A. 2012. Green Marketing and Its Impact on Consumer Buying Behavior. European Journal of Economic and Political Studies, 5(1).
[9] Bronfman, N. C., et al. 2015. Understanding Attitudes and Pro-Environmental Behaviors in a Chilean Community. Sustainability, 7(10): 14133-14152. DOI: http://dx.doi.org/ 10.3390/su71014133
[10] Chen, Y. S. 2010. The Drivers of Green Brand Equity: Green Brand Image, Green Satisfaction, and Green Trust. Journal of Business Ethics, 93(2): 307–319. DOI: http://dx.doi.org/ 10.1007/s10551-009-0223-9
[11] Davari, A., and Strutton, D. 2014. Marketing Mix Strategies for Closing the Gap between Green Consumer's Pro-environmental Beliefs and Behaviors. Journal of Strategic Marketing, 22(7): 563-586. DOI:https://doi.org/10.1080/0965254X.2014.914059
[12] Delgado, B., and Aleman, M. 2005. Does Brand Trust Matter to Brand Equity. Journal of Product & Brand Management, 14(3): 187-196. DOI: http://dx.doi.org/ 10.1108/10610420510601058
[13] Do Paço., Finisterra, A. M., and Reis, R. 2012. Factors Affecting Scepticism toward Green Advertising. Journal of Advertising, 41(4): 147-155. DOI: https://doi.org/10.1080/00913367.2012.10672463
[14] Flores, R. M. 2012. Effects of Green Advertising on Trust Building, Brand Opinion, and Purchase Behavior. Dissertation. Egade Business School, Monterrey. Available at: http://hdl.handle.net/11285/572582
[15] Guo, R., Lan, T., Caroline, B. Li., and Wang, T. 2017. A Path Analysis of Greenwashing in a Trust Crisis among Chinese Energy Companies: The Role of Brand Legitimacy and Brand Loyalty. Journal of Business Ethics, 14: 523–536. DOI: https://doi.org/10.1007/s10551-015-2672-7
[16] Hair, J. F., Hult, G. T. M., Ringle, C. M., and Sarstedt, M. 2013. A Primer on Partial Least Squares Structural Equation Modeling (PLS-SEM). Thousand Oaks: Sage.
[17] Hassan, Z., and Ali, N. A. 2015. The Impact of Green Marketing Strategy on the Firm's Performance in Malaysia. Procedia Social and Behavioral Sciences, 172: 463-470. DOI:https://doi.org/10.1016/j.sbspro.2015.01.382
[18] Portal, S., Abratt, R., and Bendixen, M. 2018. The Role of Brand Authencity in Developing Brand Trust. Journal of Strategic Marketing, 27(8): 714-729. DOI: https://doi.org/10.1080/0965254X.2018.1466828
[19] Prakash, A. 2002. Green Marketing, Public Policy and Managerial Strategies. Business Strategy and the Environment, 11(5): 285-297. Published online in Wiley Inter-Science. DOI: https://doi.org/10.1002/bse.338
[20] Pujari, D., Wright, G., and Peattie, K. 2003. Green and Competitive Influences on Environmental New Product Development Performance. Journal of Business Research, 56(8): 657-671. DOI:https://doi.org/10.1016/S0148-2963(01)00310-1
[21] Sekaran, U., and Bougie, R. B. 2016. Research Methods for Business: A Skill Building Approach. ISBN: 9781119165552. Wiley; 7th Edition.
[22] Setyaningrum, A., and Nina, P. M. 2017. Green Marketing terhadap Brand Image Produk Lampu Led Philips di Kota Bandung. Jurnal Ekonomi dan Bisnis, 1(2): 164-182.
[23] Simtion, D. 2014. Green Prices – a Reflection of Environmental Protection. Scientific Papers Series Management. Economic Engineering in Agriculture and Rural Development, 14(3).
[24] Sohail, S. 2016. Green Marketing and its Impact on Consumer Based Brand Equity. Proceedings of the International Conference on Innovation & Entrepreneurship. Pp. 238-246.
[25] Sugandini, D., Rahatmawati, I. and Arundati, R. 2018. Environmental Attitude on the Adoption Decision Mangrove Conservation: An Empirical Study on Communities in Special Region of Yogyakarta, Indonesia. Review of Integrative Business and Economics Research, 7(s1): 266-275.
[26] Sugandini, D., Effendi, M.I., Thamrin, H. M., Priyadi, U., and Muafi. 2019. From Environmental Knowledge to Conservation Behaviour. Quality Access to Success, 20(172): 101-110.
[27] Stern, P. C., Dietz, T., and Kalof, L. 1993. Value Orientations, Gender, and Environmental Concern. Environment & Behavior, 25: 322-348. DOI: https://doi.org/10.1177/0013916593255002
[28] Tong, X., Su, J., and Xu, Y. 2018. Brand Personality and Its Impact on Brand Trust and Brand Commitment: an Empirical Study of Luxury Fashion Brands. International Journal of Fashion Design, Technology and Education, 11(2): 196-209. DOI: https://doi.org/10.1080/17543266.2017.1378732
[29] Yaman, Z. 2018. A Research on the Effects of Corporate Social Responsibility Activities on the Green Marketing Awareness and Consumer Decision-Making. Diyalektolog Ulusal Sosyal Bilimler Dergisi, 17: 27-36.
[30] Yoon, J.H. and Kim, Y. J. 2016. Understanding Green Advertising Attitude and Behavioral Intention: An Application of the Health Belief Model. Journal of Promotion Management, 22(1): 49-70. DOI:https://doi.org/10.1080/10496491.2015.1107006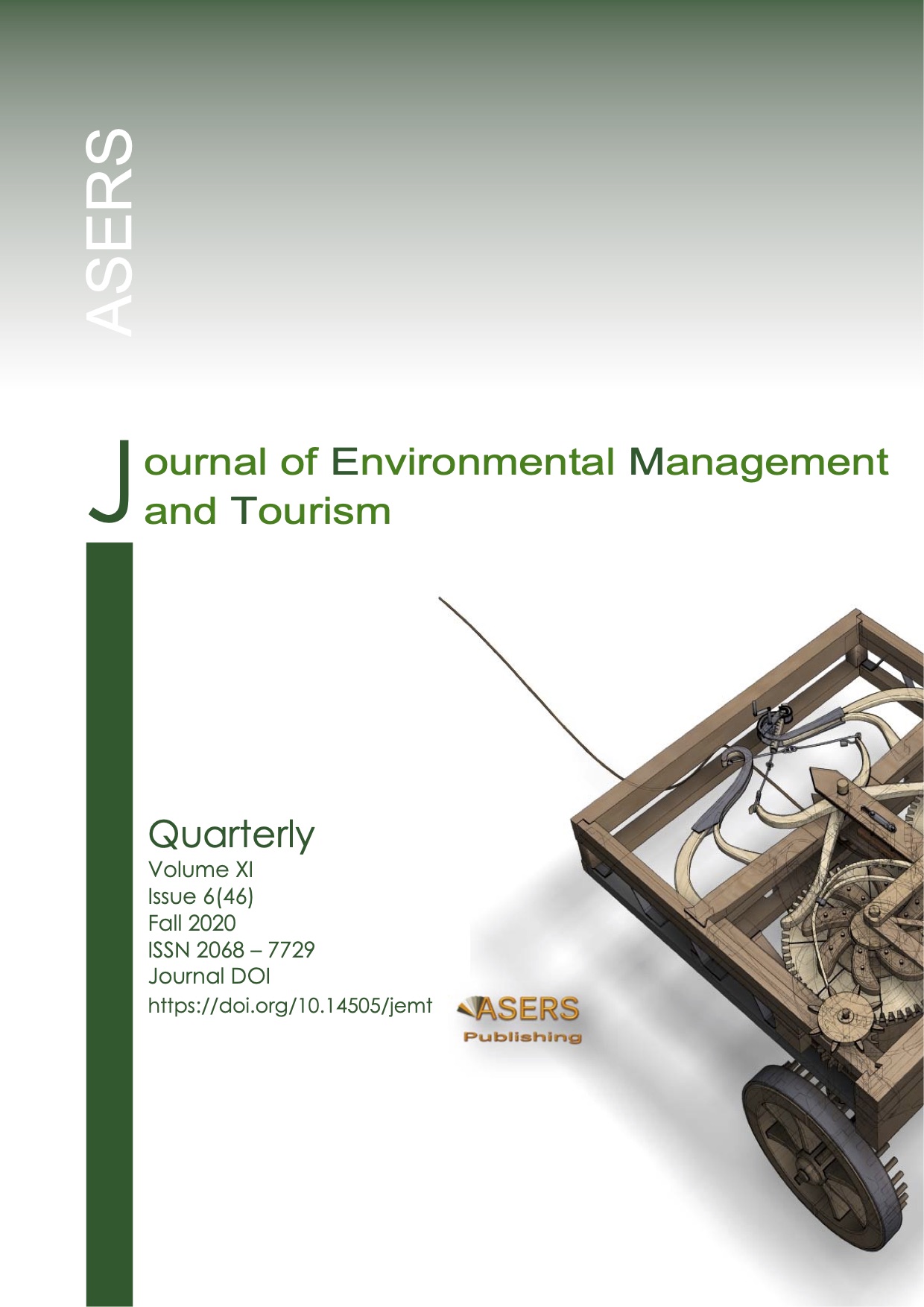 The Copyright Transfer Form to ASERS Publishing (The Publisher)
This form refers to the manuscript, which an author(s) was accepted for publication and was signed by all the authors.
The undersigned Author(s) of the above-mentioned Paper here transfer any and all copyright-rights in and to The Paper to The Publisher. The Author(s) warrants that The Paper is based on their original work and that the undersigned has the power and authority to make and execute this assignment. It is the author's responsibility to obtain written permission to quote material that has been previously published in any form. The Publisher recognizes the retained rights noted below and grants to the above authors and employers for whom the work performed royalty-free permission to reuse their materials below. Authors may reuse all or portions of the above Paper in other works, excepting the publication of the paper in the same form. Authors may reproduce or authorize others to reproduce the above Paper for the Author's personal use or for internal company use, provided that the source and The Publisher copyright notice are mentioned, that the copies are not used in any way that implies The Publisher endorsement of a product or service of an employer, and that the copies are not offered for sale as such. Authors are permitted to grant third party requests for reprinting, republishing or other types of reuse. The Authors may make limited distribution of all or portions of the above Paper prior to publication if they inform The Publisher of the nature and extent of such limited distribution prior there to. Authors retain all proprietary rights in any process, procedure, or article of manufacture described in The Paper. This agreement becomes null and void if and only if the above paper is not accepted and published by The Publisher, or is with drawn by the author(s) before acceptance by the Publisher.