Resident Perceptions of Tourism at Eleko Beach, Nigeria
Babasola BAMIRO

Alberta, Canada

Oghenetejiri DIGUN-AWETO

North-West University, South-Africa
Abstract
An understanding of the perceptions of residents about the impacts of tourism helps planners maximize positive benefits and minimize the negative impacts the industry inevitably has. This study investigates the perception of residents in a local community in a developing country Nigeria, trying to understand whether the predominant perceptions are positive or negative. Questionnaire-based primary research was used to measure the attitudes and opinions of residents to different statements of positive and negative impacts and general support for the industry. The results show that the predominant perceptions in the community are positive ones and that there were significant relationships between the demographics data obtained and some perceptions and also that resident's economic dependence affects how people felt either positively or negatively and their perceptions of the industry affect their support of the industry.
References
[1] Andereck, K.L., Valentine, K.M., Knopf, R.C., Vogt, C.A. 2005. Residents' Perception of Community Tourism Impacts. Annals of Tourism Research, 32(4): 1056-1076. DOI:https://doi.org/10.1016/j.annals.2005.03.001
[2] Butler, R. 1980. The concept of a Tourism Area Cycle of Evolution; Implication for the Management Resources. Canadian Geographer, 24: 5-12. DOI: https://doi.org/10.1111/j.1541-0064.1980.tb00970.x
[3] Byrd, E. T. 2007. Stakeholders in Sustainable Tourism Development and their Roles: Applying Stakeholder Theory to Sustainable Tourism Development. Tourism Review, 62(2): 6-12.
[4] Doxey, G.V. 1975. A causation theory of visitor-resident irritants: methodology and research inferences. In Travel and Tourism Association Sixth Annual Conference Proceedings, p. 195-98. San Diego: TTRA.
[5] Doxey, G.V. 1975. Leisure, Tourism and Canada's Aging Population Tourism in Canada; Selected Issues and Options, P.E. Murphy ed. Western Geographical Series, 21: 57-72.
[6] Lankford, S. 1994. Attitudes and Perceptions toward Tourism and Rural Regional Development. Journal of Travel Research, 33(4): 35-43. DOI: https://doi.org/10.1177/004728759403200306
[7] Liu, J. C., Var, T. 1986. Resident Attitudes towards Tourism Impacts in Hawaii. Annals of Tourism Research, 13: 193-214. DOI: https://doi.org/10.1016/0160-7383(86)90037-X
[8] Long, P., Perdue, R., Allen, L. 1990. Rural Resident Tourism Perceptions and Attitudes by Community Level of Tourism. Journal of Travel Research, 22: 86-102.
[9] Mason, P., Cheyne, J. 2000. Residents' Attitudes to Proposed Tourism Development. Annals of Tourism Research 27(2): 391-411. DOI: https://doi.org/10.1016/S0160-7383(99)00084-5
[10] Mason, P. 1995. Tourism: Environment and Development Perspectives. Godalming, UK, Worldwide Fund for Nature.
[11] Mason, P. 2003. Tourism Impacts, Planning, and Management. Oxford, Elsevier Butterworth-Heinemann.
[12] Perdue, R., Long, P., Allen, L. 1990. Resident Support for Tourism Development. Annals of Tourism Research, 22: 86-102.
[13] Pizam, A. 1989. Tourism impacts: The Social Costs to the Destination Community as Perceived by its Residents. Journal of Travel Research 16(4): 8-12.
[14] Ryan, C., Montgomery, D. 1994. The Attitudes of Bakewell Residents to Tourism and Issues in Community Responsive Tourism. Tourism Management, 15: 358-369.
[15] Veal, A.J. 2005. Business Research Methods: A Managerial Approach, Frenchs Forest: Pearson Education Australia.
[16] William, J., Lawson, R. 2001. Community Issues and Residents Opinions of Tourism. Annals of Tourism Research, 28(2): 269-290.
[17] William, S. 1998. Tourism Geography. London, Routledge.
[18] William, S. 2001. The Gambia. African Business, 267, p44.
[19] Brida, J. G., Osti, L., Faccioli, M. 2011. Residents' perception and attitudes towards tourism impacts: A case study of the small rural community of Folgaria (Trentino‐Italy). Benchmarking: an international journal, 18(3): 359-385.
[20] Jaafar, M., Bakri, N. M., and Rasoolimanesh, S. M. 2015. Local community and tourism development: A study of rural mountainous destinations. Modern Applied Science, 9(8), 399.
[21] NPC 2006. National Population Commission 2006, Abuja, Nigeria.
[22] Oyelade, A., Sanuth, O. F. H., Nwadike, L. A. B. 2018. Microbiological quality of some recreational beaches along the shoreline of Lagos state, Nigeria. World Health, 8(2).
[23] Ajani, F. 2017. Residents'perception of tourism development in Eleko and Tarkwa bay recreational centers, Lagos state, Nigeria. African Journal of Fisheries and Aquatic Resources Management, 2(1).
[24] Ko, D. W., Stewart, W. P. 2002. A structural equation model of residents' attitudes for tourism development. Tourism Management, 23(5): 521-530.
[25] Szromek, A. R., Hysa, B., Karasek, A. 2019. The Perception of Overtourism from the Perspective of Different Generations. Sustainability, 11(24), 7151.
[26] Adongo, R., Choe, J. Y., Han, H. 2017. Tourism in Hoi An, Vietnam: Impacts, perceived benefits, community attachment, and support for tourism development. International Journal of Tourism Sciences, 17(2): 86-106.
[27] Williams, J., and Lawson, R. 2001. Community issues and resident opinions of tourism. Annals of tourism research, 28(2): 269-290.
[28] WTTC (2020) retrieved from https://www.wttc.org/about/media-centre/press-releases/press-releases/2019/african-tourism-sector-booming-second-fastest-growth-rate-in-the-world/
[29] World Population Review (2020) Retrieved from http://worldpopulationreview.com/countries/nigeria-population/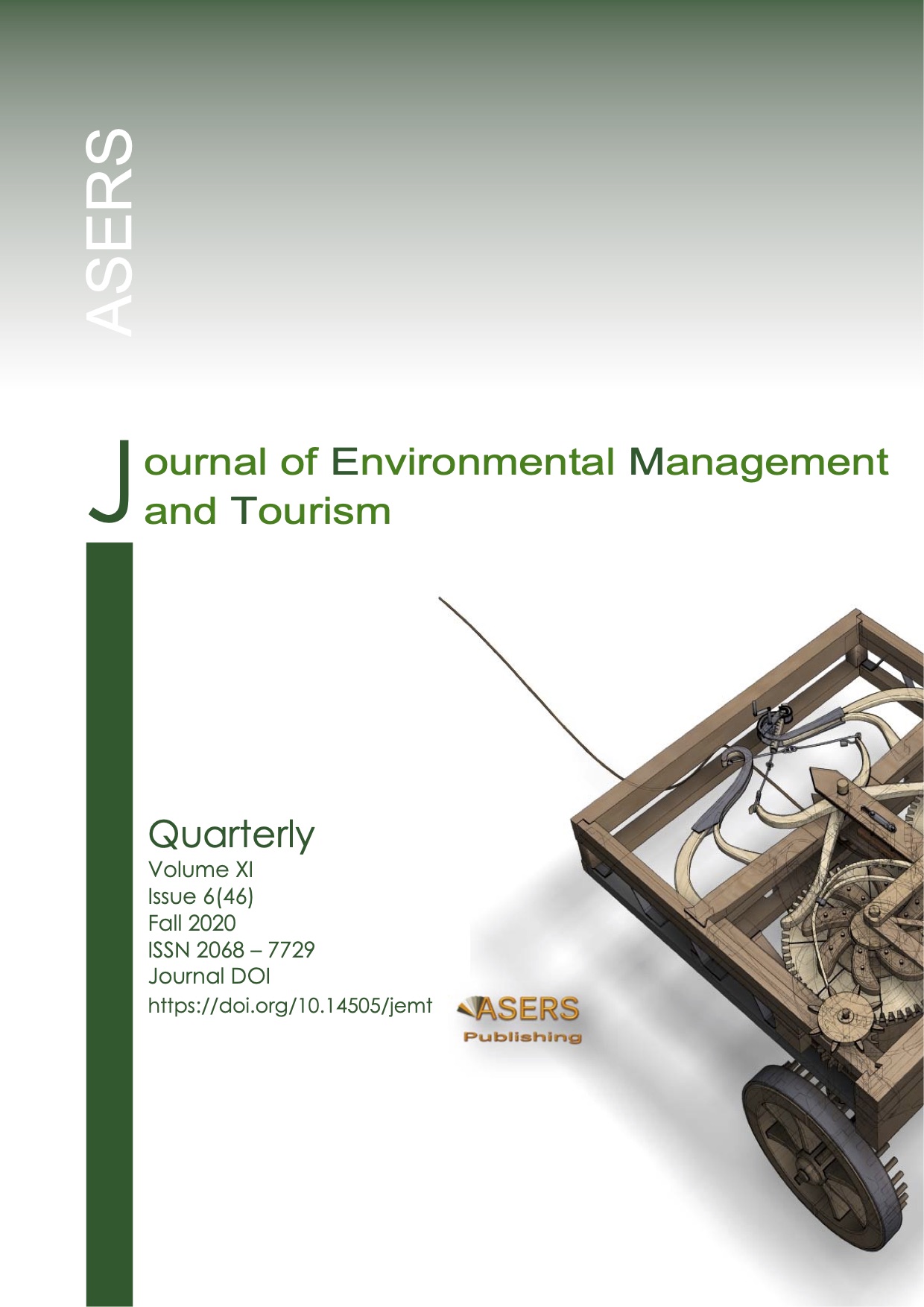 The Copyright Transfer Form to ASERS Publishing (The Publisher)
This form refers to the manuscript, which an author(s) was accepted for publication and was signed by all the authors.
The undersigned Author(s) of the above-mentioned Paper here transfer any and all copyright-rights in and to The Paper to The Publisher. The Author(s) warrants that The Paper is based on their original work and that the undersigned has the power and authority to make and execute this assignment. It is the author's responsibility to obtain written permission to quote material that has been previously published in any form. The Publisher recognizes the retained rights noted below and grants to the above authors and employers for whom the work performed royalty-free permission to reuse their materials below. Authors may reuse all or portions of the above Paper in other works, excepting the publication of the paper in the same form. Authors may reproduce or authorize others to reproduce the above Paper for the Author's personal use or for internal company use, provided that the source and The Publisher copyright notice are mentioned, that the copies are not used in any way that implies The Publisher endorsement of a product or service of an employer, and that the copies are not offered for sale as such. Authors are permitted to grant third party requests for reprinting, republishing or other types of reuse. The Authors may make limited distribution of all or portions of the above Paper prior to publication if they inform The Publisher of the nature and extent of such limited distribution prior there to. Authors retain all proprietary rights in any process, procedure, or article of manufacture described in The Paper. This agreement becomes null and void if and only if the above paper is not accepted and published by The Publisher, or is with drawn by the author(s) before acceptance by the Publisher.