Improvement of Strategic Management of a Tourism Enterprise in the International Market
Tatyana Mikhailovna REGENT

Institute of Economics, Management and Finance "Russian New University" Russian Federation

Olga Vladimirovna GLINKINA

Institute of Economics, Management and Finance "Russian New University" Russian Federation

Svetlana Aleksandrovna GANINA

Institute of Economics, Management and Finance "Russian New University" Russian Federation

Olga Vladimirovna MARKOVA

Institute of Economics, Management and Finance "Russian New University" Russian Federation

Veronika Olegovna KOZHINA

Moscow International University Russian Federation
Abstract
The article is concerned with the development of approaches to improving a tourism enterprise's strategy management in the international market. It was established that the strategic choice in the foreign market should be carried out in line with definite goals and results of environment analysis. It was proved that while setting a tourism enterprise's international market strategy the enterprise should shift its focus to marketing and, at the same time, to focus on the analysis of rivals. It was determined that instability and risks prevent executives from developing corporate development strategies for the international market simultaneously with the transformation of its corporate structure. A portfolio of strategic options, which a tourism enterprise has chosen, should include not only the elaboration of strategies but also ways of their execution, required resources and risk assessment. It was proved that the implementation of strategic management requires permanent control over this process.
References
[1] Anasenko, E.V., Melnichenko, N.F., Novak, L.V., Zholudeva, V.V., Lebedev, K.A. 2018. Improvement of managerial decisions' quality in the context of strategic development of the enterprise. International Journal of Pure and Applied Mathematics, 119(16b): 3851-3855.
[2] Cherkasov, I.L., Seredina, M.I., Mishurova, O.I., Adashova, T.A., Lebedeva, O.Ye. 2017. The effect of international tourism on the development of global social-economic processes. Journal of Environmental Management and Tourism 8(6(22)): 1166-1170.
[3] Chuikin, A.M. 2010. International cooperative capacity of management in an organization's strategic potential. Bulletin of the Immanuel Kant Baltic Federal University. Edition: Humanitarian and Social Sciences, 9: 107-117.
[4] Konovalova, E.E., Yudina, E.V., Bushueva, I.V., Ukhina, T.V., Lebedev, K.A. 2018. Forming approaches to strategic management and development of tourism and hospitality industry in the regions. Journal of Environmental Management and Tourism 9(2 (26)): 241-247.
[5] Markova, O.V., Kozhina, V.O., Novak, L.V., Shpilkina, T.A., Lebedev, K.A. 2018. Methodical approaches to strategic capabilities' management at the enterprise. International Journal of Pure and Applied Mathematics 119(16b): 3857-3861.
[6] Popov, S.S., Lyudvichenko, A.A. 2016. Improving business amortization policies as a component of strategic management to reproduce capital funds. Theory. Practice Innovation 8(8): 52-62.
[7] Saadulaeva, T.A., Lebedeva, O.E., Pinkovskaya, G.V., Shaimardanova, L.K., Gorshkova, L.V. 2018. Statistical approaches to the assessment of qualitative parameters of services market. International Journal of Pure and Applied Mathematics 119(16b): 3839-3843.
[8] Semenova, A.S. 2016. Strategy management in the globalization era. The Youth Scientific Forum: Social and Economic Sciences 6(35): 44-48.
[9] Tronina, I.A. 2012. Cluster model of innovative and technological development of industrial and economic systems. News of the Tula State University. Economic Sciences and Jurisprudence 3(1): 25-31.
[10] Vagner, P.I., Ashmarina, S.I. 2011. Determinative organization capabilities in a company's behavior on the export market. Samara State Economic University, News of the Institute of Management Systems 1(2): 160-166.
[11] Veselova, A.S., Kazantsev, A.K. 2015. Structural configuration of Russian multinational companies: Empiric research of the influence of situational factors. Journal of Modern Competition 9(2(50)): 70-89.
[12] Zavalko, N.A., Kozhina, V.O., Kovaleva, O.P., Kolupaev, R.V., Lebedeva, O.Ye. 2018. System approach to diagnostics and early prevention of a financial crisis at a tourism enterprise. Journal of Applied Economic Sciences 13(1(55)): 84-88.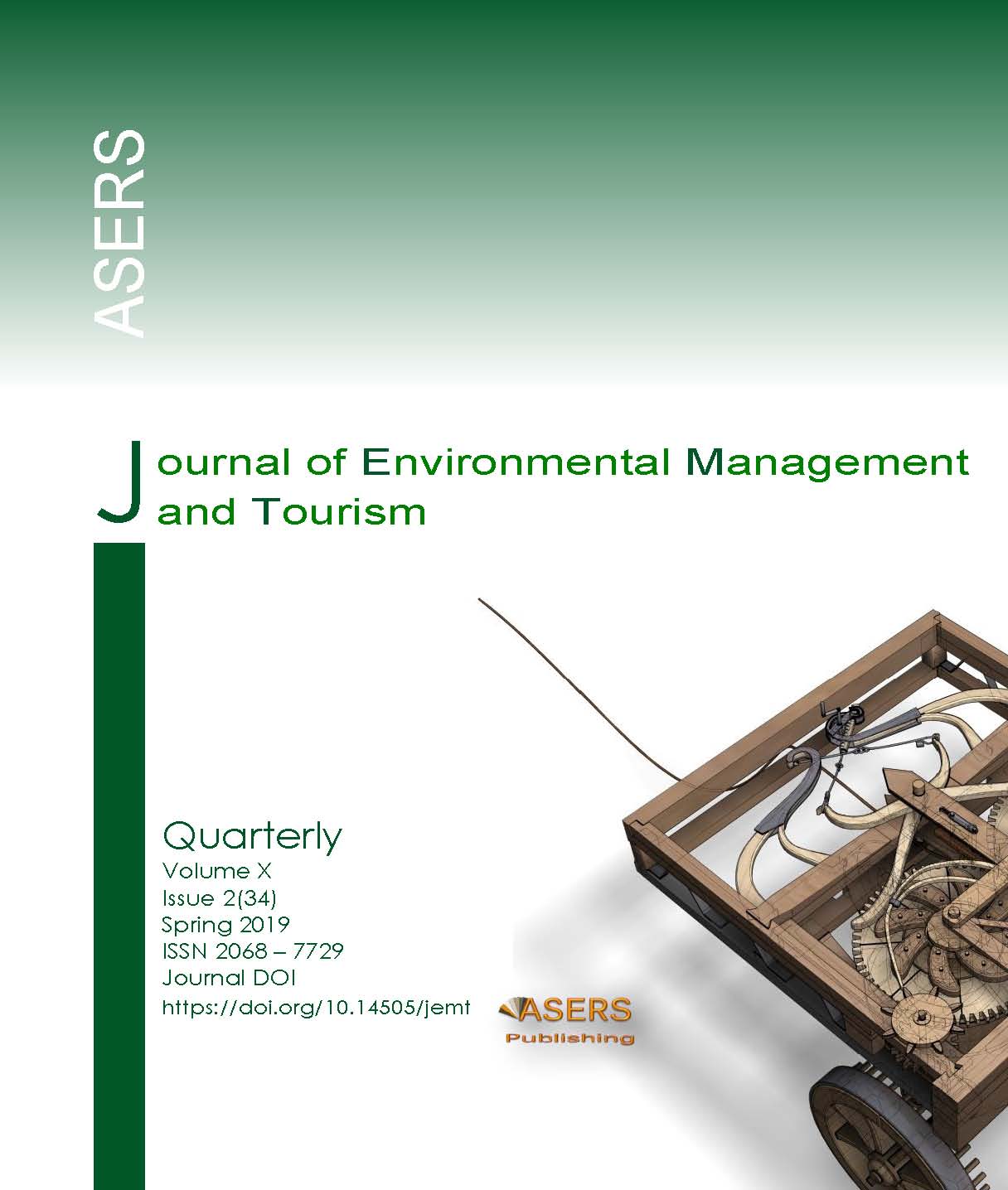 The Copyright Transfer Form to ASERS Publishing (The Publisher)
This form refers to the manuscript, which an author(s) was accepted for publication and was signed by all the authors.
The undersigned Author(s) of the above-mentioned Paper here transfer any and all copyright-rights in and to The Paper to The Publisher. The Author(s) warrants that The Paper is based on their original work and that the undersigned has the power and authority to make and execute this assignment. It is the author's responsibility to obtain written permission to quote material that has been previously published in any form. The Publisher recognizes the retained rights noted below and grants to the above authors and employers for whom the work performed royalty-free permission to reuse their materials below. Authors may reuse all or portions of the above Paper in other works, excepting the publication of the paper in the same form. Authors may reproduce or authorize others to reproduce the above Paper for the Author's personal use or for internal company use, provided that the source and The Publisher copyright notice are mentioned, that the copies are not used in any way that implies The Publisher endorsement of a product or service of an employer, and that the copies are not offered for sale as such. Authors are permitted to grant third party requests for reprinting, republishing or other types of reuse. The Authors may make limited distribution of all or portions of the above Paper prior to publication if they inform The Publisher of the nature and extent of such limited distribution prior there to. Authors retain all proprietary rights in any process, procedure, or article of manufacture described in The Paper. This agreement becomes null and void if and only if the above paper is not accepted and published by The Publisher, or is with drawn by the author(s) before acceptance by the Publisher.