Methodological Techniques for Measuring Performance in the Hospitality Industry
Elena Yurievna NIKOLSKAYA

Plekhanov Russian University of Economics, Russian Federation

Natalia Iosifovna KOVALEVA

Moscow State Institute for Tourism Industry n.a. Yu.Senkevich, Russian Federation

Elena Leonovna DRACHEVA

Moscow State Institute for Tourism Industry n.a. Yu.Senkevich, Russian Federation

Flora Kamalovna GADIMOVA

Plekhanov Russian University of Economics, Russian Federation

Nataliya Gennadievna NOVIKOVA

Russian State University of Tourism and Service, Russian Federation
Abstract
This paper is devoted to enhancing existing methodological techniques for assessing performance in the hospitality industry. It is suggested that the efficiency of performance of businesses in the hotel industry depends on a number of objective and, to a certain degree, subjective factors. Analyzing these factors is crucial to developing efficient proposals aimed at fostering a proper competitive environment for enterprises in the hotel sector. The paper establishes that the diversity of criteria for measuring performance in the hospitality industry predetermines the need to single out those of them which can help put together integral assessments of the competitiveness of regions in terms of the development of the hospitality industry and cultivation of its attractiveness. It is proven that integral assessments can serve as guideposts in the choice of the more attractive regions to visit, the development of a business portfolio of tourism products across regions, and the evaluation of the effectiveness of regional policy on support for the development of the hotel sector, followed by the determination of ways to enhance its operation.
References
[1] Aloev, T.B., Aslanova, E.M., and Belova, M.T. 2016. Upravlenie gostinichnym biznesom na osnove informatsionnykh tekhnologii [Managing hotel businesses based on the use of information technology]. Vestnik Nauchnykh Konferentsii, 1 (4): 15–16. (in Russian).
[2] Cherkasov, I.L., Seredina, M.I., Mishurova, O.I., Adashova, T.A., and Lebedeva, O.Ye. 2017. The effect of international tourism on the development of global social-economic processes. Journal of Environmental Management and Tourism, 6(22): 1166-1170.
[3] Fedorenko, A.V., and Shevchenko, E.P. 2014. Aktual'nye voprosy upravleniya personalom v gostinichnom biznese [Relevant issues of personnel management in a hotel business]. Izvestiya Sankt-Peterburgskogo Gosudarstvennogo Ekonomicheskogo Universiteta, 1: 150–153. (in Russian).
[4] Gavrilova, N.A., and Iakushina, V.V. 2016. Aktual'nye problemy strategicheskogo upravleniya gostinichnym biznesom v Rossii i puti ikh resheniya [Relevant issues in the strategic management of hotel businesses in Russia and ways to resolve them]. Sovremennaya Nauka: Aktual'nye Problemy i Puti Ikh Resheniya, 7: 29–31. (in Russian).
[5] Konovalova, E.E., Yudina, E.V., Bushueva, I.V., Ukhina, T.V., and Lebedev, K.A. 2018. Forming approaches to strategic management and development of tourism and hospitality industry in the regions. Journal of Environmental Management and Tourism, 2(26): 241-247.
[6] Kozlov, D.A., and Popov, L.A. 2013. Prognozirovanie i upravlenie dokhodami v gostinichnom biznese Rossiiskoi Federatsii: Problemy i puti sovershenstvovaniya [Forecasting and managing revenue in the Russian hotel sector: Issues and ways of enhancement]. Vestnik Rossiiskogo Ekonomicheskogo Universiteta im. G.V. Plekhanova, 12: 49–56. (in Russian).
[7] Nikolskaia, E.Iu., and Semennikova, A.I. 2018. Metody povysheniya kachestva obsluzhivaniya v gostinitse [Methods for improving the quality of service in a hotel]. Industriya Turizma: Vozmozhnosti, Prioritety, Problemy i Perspektivy, 12(1): 220–226. (in Russian).
[8] Nikolskaya, E.Yu., Pasko, O.V., Volkova, I.A., Anikina, E.N., and Lebedeva, O.E. 2018. Modelling the competitive advantage of companies within the hotel industry in a region. International Journal of Engineering and Technology (UAE), 7(3.15): 293-295.
[9] Seredina, M.I., Tretyakova, G.V., Oberemko, T.V., Kozhina, V.O., and Lebedev, K.A. 2017. Impact of external labor migration on labor market development. Journal of Advanced Research in Law and Economics, 8(2): 596-600.
[10] Shakhmametev, A.A., Strelets, I.A., and Lebedev, K.A. 2018. Strategic mechanisms for the future development of the international e-commerce market. Espacios, 39(27): 21.
[11] Smirnov, V.N. 2018. Sanitarno-gigienicheskie trebovaniya, pred"yavlyaemye k gostinichnomu biznesu v Rossiiskoi Federatsii [Sanitary-hygienic requirements for hotel businesses in the Russian Federation]. Ekonomika. Biznes. Pravo, 4(6): 26–43. (in Russian).
[12] Zavalko, N.A., Kozhina, V.O., Kovaleva, O.P., Kolupaev, R.V., and Lebedeva, O.Ye. 2018. System approach to diagnostics and early prevention of a financial crisis at an enterprise. Journal of Applied Economic Sciences, 1 (55): 84-88.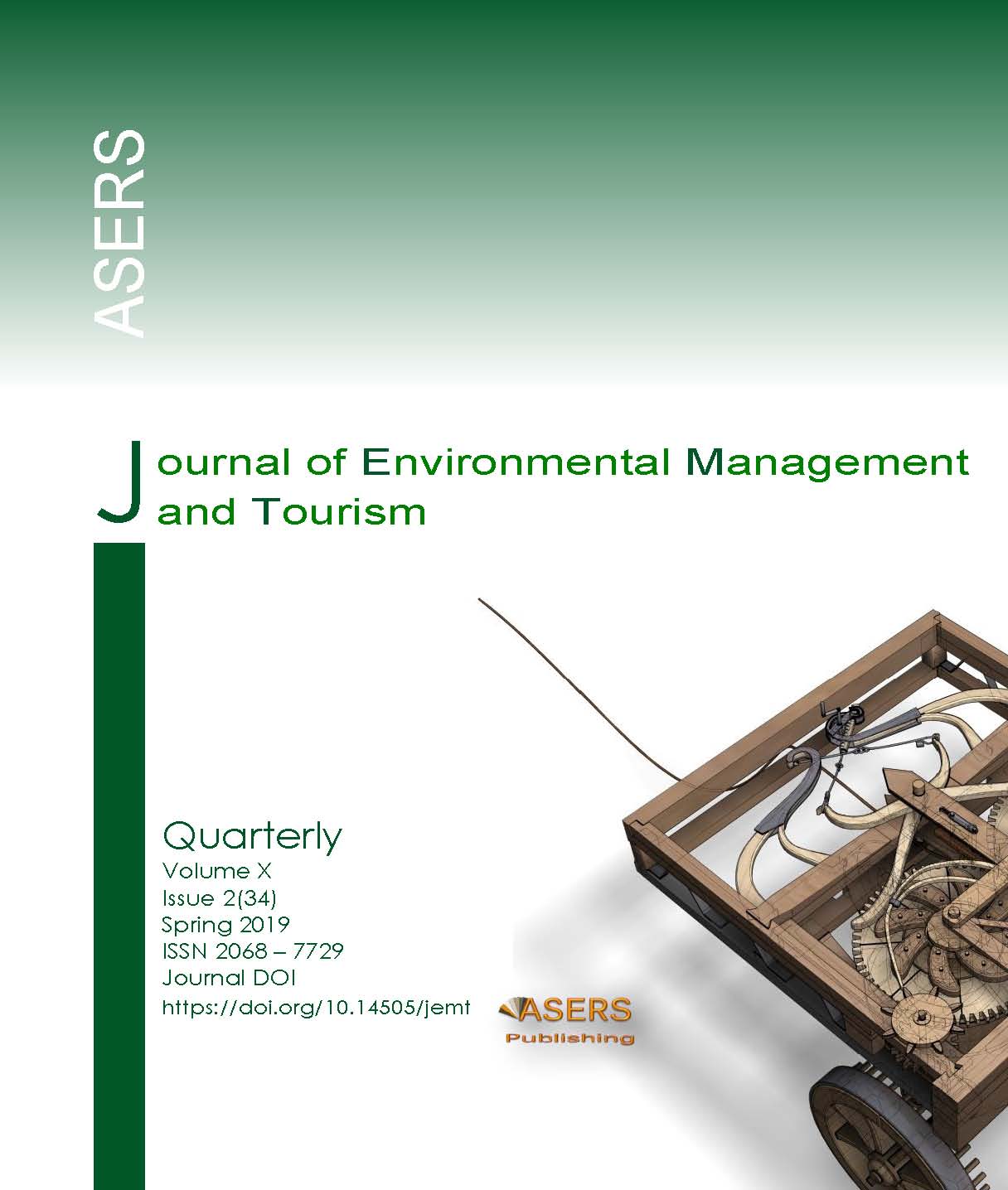 The Copyright Transfer Form to ASERS Publishing (The Publisher)
This form refers to the manuscript, which an author(s) was accepted for publication and was signed by all the authors.
The undersigned Author(s) of the above-mentioned Paper here transfer any and all copyright-rights in and to The Paper to The Publisher. The Author(s) warrants that The Paper is based on their original work and that the undersigned has the power and authority to make and execute this assignment. It is the author's responsibility to obtain written permission to quote material that has been previously published in any form. The Publisher recognizes the retained rights noted below and grants to the above authors and employers for whom the work performed royalty-free permission to reuse their materials below. Authors may reuse all or portions of the above Paper in other works, excepting the publication of the paper in the same form. Authors may reproduce or authorize others to reproduce the above Paper for the Author's personal use or for internal company use, provided that the source and The Publisher copyright notice are mentioned, that the copies are not used in any way that implies The Publisher endorsement of a product or service of an employer, and that the copies are not offered for sale as such. Authors are permitted to grant third party requests for reprinting, republishing or other types of reuse. The Authors may make limited distribution of all or portions of the above Paper prior to publication if they inform The Publisher of the nature and extent of such limited distribution prior there to. Authors retain all proprietary rights in any process, procedure, or article of manufacture described in The Paper. This agreement becomes null and void if and only if the above paper is not accepted and published by The Publisher, or is with drawn by the author(s) before acceptance by the Publisher.