Development of Tourism as a Social Phenomenon in the Conditions of Globalization
Tatiana Anatolyevna KOKHAN

Bauman Moscow State Technical University, Russian Federation

Elena Vladimirovna ZHIRNOVA

Bauman Moscow State Technical University, Russian Federation

Nataliia Stanislavovna LAZUTINA

Bauman Moscow State Technical University, Russian Federation

Elena Aleksandrovna VINIUKOVA

Bauman Moscow State Technical University, Russian Federation

Olga Ivanovna MISHUROVA

Kutafin Moscow State Law University, Russian Federation
Abstract
The article is devoted to the elaboration of approaches to the development of tourism as a social phenomenon in the conditions of globalization. It has been established that tourism is more stable compared with other industries in the conditions of uncertainty in global markets. Social advantages of tourism are the satisfaction of leisure needs, higher living standards of the population following an inflow of foreign currencies, the development of small entrepreneurship, the implementation of national social policies, new jobs, multiplicative effect from tourism, regional development in the conditions of globalization and cross-cultural communication. The authors have highlighted proposals aimed to develop tourism in the conditions of globalization and cross-cultural communication, which include efforts to improve tourism legislation and legislative initiatives aimed to make conceptual amendments to legislative acts in order to prioritize real providers of tourist services.
References
[1] Chabaniuk, O.V. 2013. Problems of the improvement of management of innovation development of the tourism industry (Problemy sovershenstvovania upravlenia innovatsionnym razvitiem industrii turizma). Business. Education. Law, 3(24): 54-59.
[2] Drobysheva, N.N., Zvyagintseva, E.P., Fedorova, E.A., Kindrya, N.A., Lebedeva, O.E. 2018. Development of crisis phenomena in social and economic systems in conditions of globalization. International Journal of Engineering and Technology, 7(4(38)): 131-134.
[3] Fedulin, A.A., Zgonnik, L.V., Lebedeva, O.Ye., Dukhovnaya, L.L., Ilkevich, S.V. 2017. Methodological approaches to the assessment of historical and cultural resources in tourist destinations. Journal of Environmental Management and Tourism, Vol 8, Issue 6(22): 1198-1204.
[4] Gerber, D.E., Zaitseva, N.A. 2016. Areas of action to develop domestic tourism in the Kaliningrad region (Napravlenia deiatelnosti po razvitiu viezdnogo turizma v Kaliningradskoi oblasti). Priority Development Areas of Science and Education, 1(8): 307-309.
[5] Liubarskii, A.N. 2015. About the topicality of the economically justified approach to tourism development in modern Russia (Ob aktualnosti ekonomicheski obosnovannogo podkhoda k razvitiu turizma v sovremennoi Rossii). Herald of the Tver State University. Series: Economics and Management, 2: 82-91.
[6] Molchanova, V.A. 2015. Regional strategies for tourism development: a shift towards innovation development (Regionalnye strategii razvitia turizma: perekhod k innovatsionnomu razvitiu). Herald of the National Academy of Tourism, 3(35): 7-12.
[7] Nikazachenko, A.L., Yudashkina, Е.Е., Vlasov, G.V., Novikova, V.V., Lebedev, K.A. 2018. Modern approaches to assess tourism industry-related environment. Journal of Environmental Management and Tourism, Vol 9 Issue 2(26): 298-303.
[8] Nikiforov, A.I., Ryazanova, N.Ye., Shishanova, E.I., Lyzhin, D.N., Lebedeva, O.Ye. 2018. Economic and legal support for the use of coastal territories in a tourism-recreation sector. International Journal of Civil Engineering and Technology, 9(13): 1048-1054.
[9] Novolodskaya, G.I., Kramarova, T.Yu., Lebedev, K.A., Ponkratova, L.A., Chicherova, E.Yu. 2018. Public-private partnership as innovative form of attraction of financial resources in sphere of tourism. Journal of Environmental Management and Tourism, Vol 9 Issue 4(28): 714-720.
[10] Romanova, I.A. 2014. Development of the international air transportation market as an indicator of tourism development (Razvitie mezhdunarodnogo rynka aviaperevozok kak pokazatel razvitia turizma). Resort recreational complex in the system of regional development: Innovation approaches, 1, 102-105.
[11] Shakhmametev, A.A., Strelets, I.A., Lebedev, K.A. 2018. Strategic mechanisms for the future development of the international e-commerce market. Espacios, 39(27): 21.
[12] Shipshinskaite, R.G. 2016. Cognitive tourism as an important area of activity for spiritual moral development of the society (Poznavatelnyi turizm kak vazhnoe napravlenie deiatelnosti po dukhovno-nravstvenommu razvitiu obshchestva). Education and Upbringing, 1(6): 11-14.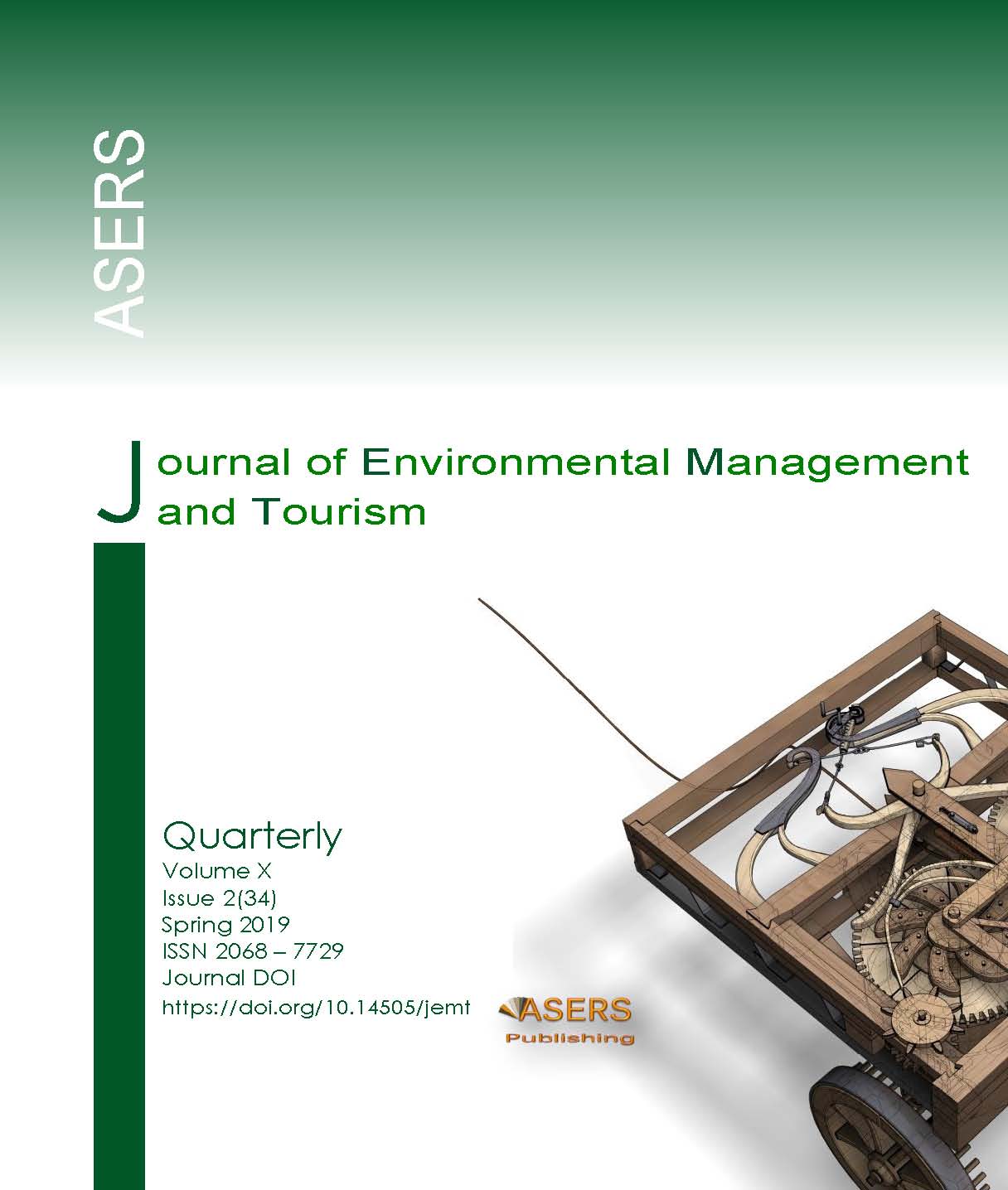 The Copyright Transfer Form to ASERS Publishing (The Publisher)
This form refers to the manuscript, which an author(s) was accepted for publication and was signed by all the authors.
The undersigned Author(s) of the above-mentioned Paper here transfer any and all copyright-rights in and to The Paper to The Publisher. The Author(s) warrants that The Paper is based on their original work and that the undersigned has the power and authority to make and execute this assignment. It is the author's responsibility to obtain written permission to quote material that has been previously published in any form. The Publisher recognizes the retained rights noted below and grants to the above authors and employers for whom the work performed royalty-free permission to reuse their materials below. Authors may reuse all or portions of the above Paper in other works, excepting the publication of the paper in the same form. Authors may reproduce or authorize others to reproduce the above Paper for the Author's personal use or for internal company use, provided that the source and The Publisher copyright notice are mentioned, that the copies are not used in any way that implies The Publisher endorsement of a product or service of an employer, and that the copies are not offered for sale as such. Authors are permitted to grant third party requests for reprinting, republishing or other types of reuse. The Authors may make limited distribution of all or portions of the above Paper prior to publication if they inform The Publisher of the nature and extent of such limited distribution prior there to. Authors retain all proprietary rights in any process, procedure, or article of manufacture described in The Paper. This agreement becomes null and void if and only if the above paper is not accepted and published by The Publisher, or is with drawn by the author(s) before acceptance by the Publisher.