The Determinant Factors of Foreign Tourists' Visit to Tourism Destination in North Sumatra
Maria Magdalena BATE'E

Department for Management STIE Pembangunan Nasional, Indonesia

Syah Abadi MENDROFA

Department for Management STIE Pembangunan Nasional, Indonesia

Yamolala ZEGA

Department for Management STIE Pembangunan Nasional, Indonesia

Syukur Kasieli HULU

Department for Management STIE Pembangunan Nasional, Indonesia

LELYSO LELYSO

Department for Management STIE Pembangunan Nasional, Indonesia

Emmanuel ZEBUA

Department for Management STIE Pembangunan Nasional, Indonesia
Abstract
This research aims to investigate the factors influencing the rate of foreign tourists' visit to tourism destination in North Sumatra, Indonesia. The data were collected using observation, interview, documentation study and questionnaires. The data were analysed using multiple linear regression analysis. The findings of the study indicated that the ancillary facilities are the dominant factor influencing tourists' visit to tourism destination in North Sumatera. The factors of service quality and facilities and infrastructures provide negative influence on tourists' visit to tourism destination.
References
[33] Al Muala, Ayed and Majed Al Qurneh. (2012). Assessing the Relationship between Marketing Mix andLoyalty through Tourists Satisfaction in Jordan Curative Tourism, American Academic & Scholarly Research Journal, Vol. 4, No. 2.
[34] Andika, A.N. (2003). Community Involvement in Environmental Management and its relation to Tourism Development in Parapat. (Unpublished Thesis) Postgraduate Study, USU Medan.
[35] Bowen, John T and Shiang – Lih Chen. (2001). The relationship between customer loyalty and customer satisfaction, International Journal of Contemporary Hospitality Management, MCB University Press [ISSN 0959-6119]
[36] Cronin, J.J., Brady, M.K. and Hult, G.T.M. (2000), "Assessing the effect of quality, value, and customer satisfaction on consumer behavioral intentions in service environments", Journal of Retailing, Vol. 76 No. 2, pp. 193-218
[37] Dholakia, R.R. and Zhao, M. (2010), "Effects of Online Store Attributes on Customer Satisfaction and Repurchase Intentions," International Journal of Retail and Distribution Management, Vol. 38 No 7, pp. 482-496
[38] Dick, A. S. and Basu, K.. (1994). Customer Loyalty: Toward an Integrated Conceptual Framework. Journal of the Academy of marketing Science. Vol.22, No 2, pp.99–113.
[39] Egan, J. (2001). Relationship Marketing, Exploring Relational Strategies in Marketing. Edition. Prentice Pl.
[40] Griffin, J. (2005). Customer Loyalty, Fostering and MaintainingTourist Loyalty. Publisher: Erlangga, Jakarta
[41] Hadiyati, E. (2012). An Anayisis of Service Quality and Its Effect on Tourism Destination (A Case Study at PT. Pos Indonesia (Persero) Lawang Branch). Journal of Manjement, Fakulty of Economy, University of Gajayana Malang
[42] Hasan, A. (2009). Marketing. First Issue. Yogyakarta: Medpress.
[43] Hidayat, N.C. (2010), Service Marketing Mix as A Tool to Improve Tourism Potential in Banyuwangi Regency, Scientific Journal PROGRESSIF, Vol.7 No.19.
[44] Hume, M. and Mort, G. S. (2010). The Consequence of Appraisal Emotion, Service Quality, Perceived Value and Customer Satisfaction on Repurchase Intent in the Performing Arts. Journal of Service Marketing, Vol. 24, No. 2, pp: 170-182
[45] Hurriyati, R. (2005). Marketing Mix and Comsumer's Destination. Bandung: Alfabeta.
[46] Johnson, Michael D., and Claes Fornell. (1991). A Framework for Comparing Customer Satisfaction Across Individuals and Product Categories, Journal of Economic Psychology 12(2) (Fall), 267-286
[47] Kotler, P. and Gary, A. (2009). Principles of Marketing. Translated into Indonesian by: Alexander Sindoro, Jilid 1 9th Edition. Jakarta : PT. Indeks.
[48] Kotler, P. (2009). Marketing Management. Jilid I, 11th Edition, Translated into Indonesian by Benyamin Molan, Jakarta: Indeks
[49] Lupiyoadi, Rambat. (2009), Service Marketing Management: Service Theory and Practice, First Edition, Jakarta: Salemba
[50] Marpaung, H. (2002). Knowlegde into Tourism, Bandung: Alfabeta
[51] McCarthy, J.C., Joseph, P., William D.P. (2009). Basic Marketing, Jakarta: Publisher Salemba Empat
[52] Mohamad, M., Abdul, M. A. and Nur, I. Ab G. (2011). A Structural Model of Destination Image, Tourists' Satisfaction and Destination Loyalty, International Journal of Business and Management Studies, International Journal of Business and Management Studies Vol 3, No 2, 2011 ISSN: 1309-804
[53] Nasution, Solahuddin, M. Arif, N. and Janianton, D. (2005) Foreign Tourist Perception towards the quality of Tourism Object and Attraction in Sumatera Utara, Journal in Development Study, Vol 1 No 1.
[54] Oliver, R.L, (1997). Satisfaction a Behavioral Perspective on the Consumer. McGraw-Hill Education, Singapore.
[55] Oliver, R.L. (2002). A cognitive model of the antecedents and consequencesof satisfaction decisions, Journal of Marketing Research, Vol.XVII, November
[56] Rizan, M., and Arrasyid, H. (2008). An Analysis of Association of Brand, Product Value, and Service Quality, and its effect on Motorcycle Consumers Satisfaction and Destination in Bekasi. Journal of Busines Strategy, Vol. 12, No. 2, p: 129-147.
[57] Samuel, H. and Wijaya. N. (2009). Service Quality, Perceive Value, Satisfaction, Trust, and Loyalty on PT. Kereta Api Indonesia according to Tourist Perception in Surabaya. Jurnal Manajemen Pemasaran, Vol. 4, No. 1, p: 23-37
[58] Samuel, H. (2006). Tourists Expectaton and Marketing Mix Application on Modern Shops Destinantion with Tourist Satisfaction as Intervening Variable. Journal in Marketing Management, Vol. 1, No. 2, p: 53-64
[59] Sarker, M. A. H., Wang A., Sumayya B. (2012), Investigating the Impact of Marketing Mix Elements on Tourists 'Satisfaction: An Empirical Study on East Lake, European Journal of Business and Management, Vol 4, No 7 (2012), pp; 273-282
[60] Simamora, B. (2008). Winning the market with Effective and Profitable Marketing. Jakarta: PT. Gramedia Pustaka Utama.
[61] Sugiyati, K. (2013). The Influence of Service Quality and Trust towards Tourism Destination with Tourist Satisfaction as the Intervening Variabel. Dinamika Manajemen, July 2013 Vol. 3 No. 2 Pp. 113-128
[62] Susanti, C.E. (2009). The Influence Image and Customers' Satisfaction Towards Consumers' Loyalty to Traditional Foods in Surabaya. Journal in Marketing Management, Vol. 4, No. 1, pp: 1-10
[63] Suwantoro, G. (2004). The Basics of Tourism. Yogyakarta: Andi Yogyakarta.
[64] Suwarni, and Mayasari, S.D. (2011). The Influence of Product Quality and Price towards Destination through Consumers' Satisfaction.Journal in Economy and Business, Th. 16, No. 1, pp: 76-84
[65] Swastha, DH, Basu. (2007). The Principles of Marketing. Third Edition, Second Print. Yagyakarta: Liberty.
[66] Tjiptono, F. (2008). Service Management. Realizing Optimum Service. Bandung: Alfabeta.
[67] Tjiptono, F. (2012). Marketing Strategy. Yogyakarta: AndiOffset.
[68] Widiana, M.E., Supit, H., and Hartini, S. (2012). The Use of Internet Technology in Online Sales System to Improve the Satisfaction and Re-Purchase of Batik Products at Small Medium Enterprises in East Java. Journal of Management and Entreprenuership, Vol. 14, No. 1, pp: 72-82.
[69] Yamit, Z. (2001). Quality Management of Product and Service. Yogyakarta: Ekonisia
[70] Yi, Y. (1991), A Critical Review of Consumer Satisfaction." In Valarie A. Zeithmal (ed.), Review of Marketing 1989. Chicago: American Marketing Association.
[71] Yuningsih, E., Dwi, G. and Endang, S. (2014). Consumer's Destination as Tourism Service User and its relation to Experiential Marketing and Consumer Satisfaction, National Seminar Proceding. Research and Community Outreach by LPPM UMP 2014, ISBN 978-602-14930-3-8
[72] Zeithmal, V. A., Berry, L. L., and Parasuraman, A. (1996). The Behavioral Consequences of Service Quality. Journal of Marketing. Vol. 60, pp. 31 – 46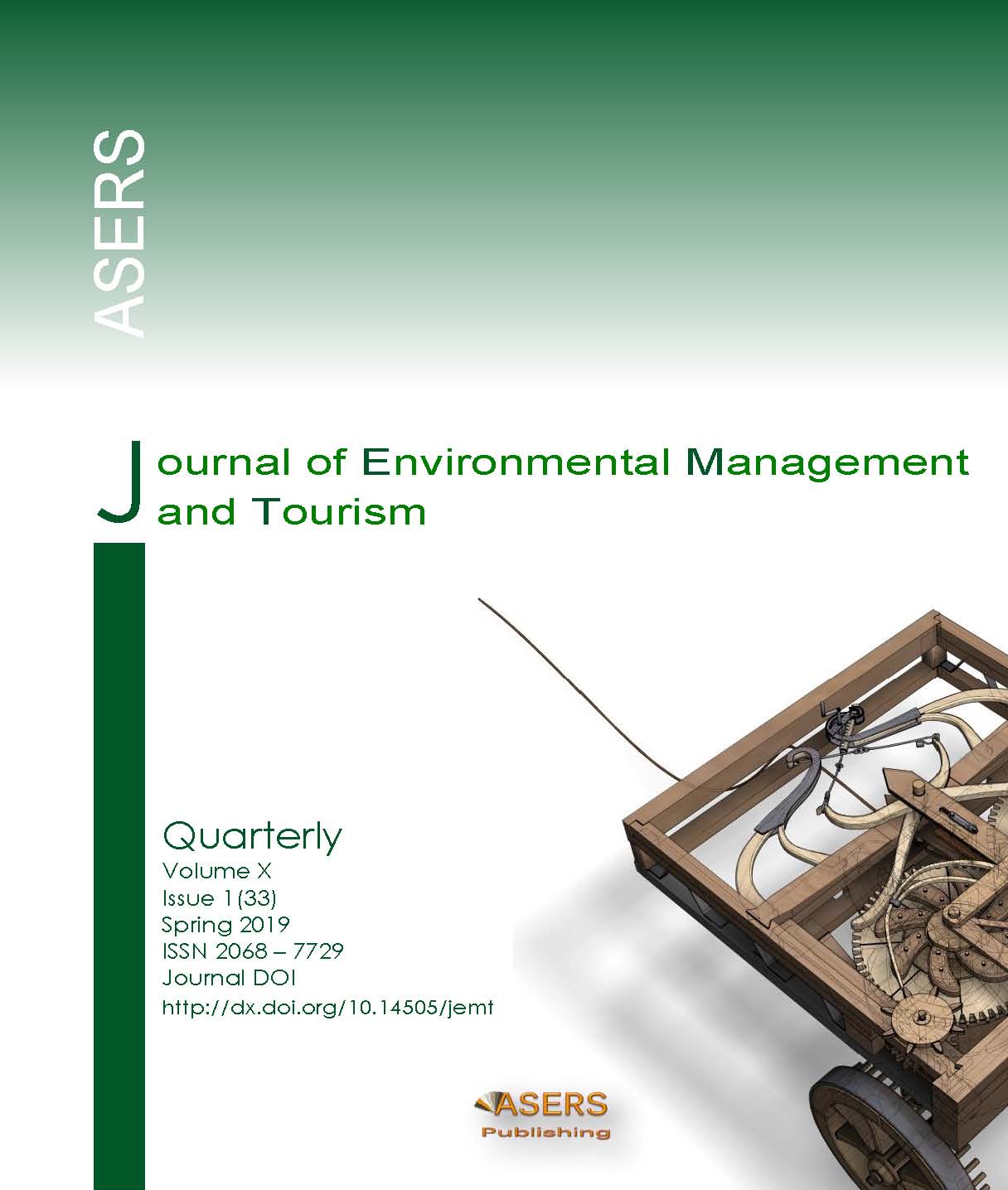 The Copyright Transfer Form to ASERS Publishing (The Publisher)
This form refers to the manuscript, which an author(s) was accepted for publication and was signed by all the authors.
The undersigned Author(s) of the above-mentioned Paper here transfer any and all copyright-rights in and to The Paper to The Publisher. The Author(s) warrants that The Paper is based on their original work and that the undersigned has the power and authority to make and execute this assignment. It is the author's responsibility to obtain written permission to quote material that has been previously published in any form. The Publisher recognizes the retained rights noted below and grants to the above authors and employers for whom the work performed royalty-free permission to reuse their materials below. Authors may reuse all or portions of the above Paper in other works, excepting the publication of the paper in the same form. Authors may reproduce or authorize others to reproduce the above Paper for the Author's personal use or for internal company use, provided that the source and The Publisher copyright notice are mentioned, that the copies are not used in any way that implies The Publisher endorsement of a product or service of an employer, and that the copies are not offered for sale as such. Authors are permitted to grant third party requests for reprinting, republishing or other types of reuse. The Authors may make limited distribution of all or portions of the above Paper prior to publication if they inform The Publisher of the nature and extent of such limited distribution prior there to. Authors retain all proprietary rights in any process, procedure, or article of manufacture described in The Paper. This agreement becomes null and void if and only if the above paper is not accepted and published by The Publisher, or is with drawn by the author(s) before acceptance by the Publisher.