Current State and Prospects of Russian Outbound Tourism
Dmitry Aleksandrovich KOZLOV

Plekhanov Russian University of Economics, Russian Federation
Abstract
The main aim of this paper is to analyze the Russian outbound tourism flow: problems of Russian tourist market, causes and consequences of repeated crisises. According to key findings, Russian tourist market is influenced by several factors. Developed equation of multiple variable regression model indicates that the main factors are wage of Russian's converted in Euro and gross domestic product per capita. Regression model has great quality parameters and may be used to predict future condition of Russian outbound tourism. Russian Government makes all efforts to reorient own population to domestic tourism cutting off access to the rich world heritage. The decline in real incomes, the lack of regulation of tourist activities, the shortcomings of legislation, the lack of responsibility to customers are led to the decreasing of Russian outbound and domestic tourisms.
References
[1] Chen, K.Y., and Wang, C.H. 2007. Support vector regression with genetic algorithms in forecasting tourism demand. Tourism Management, 28(1): 215-226. DOI: https://doi.org/10.1016/j.tourman.2005.12.018.
[2] Dzhandzhugazova, E.A. et al. 2018. Entrepreneurial Clusters as a Model of Spatial Development of Russian Tourism. Journal of Environmental Management and Tourism, 4(28): 757-765. DOI:1 https://doi.org/0.14505/jemt.v9.4(28).09.
[3] Frechtling, D.C. 2001. Forecasting tourism demand: methods and strategies. Butterworth Heinemann, Oxford, 274 p.
[4] Frechtling, D.C. 2013. The Economic Impact of Tourism: Overview and Examples of Macroeconomic Analysis. UNWTO Statistics and TSA Issue Paper Series STSA/IP/2013/03 (Online), Available at: http://statistics.unwto.org/en/content/papers
[5] Kosheleva, A.I., Gareev, R.R., Valedinskaya, E.N., and Astafeva O.A. 2018. Professional Competency and Cross-Cultural Potential: a Study of Frontline Employees in Russian Non-Chain Hotels before the 2018 FIFA World Cup. Astra Salvensis, 6(S):511-520.
[6] Kozlov, D.A. 2016. Modelling and forecasting of Russian outbound tourism. Actual Problems of Economics, 181(7): 446-7.
[7] Kozlov, D.A., and Popov, L.A. 2016. Prognozirovanie v turizme. Uchebnik [Forecasting in tourism. Textbook]. Plekhanov Russian University of Economics. pp.320.
[8] Lin, C.J., Chen, H.F., and Lee, T.S. 2011. Forecasting tourism demand using time series, artificial neural networks and multivariate adaptive regression splines: evidence from Taiwan. International Journal of Business Administration, 2(2): 14-24. DOI: https://doi.org/10.5430/ijba.v2n2p14.
[9] Long, W., Liu, C., and Song, H. 2018. Pooling in Tourism Demand Forecasting. Journal of Travel Research. DOI: https://doi.org/10.1177/0047287518800390.
[10] Miloradov, K., and Eidlina, G. 2018. Analysis of tourism infrastructure development projects in the context of "Green economy". European Research Studies Journal, 21(4): 20-30.
[11] Official documents for excluding tour operators from official state registry. Available at: https://www.russiatourism.ru/content/2/section/126/detail/3590/]
[12] Outbound Travel From Russia. 2018. IPSOS publication. Available at: https://www.ipsos.com/ipsos-comcon/ru-ru/analiz-vyezdnogo-potoka-rossiiskih-turistov
[13] Song, H., Dwyer, L., Li, G., and Cao, Z. 2012. Tourism economics research: A review and assessment. Annals of Tourism Research. 39(3): 1653-1682. DOI: https://doi.org/10.1016/j.annals.2012.05.023.
[14] Song, H., Li, G., Witt, S.F., and Athanasopoulos G. 2011. Forecasting Tourist Arrivals Using Time-Varying Parameter Structural Time Series Models. International Journal of Forecasting, 27 (3): 855-869. DOI: https://doi.org/10.1016/j.ijforecast.2010.06.001.
[15] Song, H., and Witt, S.F. 2000. Tourism Demand Modelling and Forecasting: Modern Econometric Approaches. In Advances in Tourism Research series. Taylor & Francis.
[16] Song, H., Witt, S.F., and Li, G. 2009. The Advanced Econometrics of Tourism Demand. In Routledge Advances in Tourism (Book 13). New York: Routledge. 234 p.
[17] Song, H., Witt, S.F., and Qiu, R.T. 2017. Can Bagging Improve the Forecasting Performance of Tourism Demand Models? In: Kreinovich V., Sriboonchitta S., Huynh VN. (eds) Robustness in Econometrics. Studies in Computational Intelligence, vol 692. Springer, Cham. DOI: https://doi.org/10.1007/978-3-319-50742-2_25
[18] Strong outbound tourism demand from both traditional and emerging markets in 2017. UNWTO Press Release. Available at: http://media.unwto.org/press-release/2018-04-23/strong-outbound-tourism-demand-both-traditional-and-emerging-markets-2017
[19] Valedinskaya, E.N., and Astafeva, O.A. 2018. Innovative methods for demand stimulation in tourism industry. Astra Salvensis, 6(S): 613-626.
[20] Volchek, K., Liu, A., Song, H., and Buhalis, D. 2018. Forecasting tourist arrivals at attractions: Search engine empowered methodologies. Tourism Economics. DOI: https://doi.org/10.1177/1354816618811558.
[21] Yang, X., Pan, B., and Evans, J.A. 2015. Forecasting Chinese tourist volume with search engine data. Tourism Management, 46: 386-397. DOI: https://doi.org/10.1016/j.tourman.2014.07.019.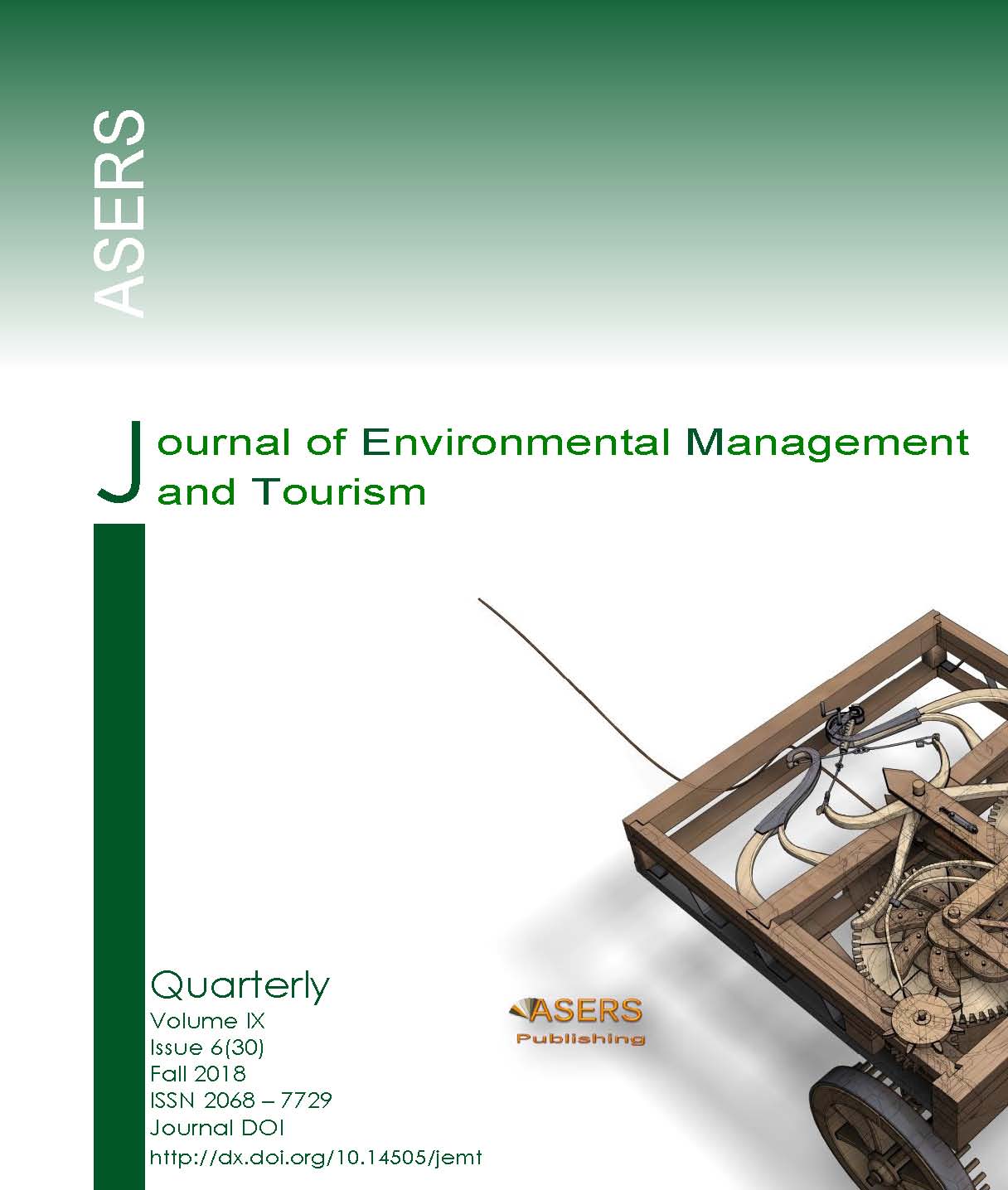 The Copyright Transfer Form to ASERS Publishing (The Publisher)
This form refers to the manuscript, which an author(s) was accepted for publication and was signed by all the authors.
The undersigned Author(s) of the above-mentioned Paper here transfer any and all copyright-rights in and to The Paper to The Publisher. The Author(s) warrants that The Paper is based on their original work and that the undersigned has the power and authority to make and execute this assignment. It is the author's responsibility to obtain written permission to quote material that has been previously published in any form. The Publisher recognizes the retained rights noted below and grants to the above authors and employers for whom the work performed royalty-free permission to reuse their materials below. Authors may reuse all or portions of the above Paper in other works, excepting the publication of the paper in the same form. Authors may reproduce or authorize others to reproduce the above Paper for the Author's personal use or for internal company use, provided that the source and The Publisher copyright notice are mentioned, that the copies are not used in any way that implies The Publisher endorsement of a product or service of an employer, and that the copies are not offered for sale as such. Authors are permitted to grant third party requests for reprinting, republishing or other types of reuse. The Authors may make limited distribution of all or portions of the above Paper prior to publication if they inform The Publisher of the nature and extent of such limited distribution prior there to. Authors retain all proprietary rights in any process, procedure, or article of manufacture described in The Paper. This agreement becomes null and void if and only if the above paper is not accepted and published by The Publisher, or is with drawn by the author(s) before acceptance by the Publisher.