Development of Community Network for Sustainable Tourism based on the Green Economy Concept
Wisakha PHOOCHINDA

National Institute of Development Administration, Thailand
Abstract
The "Green Economy" concept is a tool that leads to the guideline to develop sustainable economy in parallel with social development, quality of life, and the balanced conservation of natural resources and the environment (Office of Agricultural Economics, 2013). The concept of economic development leading to sustainable development or Green Economy is a concept of business operation based on low carbon emission, reduction of energy consumption, promotion of efficient use of resources, leading to business growth, social development, reduced destruction of the environment and the ecosystem diversity.
Tourism is a form of service business that is crucial to Thailand's economic and social development. It has high potential to accommodate free trade and demand of global market in accordance with the National Economic and Social Development Plans. Moreover, it generates employment and income from foreign currency. However, if the rapid growth of tourism lacks good management, the environment will be directly affected. For example, energy consumption in communication and transport sectors, trips, hotel rooms, as well as garbage and waste from tourism activities. Tourism industry consists of numerous types of business, including direct, indirect, and supporting businesses, service purchased by both Thai and foreign tourists, leading to spending flows that benefit many jobs, and social stability at communal, local, and national levels (Chantouch Wannathanom 2009, 101). It illustrates the role of community tourism in generating widespread employment and occupation such as local handicrafts, agricultural and natural resources-based products, to stimulate production and maximum use of the country's resources. At present, the government has formulated clear policy to promote and support tourism with directly responsible agencies at regional, national, and particularly community levels. The agencies with important role in community tourism include provincial administrative organizations, sub-district administrative organizations or municipalities, and community enterprises. Moreover, local administrative organizations and especially community enterprises also have the authority, duty, and role to promote and manage tourism leading to the development of sustainable tourism. Therefore, the good management of tourism business should grow in parallel with efficient environmental management from all relevant sectors especially community tourism. The management starts from small units including people, community leaders, local administrative organizations, and community enterprises. It will succeed if all stakeholders possess appropriate knowledge, if tourism development is aligned with strategic plans on provincial development, development plans of local administrative organizations, and implementation plans derived from joint planning, cooperation, awareness and conscience of community, organizations in community, and community enterprises. The community enterprises supporting Thailand's tourism activities are scattered in all regions in the form of grouping of local wisdom, community culture, raw materials, or various resources to increase value added of products and services to generate income to the community. The management of community network for sustainable tourism based on the Green Economy is to study potentials and limitations of Thailand's tourist destinations, role of participation of community network from tourism management, analyze knowledge and impact from operation, as well as recommendations of the guideline to develop sustainable tourism based on the Green Economy using the base of main resource which is community network allowing one to know about the context of preparedness, potentials, and limitations of community to manage tourism. The research will result in community network with systematic management, network format, or guideline to connect the network of stakeholders, resulting in management of sustainable tourism, and community's self-reliance. Tourism entrepreneurs, both local and non-local, can use the information to develop tourist destinations in line with national policy. It also benefits those involved in formulation of policy, plans, or products for economic, social, and environmental development by the community in sustainable tourist destinations.
References
[1] Cobbinah, P. B., Amenuvor, D., Black, R., and Peprah, C. 2017. Ecotourism in the Kakum Conservation Area, Ghana: Local politics, practice and outcome. Journal of Outdoor Recreation and Tourism, 20: 34–44. https://doi.org/10.1016/j.jort.2017.09.003
[2] Herrera, M. R. G., Sasidharan, V., Hernández, J. A. Á., and Herrera, L. D. A. 2018. Quality and sustainability of tourism development in Copper Canyon, Mexico: Perceptions of community stakeholders and visitors. Tourism Management Perspectives, 27: 91–103. https://doi.org/10.1016/j.tmp.2018.05.003
[3] Mathew, P. V., and Sreejesh, S. 2017. Impact of responsible tourism on destination sustainability and quality of life of community in tourism destinations. Journal of Hospitality and Tourism Management, 31: 83–89. https://doi.org/10.1016/j.jhtm.2016.10.001
[4] Papagiannakis, A., Baraklianos, I., and Spyridonidou, A. 2018. Urban travel behaviour and household income in times of economic crisis: Challenges and perspectives for sustainable mobility. Transport Policy, 65: 51–60. https://doi.org/10.1016/j.tranpol.2016.12.006
[5] Sangchumnong, A. 2018. Development of a sustainable tourist destination based on the creative economy: A case study of Klong Kone Mangrove Community, Thailand. Kasetsart Journal of Social Sciences. https://doi.org/10.1016/j.kjss.2018.02.002
[6] Secretariat Office of Community Enterprise Promotion Board. n.d. Community Knowledge. Available at: http://www.sceb.doae.go.th/Ssceb2.htm
[7] Walter, P., Regmi, K. D., and Khanal, P. R. 2018. Host learning in community-based ecotourism in Nepal: The case of Sirubari and Ghalegaun homestays. Tourism Management Perspectives, 26: 49–58. https://doi.org/10.1016/j.tmp.2018.02.002
[8] Wannathanom, C. 2009. The tourist industry. Samlada, Bangkok.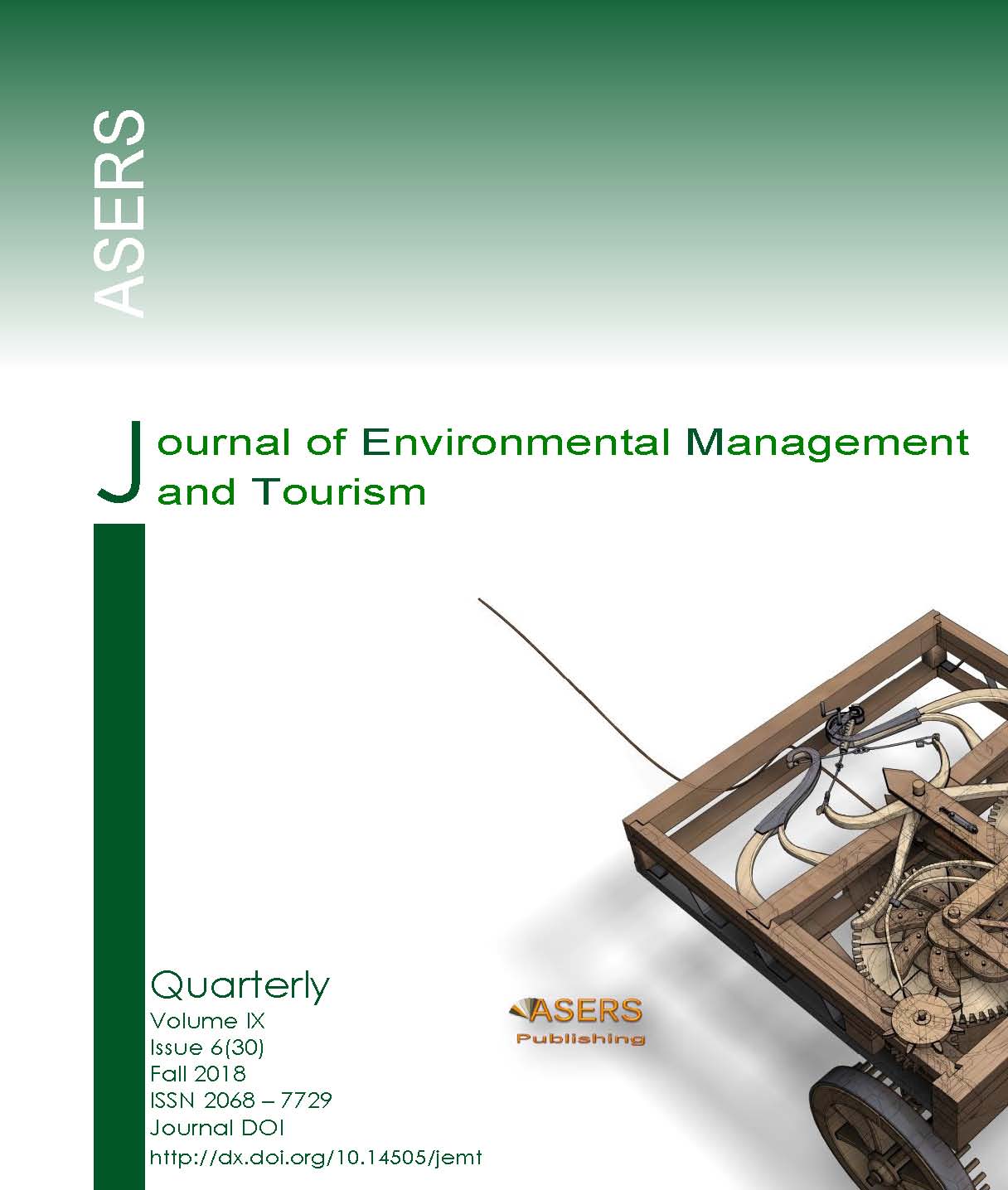 The Copyright Transfer Form to ASERS Publishing (The Publisher)
This form refers to the manuscript, which an author(s) was accepted for publication and was signed by all the authors.
The undersigned Author(s) of the above-mentioned Paper here transfer any and all copyright-rights in and to The Paper to The Publisher. The Author(s) warrants that The Paper is based on their original work and that the undersigned has the power and authority to make and execute this assignment. It is the author's responsibility to obtain written permission to quote material that has been previously published in any form. The Publisher recognizes the retained rights noted below and grants to the above authors and employers for whom the work performed royalty-free permission to reuse their materials below. Authors may reuse all or portions of the above Paper in other works, excepting the publication of the paper in the same form. Authors may reproduce or authorize others to reproduce the above Paper for the Author's personal use or for internal company use, provided that the source and The Publisher copyright notice are mentioned, that the copies are not used in any way that implies The Publisher endorsement of a product or service of an employer, and that the copies are not offered for sale as such. Authors are permitted to grant third party requests for reprinting, republishing or other types of reuse. The Authors may make limited distribution of all or portions of the above Paper prior to publication if they inform The Publisher of the nature and extent of such limited distribution prior there to. Authors retain all proprietary rights in any process, procedure, or article of manufacture described in The Paper. This agreement becomes null and void if and only if the above paper is not accepted and published by The Publisher, or is with drawn by the author(s) before acceptance by the Publisher.