The Hotel Sector as an Important Component of Regional Economic Infrastructure
Elena Yurievna NIKOLSKAYA

Plekhanov Russian University of Economics, Russia

Olga Vladimirovna PASKO

Senkevich Moscow State Tourism Industry Institute, Russia

Elena Nikolaevna ANIKINA

Senkevich Moscow State Tourism Industry Institute, Russia

Galina Maxovna DEKHTYAR

RANEPA Institute of Sectoral Management, Russia

Konstantin Anatol'evich LEBEDEV

Institute for Tourism and Hospitality, Russia
Abstract
This paper is focused on working out a set of areas for the development of the hotel sector as an important component of regional economic infrastructure. The authors establish that the hotel sector is expected to help achieve a set of objectives aimed at resolving existing social issues so as to ensure the well-being of the population and improving people's standard of living, which include creating new jobs, improving the level and quality of service, boosting income levels for regions' residents, and ensuring large inflows of foreign and domestic tourists. The paper identifies several unresolved macrolevel issues, including the lack of an integrated strategy for development and a relevant policy in the sector, the imperfect regulatory/legal framework, poor accounting in respect of economic entities, and the unsatisfactory level of quality of hotel services. The authors prove that at the microlevel the current key issues within the hotel sector include poor accommodation availability and the complicated economic conditions in which hotels get to operate these days.
References
[1] Agamirova, Ek. V., Agamirova, El. V., Lebedeva, О. Ye., Lebedev, К. А. and Ilkevich, S. V. 2017. Methodology of estimation of quality of tourist product. Quality – Access to Success, 18: 82–84.
[2] Gavrilova, N. A., and Yakushina, V. V. 2016. Aktual'nye problemy strategicheskogo upravleniya gostinichnym biznesom v Rossii i puti ikh resheniya [Relevant issues in the management of the hotel sector in Russia and ways to resolve them]. Sovremennaya Nauka: Aktual'nye Problemy i Puti Ikh Resheniya, 7: 29–31.
[3] Konovalova, E. E., Yudina, E. V., Bushueva, I. V., Ukhina, T. V., and Lebedev, K. A. 2018. Forming approaches to strategic management and development of tourism and hospitality industry in the regions. Journal of Environmental Management and Tourism, 9(2): 241–247.
[4] Kurbonov, E. S. 2015. Teoreticheskie osnovy upravleniya malym i srednim biznesom v gostinichnom komplekse [Theoretical foundations of managing small and medium-sized businesses within the hotel complex]. Vestnik Tadzhikskogo Natsional'nogo Universiteta. Seriya Sotsial'no-Ekonomicheskikh i Obshchestvennykh Nauk, 2-8: 103–110.
[5] Lawrencenko, S., Vyalyi, M. N., and Zgonnik, L. V. 2017. Grünbaum coloring and its generalization to arbitrary dimension. Australasian Journal of Combinatorics, 67(2): 119–130.
[6] Nikazachenko, A. L., Yudashkina, Е. Е., Vlasov, G. V., Novikova, V. V., and Lebedev, K. A. 2018. Modern approaches to assess tourism industry-related environment. Journal of Environmental Management and Tourism, 9(2): 298–303.
[7] Nikolskaya, E. Yu., Kovaleva, N. I., Uspenskaya, M. E., Makshakova, N. I., Lysoivanenko, E. N., and Lebedev, K. A. (2018). Innovative quality improvements in hotel services. European Research Studies Journal, 21(2): 489–498.
[8] Petrov, A. N., Kurochkina, A. A., and Sergeev, S. M. 2016. Kross-sistemnyi podkhod v upravlenii gostinichnym biznesom [The use of a cross-system approach to manage the hotel sector]. Izvestiya Sankt-Peterburgskogo Gosudarstvennogo Ekonomicheskogo Universiteta, 2: 74–80.
[9] Polynskaya, G. A. 2013. Upravlenie gostinichnym biznesom goroda Moskvy: Analiz faktorov, kharakterizuyushchikh potrebitel'skuyu tsennost' otelei [Managing Moscow's hotel sector: An analysis of factors that characterize the consumer value of hotels]. Ekonomika i Menedzhment Sistem Upravleniya, 7(1-1): 189–199.
[10] Shchetinina, K. I. 2013. Innovatsii v gostinichnom biznese: Mezhdunarodnyi i rossiiskii opyt [Innovation in the hotel sector: The international and Russian experience]. Vestnik MGIMO Universiteta, 4: 257–266.
[11] Smirnov, V. N. 2018. Sanitarno-gigienicheskie trebovaniya, pred"yavlyaemye k gostinichnomu biznesu v Rossiiskoi Federatsii [Sanitary/hygienic requirements to the hotel sector in the Russian Federation]. Ekonomika. Biznes. Pravo, 4-6: 26–43.
[12] Zaitseva, N. A., Kozlov, D. A., and Nikolskaya, E. Yu. 2017. Evaluation of the competencies of graduates of higher educational institutions, engaged in the training of personnel for tourism and hospitality. Eurasian Journal of Analytical Chemistry, 12(5b): 685–695.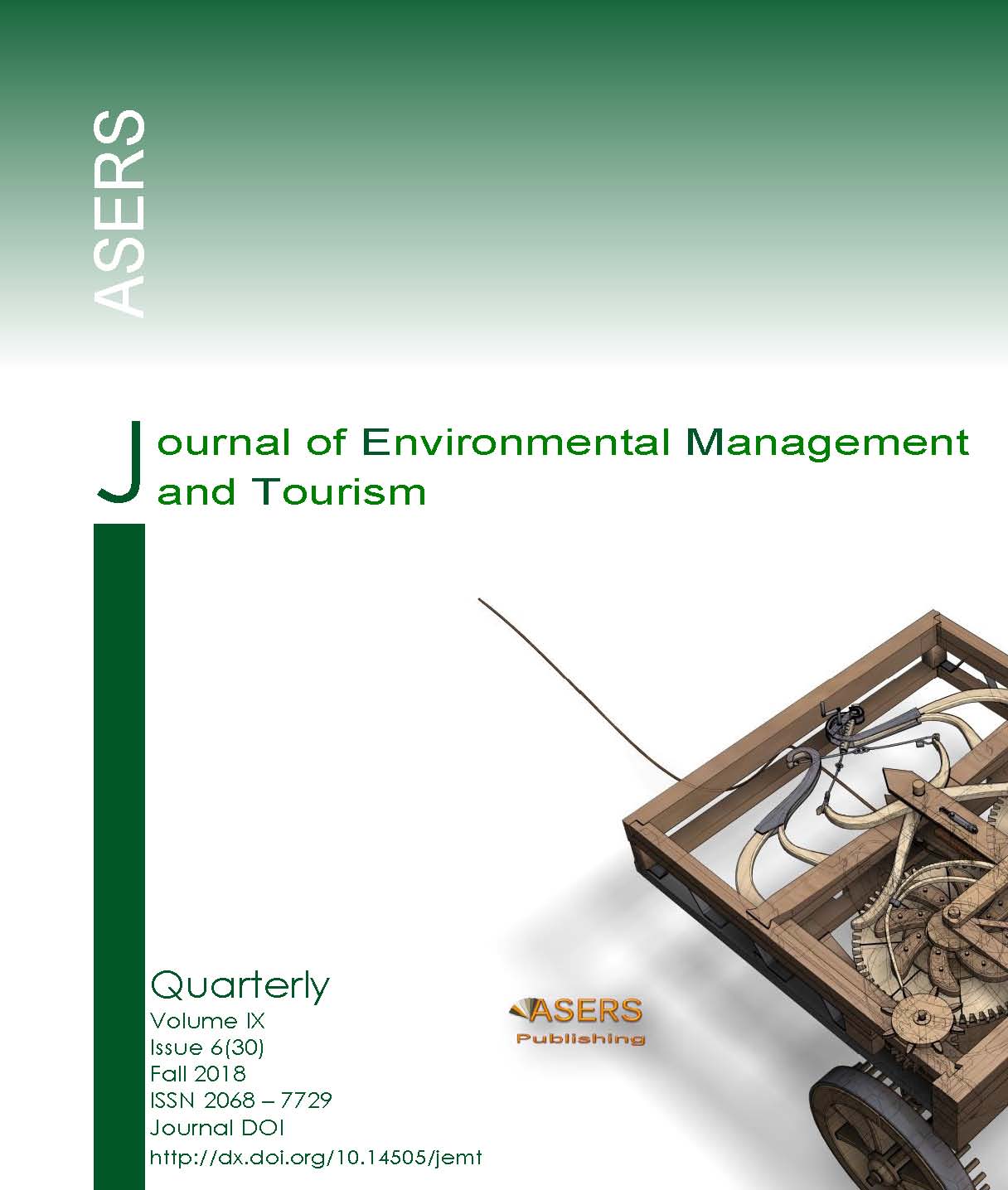 The Copyright Transfer Form to ASERS Publishing (The Publisher)
This form refers to the manuscript, which an author(s) was accepted for publication and was signed by all the authors.
The undersigned Author(s) of the above-mentioned Paper here transfer any and all copyright-rights in and to The Paper to The Publisher. The Author(s) warrants that The Paper is based on their original work and that the undersigned has the power and authority to make and execute this assignment. It is the author's responsibility to obtain written permission to quote material that has been previously published in any form. The Publisher recognizes the retained rights noted below and grants to the above authors and employers for whom the work performed royalty-free permission to reuse their materials below. Authors may reuse all or portions of the above Paper in other works, excepting the publication of the paper in the same form. Authors may reproduce or authorize others to reproduce the above Paper for the Author's personal use or for internal company use, provided that the source and The Publisher copyright notice are mentioned, that the copies are not used in any way that implies The Publisher endorsement of a product or service of an employer, and that the copies are not offered for sale as such. Authors are permitted to grant third party requests for reprinting, republishing or other types of reuse. The Authors may make limited distribution of all or portions of the above Paper prior to publication if they inform The Publisher of the nature and extent of such limited distribution prior there to. Authors retain all proprietary rights in any process, procedure, or article of manufacture described in The Paper. This agreement becomes null and void if and only if the above paper is not accepted and published by The Publisher, or is with drawn by the author(s) before acceptance by the Publisher.