International Regulation of Environmental Auditing in the Countries of the European Union
Aizhan E. ZHATKANBAYEVA

Al-Farabi Kazakh National University, Republic of Kazakhstan

Nazgul S. TUYAKBAYEVA

Al-Farabi Kazakh National University, Republic of Kazakhstan

Araylym K. JANGABULOVA

Al-Farabi Kazakh National University, Republic of Kazakhstan

Sailaubek T. ALIBEKOV

Al-Farabi Kazakh National University, Republic of Kazakhstan

Elena V. KASATKINA

Nizhnevartovsk branch of South Ural State University, Russian Federation

Elena A. MASLIHOVA

Nizhnevartovsk branch of South Ural State University, Russian Federation
Abstract
In the context of the global environmental crisis that is currently one of the most real threats to the existence of mankind the protection and improvement of the quality of the environment is recognized as a world-wide task, acquires exceptional importance, and is a necessary condition for preserving the health, well-being and economic prosperity of the present and future generations of people. The authors note that the recognition of the global nature of environmental problems by the scientific and political elites of the world's leading countries and their associations, among which one of the most influential and powerful is the European Union, calls for intensified cooperation at the international level to adjust existing and develop new approaches to environmental protection, creation of effective mechanisms for the implementation of the newest environmental policy. These factors contribute to the formation of a new philosophy and practice of European economic interaction based on the need for assistance from stronger participants in the world economy to be weak in solving the interrelated tasks of the economy and ecology.
References
[1] Baldarelli, M.-G., Del Baldo, M., and Nesheva-Kiosseva, N. 2017. Some Tools and Standards for Reporting. In: Environmental Accounting and Reporting: Theory and Practice. Springer International Publishing, pp. 161-276.
[2] Bolgova, V.V., Dashin, A.V., Deltsova, N.V., Medentseva, E.V., and Startseva, S.V. 2017. Establishment of the Institute of Audit as an Element of Market Relations and Object of Legal Regulation. In: Russia and the European Union: Development and Perspectives. Springer International Publishing, pp. 169-175.
[3] Burkov, V.N., Novikov, D.A., and Shchepkin, A.V. 2015. Control Mechanisms at the Level of Industrial Enterprises. In: Control Mechanisms for Ecological-Economic Systems. Springer International Publishing, pp. 25-70.
[4] dos Santos, V.N., da Costa, T.M.C., and Arifa, J.M. 2017. Brazilian Federal Court of Accounts (TCU), Department of Agriculture and Environmental Audit: Soil Governance Audit. In: International Yearbook of Soil Law and Policy 2016. Springer International Publishing, pp. 347-363.
[5] Ericson, M. 2017. Indigenous Ecological Survivance. In: Indigenous Innovations in Higher Education: Local Knowledge and Critical Research. SensePublishers, pp. 195-217.
[6] Hazarika, A. 2015. History and Significance of CSR and Social Audit in Business: Setting a Regulatory Framework. In: Social Audit Regulation: Development, Challenges and Opportunities. Springer International Publishing, pp. 217-256.
[7] Hiwase, P.D., Raman, N.S., and Hajare, H.V. 2018. Critical factor of large township building and its relevance in environmental audit: a critical evaluation. Environment, Development and Sustainability 20(1): 433-449.
[8] Howes, M. 2018. Joining the Dots: Sustainability, Climate Change and Ecological Modernisation. In: Pathways to a Sustainable Economy: Bridging the Gap between Paris Climate Change Commitments and Net Zero Emissions. Springer International Publishing, pp. 15-24.
[9] Islam, M.A. 2015. Social Compliance Accounting, Auditing and Reporting. In: Social Compliance Accounting: Managing Legitimacy in Global Supply Chains. Springer International Publishing, pp. 19-26.
[10] Kapitonov, I.A., and Voloshin, V.I. 2017. Strategic directions for increasing the share of renewable energy sources in the structure of energy consumption. International Journal of Energy Economics and Policy, 7(4): 90-98.
[11] Kettemann, R., Fridrihsone, A., and Coors, V. 2017. ecoGIS---A Solution for Interactive Facility Management to Support the European Eco-Management and Audit Scheme (EMAS). In: Handbook of Theory and Practice of Sustainable Development in Higher Education: Volume 3. Springer International Publishing, pp. 59-72.
[12] Mikhailov, V.G., Koryakov, A.G., and Mikhailov, G.S. 2015. Ecological risk management in coal mining and processing. Journal of Mining Science, 51(5): 930-936.
[13] Oestreich, A.M. 2015. Firms' Emissions and Self-Reporting Under Competitive Audit Mechanisms. Environmental and Resource Economics 62(4): 949-978.
[14] Pröbstl-Haider, U., Brom, M., Dorsch, C., and Jiricka-Pürrer, A. 2018. Management Review and Internal Audit. In: Environmental Management in Ski Areas : Procedure–Requirements–Exemplary Solutions. Springer International Publishing.
[15] Proedrou, F. 2018. Ecological and Steady-State Economics: Principles and Policies. In: Energy Policy and Security under Climate Change. Springer International Publishing, pp. 35-55.
[16] Reid, J., and Rout, M. 2018. Can sustainability auditing be indigenized? Agriculture and Human Values 35(2): 283-294.
[17] Venkateswarlu, K., Nirola, R., Kuppusamy, S., Thavamani, P., Naidu, R., and Megharaj, M. 2016. Abandoned metalliferous mines: ecological impacts and potential approaches for reclamation. Reviews in Environmental Science and Bio/Technology, 15(2): 327-354.
[18] Weber, G. 2018. Current tendencies regarding sustainable energy strategies and knowledge intensive business services. In: Sustainability and Energy Management: Innovative and Responsible Business Practices for Sustainable Energy Strategies of Enterprises in Relation with CSR. Springer Fachmedien Wiesbaden, pp. 7-81.
[19] Yang, J. 2017. Audit Oversight. In: Environmental Management in Mega Construction Projects. Springer Singapore, pp. 289-306.
[20] Yerdavletova, F. 2016. Environmental Accounting as Information Support for Ecological Controlling. In: Entrepreneurship, Business and Economics, Vol. 2. Springer International Publishing, pp. 47-57.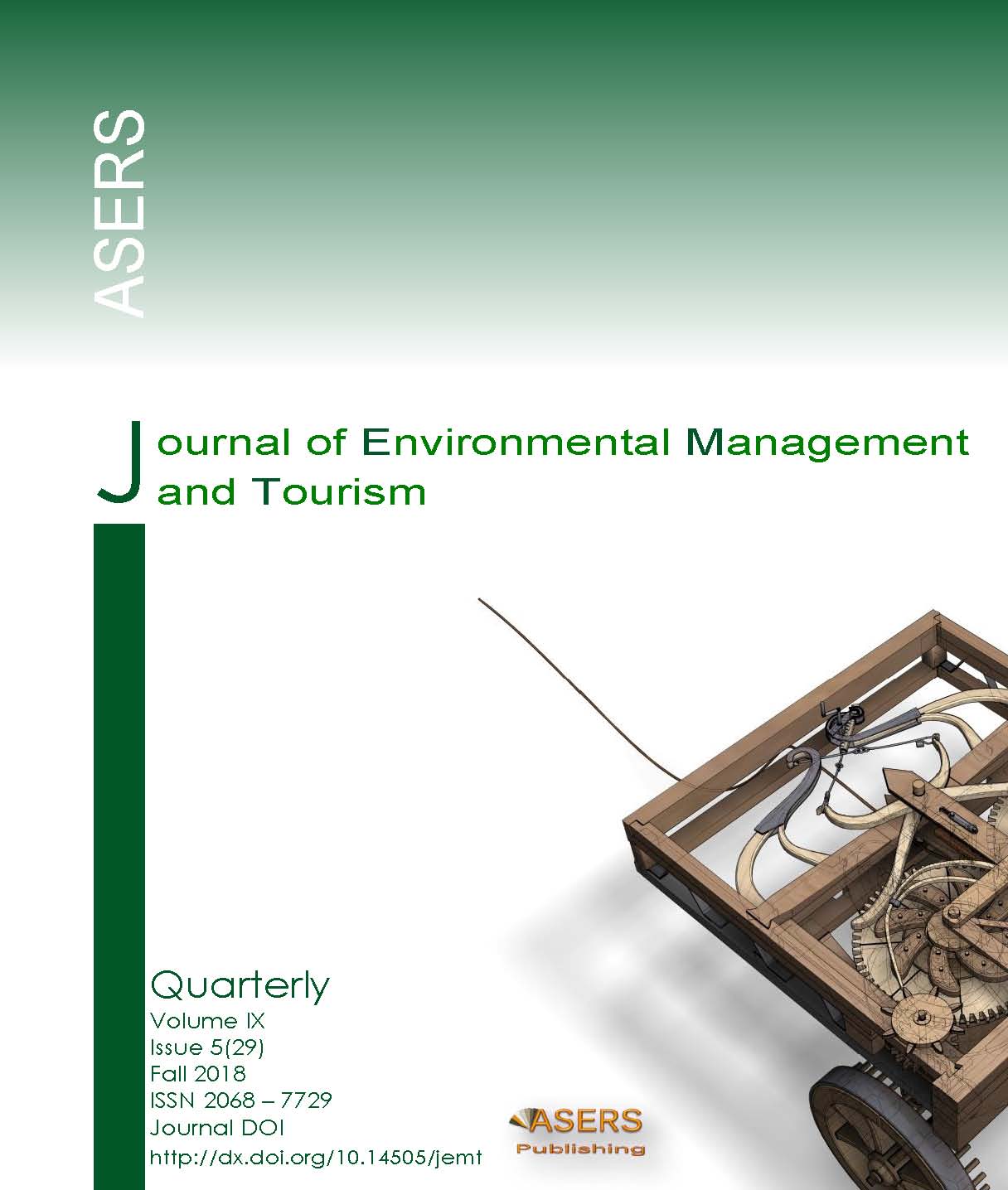 The Copyright Transfer Form to ASERS Publishing (The Publisher)
This form refers to the manuscript, which an author(s) was accepted for publication and was signed by all the authors.
The undersigned Author(s) of the above-mentioned Paper here transfer any and all copyright-rights in and to The Paper to The Publisher. The Author(s) warrants that The Paper is based on their original work and that the undersigned has the power and authority to make and execute this assignment. It is the author's responsibility to obtain written permission to quote material that has been previously published in any form. The Publisher recognizes the retained rights noted below and grants to the above authors and employers for whom the work performed royalty-free permission to reuse their materials below. Authors may reuse all or portions of the above Paper in other works, excepting the publication of the paper in the same form. Authors may reproduce or authorize others to reproduce the above Paper for the Author's personal use or for internal company use, provided that the source and The Publisher copyright notice are mentioned, that the copies are not used in any way that implies The Publisher endorsement of a product or service of an employer, and that the copies are not offered for sale as such. Authors are permitted to grant third party requests for reprinting, republishing or other types of reuse. The Authors may make limited distribution of all or portions of the above Paper prior to publication if they inform The Publisher of the nature and extent of such limited distribution prior there to. Authors retain all proprietary rights in any process, procedure, or article of manufacture described in The Paper. This agreement becomes null and void if and only if the above paper is not accepted and published by The Publisher, or is with drawn by the author(s) before acceptance by the Publisher.