Geological Perspective for Geotourism Development in Uthai Thani Province, Thailand
Vimoltip SINGTUEN

Faculty of Science, Kasetsart University, Thailand

Krit WON-IN

Faculty of Science, Kasetsart University, Thailand
Abstract
Uthai Thani is a fascinating city in central Thailand and has the uniqueness of geodiversity, nature, culture, and history, which makes it ideal for geotourism development. The lifestyle of the local population is linked to nature and the river, making the area very interesting for tourist. It also has a fantastic mountainous region in the western part including karst topography, granite batholith, and numerous small hills. The study area consists of seven geosites, which are Sakae Krang River, Kao Pla Ra Mountain, Hup Pa Tat Cave, Samor Thong Hot Spring, Khuan Khun Kaew Reservoir, Saiber Waterfall, and Huai Kha Khaeng Wildlife Sanctuary. The Kao Pla Ra mountain is the highlight of this region, which has many prehistoric cliff-paintings. This geotourism announcement can educate the tourists to understand the geologic processes and has many advantages for the local and national sustainable development in the travel industry, economy, geology, history, and society.
References
[1] Brilha, J. 2016. Inventory and quantitative assessment of geosites and geodiversity sites: a review. Geoheritage, 8(2): 119-134. doi: 10.1007/s12371-014-0139-3
[2] Brocx, M., and Semeniuk, V. 2007. Geoheritage and geoconservation—history, definition, scope, and scale. E-Journal of the Royal Society of Western Australia Abbreviation, 90(2): 53–80. Available at: https://www.rswa.org.au/publications/Journal/90(2)/volume90part253-87l.pdf
[3] Chindamanee, P. 2011. Structural geology of the Uthai Thani limestone ridge within the Chainat duplex, Thailand. (Bachelor thesis, Chulalongkorn University, Bangkok, Thailand). Available at: http://cuir.car.chula.ac.th/handle/123456789/53344
[4] Demarest, M. 1997. Understanding knowledge management. Long range planning, 30(3): 374-384. DOI: 10.1016/S0024-6301(97)90250-8
[5] Department of Mineral Resources, Ministry of Natural Resources and Environment, Thailand. (2007). Geologic Map of Uthai Province 1:100000 scale. Available at: http://www.dmr.go.th/download/pdf/Central_East/Utail.pdf
[6] Fine Arts Department, Ministry of Culture, Thailand. (1990). The Arts of Tham Khao Pla Ra Mountain, Uthai Thani Available at: http://www.finearts.go.th/chiangmailibrary/index.php/2016-08-20-05-05-37/book/323-2017-02-02-07-14-14/5-2017-01-31-04-42-15
[7] Gray, M. 2005. Geodiversity and geoconservation: what, why, and how? Michigan: The George Wright Forum.
[8] Gray, M. 2011. Other nature: Geodiversity and geosystem services. Environmental Conservation, 38(03): 271 - 274. DOI: 10.1017/S0376892911000117
[9] Gray, M. 2013. Geodiversity. Valuing and Conserving Abiotic Nature. Chichester, England: Wiley-Blackwell.
[10] GSA (Geological Society of America). 2012. Geoheritage. Washington, DC: GSA Position Statement.
[11] Henriques, M. H., Pena dos Reis, R., Brilha, J., and Mota, T. 2011. Geoconservation as an emerging geoscience. Geoheritage, 3(2): 117-128. DOI: 10.1007/s12371-011-0039-8
[12] Liebowitz, J. 1999. Knowledgemanagement handbook. Boca Raton, Florida: CRC Press.
[13] Mikhailenko, A. V., Nazarenko, O. V., Ruban, D. A., and Zayats, P. P. 2017. Aesthetics-based classification of geological structures in outcrops for geotourism purposes: a tentative proposal. Geologos, 23(1): 45–52. DOI: 10.1515/logos-2017-0004
[14] Neches, I. M. 2016. Geodiversity beyond material evidence: a Geosite Type based interpretation of geological heritage. Proceedings of the Geologists' Association, 127(1): 78-89. DOI:10.1016/j.pgeola.2015.12.009
[15] Newsome, D., and Dowling, R. K. 2010. Geotourism: The tourism of geology and landscape. Oxford, England: Goodfellow Pub.
[16] Newsome, D., Dowling, R., and Leung, Y. F. 2012. The nature and management of geotourism: A case study of two established iconic geotourism destinations. Tourism Management Perspectives, 2(3): 19-27. DOI:10.1016/j.tmp.2011.12.009
[17] Predrag, D., and Mirela, D. 2010. Inventory of geoheritage sites – the base of geotourism development in Montenegro. Geographica Pannonica, 14(4): 126-132. DOI:10.5937/GeoPan1004126D
[18] Prosser, C. D. 2013. Our rich and varied geoconservation portfolio: the foundation for the future. Proceedings of the Geologists Association, 124(4): 568–580. DOI: 10.1016/j.pgeola.2012.06.001
[19] Ruban, D. A. 2015. Geotourism — A geographical review of the literature. Tourism Management Perspectives, 15: 1-15. DOi:10.1016/j.tmp.2015.03.005
[20] Ruban, D. A., Zorina, S. O., and Conrad, C. P. 2010. No global-scale transgressive-regressive cycles in the Thanetian (Paleocene): evidence from interregional correlation Palaeogeography. Palaeogeography Palaeoclimatology Palaeoecology, 295(1): 226-235. DOI:10.1016/j.palaeo.2010.05.040
[21] USGS (United States Geological Survey). 1991. Geology of Cave. U.S. Geological Survey. Available at: https://pubs.usgs.gov/gip/7000072/report.pdf
[22] Wimbledon, W. A. P., and Smith-Meyer, S. 2012. Geoheritage in Europe and its Conservation. Uppsala, Sweden: ProGEO.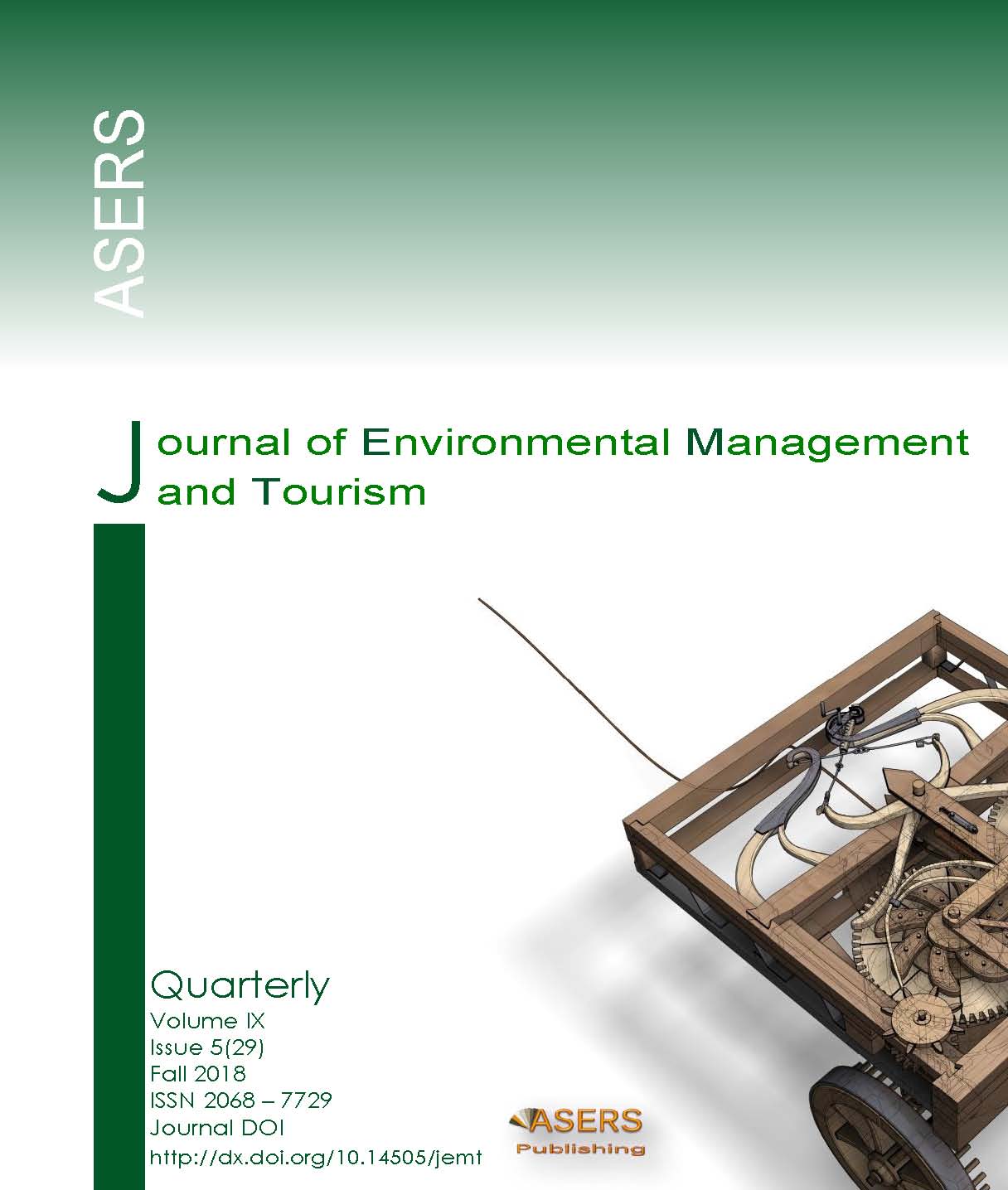 The Copyright Transfer Form to ASERS Publishing (The Publisher)
This form refers to the manuscript, which an author(s) was accepted for publication and was signed by all the authors.
The undersigned Author(s) of the above-mentioned Paper here transfer any and all copyright-rights in and to The Paper to The Publisher. The Author(s) warrants that The Paper is based on their original work and that the undersigned has the power and authority to make and execute this assignment. It is the author's responsibility to obtain written permission to quote material that has been previously published in any form. The Publisher recognizes the retained rights noted below and grants to the above authors and employers for whom the work performed royalty-free permission to reuse their materials below. Authors may reuse all or portions of the above Paper in other works, excepting the publication of the paper in the same form. Authors may reproduce or authorize others to reproduce the above Paper for the Author's personal use or for internal company use, provided that the source and The Publisher copyright notice are mentioned, that the copies are not used in any way that implies The Publisher endorsement of a product or service of an employer, and that the copies are not offered for sale as such. Authors are permitted to grant third party requests for reprinting, republishing or other types of reuse. The Authors may make limited distribution of all or portions of the above Paper prior to publication if they inform The Publisher of the nature and extent of such limited distribution prior there to. Authors retain all proprietary rights in any process, procedure, or article of manufacture described in The Paper. This agreement becomes null and void if and only if the above paper is not accepted and published by The Publisher, or is with drawn by the author(s) before acceptance by the Publisher.