Determinant of Willingness to Pay and Economic Value for Tourism Object using Contingent Valuation Method: The Case of Sangiran Sites, Province of Central Java, Indonesia
Sri SUBANTI

Department of Statistics, Faculty of Mathematics and Natural Science Universitas Sebelas Maret, Indonesia

Arif Rahman HAKIM

Institute for Research and Social Services, Universitas Sebelas Maret, Indonesia Faculty of Economics and Business, Universitas Indonesia, Indonesia

BRM Bambang IRAWAN

Department of Economic Development, Faculty of Economics and Business Universitas Sebelas Maret, Indonesia

Inaki Maulida HAKIM

Department of Industrial Engineering, Faculty of Engineering Universitas Indonesia, Indonesia
Abstract
In this paper we want to determine the factors of willingness to pay for quality improvement and to estimates of economic value in Sangiran, Central Java Province, Indonesia. This paper used contingent valuation approach. The study involved Sangiran visitors, they were surveyed for their willingness to pay for historical, cultural, and educational function. Finding from this study, the significant factors affecting the individual's willingness to pay are bid, gender, and income. The economic value of Sangiran sites tourism was estimated between Rp 0.665 billion per year until Rp 2.409 billion per year.
References
[1] Alberini, A., and Kahn, J. 2005. Combining actual and contingent behaviour to estimate the value of sport fishing in the Lagoon of Venice. Ecological Economics, 61: 530 – 541. DOI: http://dx.doi.org/10.2139/ssrn.692461
[2] Baral, N., and Heinen, J.T. 2007. Decentralization and people's participation in conservation: a comparative study from the Western Terai Landscape of Nepal. The International Journal of Sustainable Development and World Ecology, 14: 520 – 531.
[3] Binger, B.R., Copple, R., and Hoffman, E. 1995. Contingent valuation method methodology in the natural resource damage regulatory process: choice theory and the embedding phenomenon. Natural Resources Journal, 35: 443 – 459.
[4] Bowker, J. M., and Stoll, J. R. 1988. Use dichotomous choice non market methods to value the whooping crane resource. American Journal of Agricultural Economics, 70: 372 – 381. Available at: http://www.jstor.org/stable/1242078
[5] Carson, R., Flores, N., and Meade, N. 2001. Contingent valuation: controversies and evidence. Environmental and Resource Economics, 19: 173 – 210. DOI: 10.1023/A:1011128332243
[6] Carson, R.T. et al. 2003. Contingent valuation and loss passive use: Damages from the exxon valdes oil spill. Environmental and Resource Economics, 25: 257 – 286. DOI: http://dx.doi.org/10.1.1.141.6637
[7] Cummings, R.G., and Taylor, L.O. 1999. Unbiased value estimates for environmental goods: a cheap talk design for the contingent valuation method. American Economic Review, 89 (3): 649 – 665. Available at: http://www.jstor.org/stable/117038
[8] Goodwin, H.J., Kent, I.J., Parker, K.T., and Walpole, M.J. 1997. Tourism, conservation, and sustainable development. Final Report to the Department for International Development in London, Volume IV, 323.
[9] Gujarati, D., and Porter, C. D. 2009. Basic Econometrics 5th Edition. New York: McGraw – Hill.
[10] Hakim, A.R., Subanti, S., and Tambunan, M. 2011. Economic valuation of nature-based tourism object in Rawapening, Indonesia: An Application of Travel Cost and Contingent Valuation Method. Journal of Sustainable Development, 4(2): 91 – 101. DOI: http://dx.doi.org/10.5539/jsd.v4n2p91
[11] Hanemann, M.W. 1984. Welfare evaluations in contingent valuation experiments with discrete responses. Journal of American Agricultural Economics, 66 (3): 331 – 341. Available at: http://www.jstor.org/stable/1240800
[12] Hanemann, M.W. 1994. Valuing the Environment through contingent valuation. Journal of Economic Perspectives, 8 (4): 19 – 43. Available at: http://www.jstor.org/stable/2138337
[13] Hidayat, M. 2015. Potential and the development of sangiran early man site. Material Exposure to Visitors, Ministry of Education and Cultural, Board of Sangiran Early Man Site Preservation.
[14] Hoyos, D., and Mariel, P. 2010. Contingent valuation: past, present, and future. Prague Economic Paper, 4: 329 – 343.
[15] Jala, Nandagiri, L. 2015. Evaluation of economic value of Pilikula Lake Using travel cost and contingent valuation methods. Aquatic Procedia, 4: 1315 – 1321. DOI: https://doi.org/10.1016/j.aqpro.2015.02.171
[16] Jorgensen, B.S., Wilson, M.A., and Heberlein, T.A. 2001. Fairness in the contingent valuation of environmental public goods: attitude toward paying for environmental improvements at two level of scope. Ecological Economics, 36: 133 – 148. DOI: https://doi.org/10.1016/S0921-8009(00)00210-X
[17] Laarman, G.J., and Gregersen, H.M. 1996. Pricing policy in nature based tourism. Tourism Management, 17: 247 – 254. DOI: https://doi.org/10.1016/0261-5177(96)00016-7
[18] Mason, R. 2005. Economics and historic preservation: a guide and review of the literature. Discussion Paper, The Brookings Institution Metropolitan Policy Program.
[19] Ramdas, M., and Mohamed, B. 2014. Impacts of tourism on environmental attributes, environmental literacy and willingness to pay: A conceptual and theoretical review. Procedia – Social and Behavioral Sciences, 144: 378 – 391. DOI: https://doi.org/10.1016/j.sbspro.2014.07.307
[20] Zaei, M.E. 2013. The impact of tourism industry on host community. European Journal of Tourism Hospitally and Research, 1 (2): 12 – 21.
[21] Zulpikar, F. et al. 2017. Economic valuation of environmental service – based tourism Object in Batu Karas Beach – Pangandaran using the travel cost method. Journal of Regional and Rural Development Planning, 1 (1): 53 – 63.
*** United Nations Educational, Scientific, and Cultural Organization. Intangible Cultural Heritage. Illustrative Meterials. Available at: http://unesco.org/culture/ich/en/what-is-intangible-heritage-00003
*** World Heritage Conservation, Sangiran Early Man Site, Illustrative Materials. Available at: http://whc.unesco.org/en/list/593/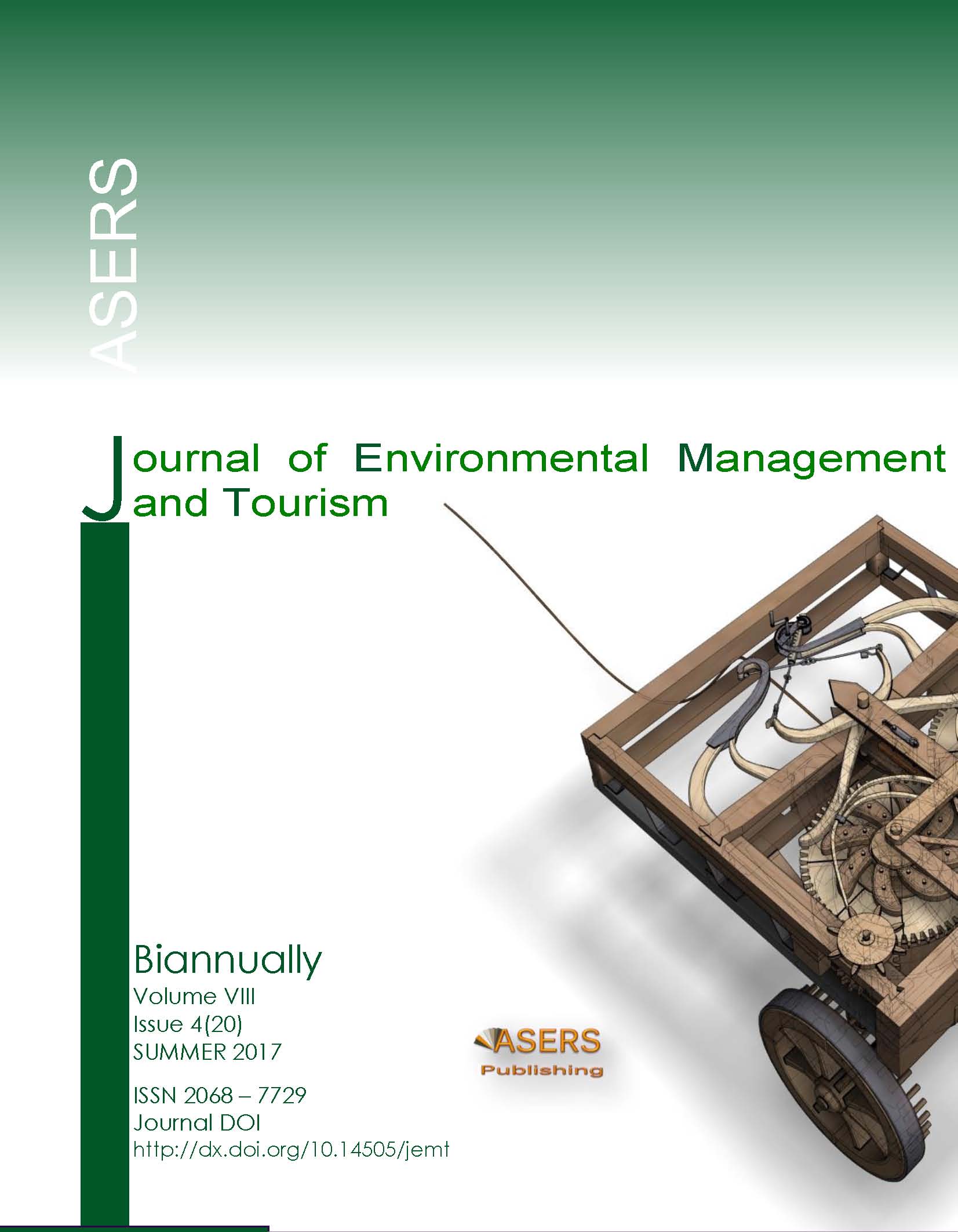 The Copyright Transfer Form to ASERS Publishing (The Publisher)
This form refers to the manuscript, which an author(s) was accepted for publication and was signed by all the authors.
The undersigned Author(s) of the above-mentioned Paper here transfer any and all copyright-rights in and to The Paper to The Publisher. The Author(s) warrants that The Paper is based on their original work and that the undersigned has the power and authority to make and execute this assignment. It is the author's responsibility to obtain written permission to quote material that has been previously published in any form. The Publisher recognizes the retained rights noted below and grants to the above authors and employers for whom the work performed royalty-free permission to reuse their materials below. Authors may reuse all or portions of the above Paper in other works, excepting the publication of the paper in the same form. Authors may reproduce or authorize others to reproduce the above Paper for the Author's personal use or for internal company use, provided that the source and The Publisher copyright notice are mentioned, that the copies are not used in any way that implies The Publisher endorsement of a product or service of an employer, and that the copies are not offered for sale as such. Authors are permitted to grant third party requests for reprinting, republishing or other types of reuse. The Authors may make limited distribution of all or portions of the above Paper prior to publication if they inform The Publisher of the nature and extent of such limited distribution prior there to. Authors retain all proprietary rights in any process, procedure, or article of manufacture described in The Paper. This agreement becomes null and void if and only if the above paper is not accepted and published by The Publisher, or is with drawn by the author(s) before acceptance by the Publisher.