Method to Evaluate Consumption of Tourist Services in Regional Markets
Oksana V. TRETYAKOVA

Tyumen Industrial University, Russian Federation

Natalya I. NIKITINA

Russian State Social University, Russian Federation

Natalia V. SPASSKAYA

Orel State University, Russian Federation
Abstract
The paper aims at improvements of the toolkit designed for evaluation of the demand in tourism. The research focus includes a number of challenges that hamper the recreation and tourism development, solutions to which require a use of opportunities within the strategic approach to management. In the critical review, we have updated the specifics of the consumer demand and tourist product marketing. The authors summarized factors of regional tourism development, gave their grouping and description. They proposed the methodological approach to the estimation of a promising capacity in the regional tourism market. Piloting the approach as a model, they gave reasons for the conclusion that an increase in the purchasing demand for tourist services is one of the key factors of the external environment able to ensure a further growth in the tourism turnover. The authors have proved the hypothesis suggesting that the residents' demand for national and international tours has its particular flexibility leading to an increase in national tourism at the expense of reduced international tourist flows and vice versa. A further direction of research might deal with spatial interregional links to achieve the potential of the tourism market.
References
[1] Aleksandrova, A.Y. 2016. Typology of the countries of the world according to the development level of international tourism. Geography and Natural Resources, 37(1): 18-25. DOI: http://dx.doi.org/10.1134/s1875372816010030
[2] Cooper, C. 2008. Tourism: Principles and Practice. Pearson Education. DOI: http://dx.doi.org/10.1080/00221344708986708
[3] Costa, C., Panyik, E., and Buhalis, D. (Eds.). 2013. Trends in European Tourism Planning and Organization. Channel View Publications.
[4] Croes, R.R. 2000. Anatomy of Demand in International Tourism: The Case of Aruba. Uitgeverij Van Gorcum.
[5] Dehez, J. 2016. Tourism, Recreation and Regional Development: Perspectives from France and Abroad. Routledge.
[6] Dubrovsky, V., Yaroshevich, N., and Kuzmin, E. 2016. Transactional approach in assessment of operational performance of companies in transport infrastructure. Journal of Industrial Engineering and Management, 9(2): 389-412. DOI: http://dx.doi.org/10.3926/jiem.1721
[7] Ermachenko, V.E. 2012. Problems of methodology harmonization to estimate consumption of tourist services in national market. Accounting and Statistics, 4(28): 53-60.
[8] Evans, N., Stonehouse, G., and Campbell, D. 2012. Strategic Management for Travel and Tourism. Taylor & Francis.
[9] Guseva, V.E., and Kuzmin, E.A. 2016. Survival rate and lifecycle in terms of uncertainty: review of companies from Russia and Eastern Europe. Journal of Advanced Research in Law and Economics, Volume VII, 7(21): 1754-1766. DOI: https://doi.org/10.14505//jarle.v7.7(21).23
[10] Hall, C.M. 2008. Tourism Planning: Policies, Processes and Relationships. Pearson Education.
[11] Horner, S., and Swarbrooke, J. 2016. Consumer Behaviour in Tourism. Routledge.
[12] Hsu, A.Y., King, B., Wang, D., and Buhalis, D. 2016. In-destination tour products and the disrupted tourism industry: progress and prospects. Information Technology & Tourism, 16(4): 413-433. DOI: http://dx.doi.org/10.1007/s40558-016-0067-y
[13] Kerr, W.R. 2003. Tourism Public Policy, and the Strategic Management of Failure. Routledge.
[14] Kiseleva, I.A., and Iskadzhyan, S.O. 2017. Analysis of factors that affect pricing for a tour package. Bulletin of Science and Education, 2, 3(27): 38-40.
[15] Kuzmin, E.A. 2015. Fundamentals in systematics of uncertainty management theory. Mediterranean Journal of Social Sciences, 6, 5(S2): 380-389. DOI: http://dx.doi.org/10.5901/mjss.2015.v6n5s2p380
[16] Kuzmin, E.A. 2016. Theoretical model to the estimate system uncertainty in economics. Information 19(7A, July): 2577-2588.
[17] Kuzmin, E.A. 2017. Risk and uncertainty in the concept of the corporate lifecycle. Problems and Perspectives in Management, 15(1): 107-114.
[18] Lebedev, K.A. 2015. Patterns in formation of tourism demand in modern conditions. Bulletin of the Ural Federal University. Series Economics and Management, 14(1): 50-66.
[19] McCabe, S. 2009. Marketing Communications in Tourism and Hospitality: Concepts, Strategies and Cases. Elsevier.
[20] McCabe, S., Minnaert, L., and Diekmann, A. 2011. Social Tourism in Europe: Theory and Practice. Channel View Publications.
[21] Modica, P. 2015. Sustainable Tourism Management and Monitoring. Destination, Business and Stakeholder Perspectives. FrancoAngeli.
[22] Moutinho, L. (Ed.). 2011. Strategic management in tourism, 2nd Edition. CAB International. DOI: http://dx.doi.org/10.1079/9781845935887.0000
[23] Ovcharov, A. 2008. Development of international tourism: Risk factors. World Economy and International Relations, 9: 48-57.
[24] Paramonova, S.V., Shavrina, A.V., Zolotova, G.I., and Mazova, E.A. 2017. The tourism development: forming factors for sustainable consumer demand. Competitiveness in the Globalized World: Economics, Science, Technology, 2-1(29): 190-193.
[25] Pei-Yu, Wu. 2012. Understanding Consumer Demand for Tourism Crisis Readiness Certifications. University of Florida.
[26] Protasova, L.G., Vasiltsova, L.I., and Kuzmin, E.A. 2011. Infrastructural marketing in the system of area development management. Journal of the Ural State University of Economics, 2(34): 104-109.
[27] Racajiska, S., Marinov, S. and T. Diankov. 2010. Tourist Markets. Science and Economics.
[28] Seaton, A.V., and Bennett, M.M. 1996. The Marketing of Tourism Products: Concepts, Issues and Cases. Cengage Learning EMEA.
[29] Song, H., Witt, S.F., and Li, G. 2008. The Advanced Econometrics of Tourism Demand. Routledge.
[30] Timothy, D.J. 2002. Tourism and Political Boundaries. Routledge.
[31] Tyan, L.A. 2010. Features of consumer demand for tourist services. Bulletin of the Pacific State University, 4: 255-258.
[32] Zieba, M. 2016. Tourism flows and the demand for regional and city theatres in Austria. Journal of Cultural Economics, 40(2): 191-221. DOI: http://dx.doi.org/10.1007/s10824-015-9250-9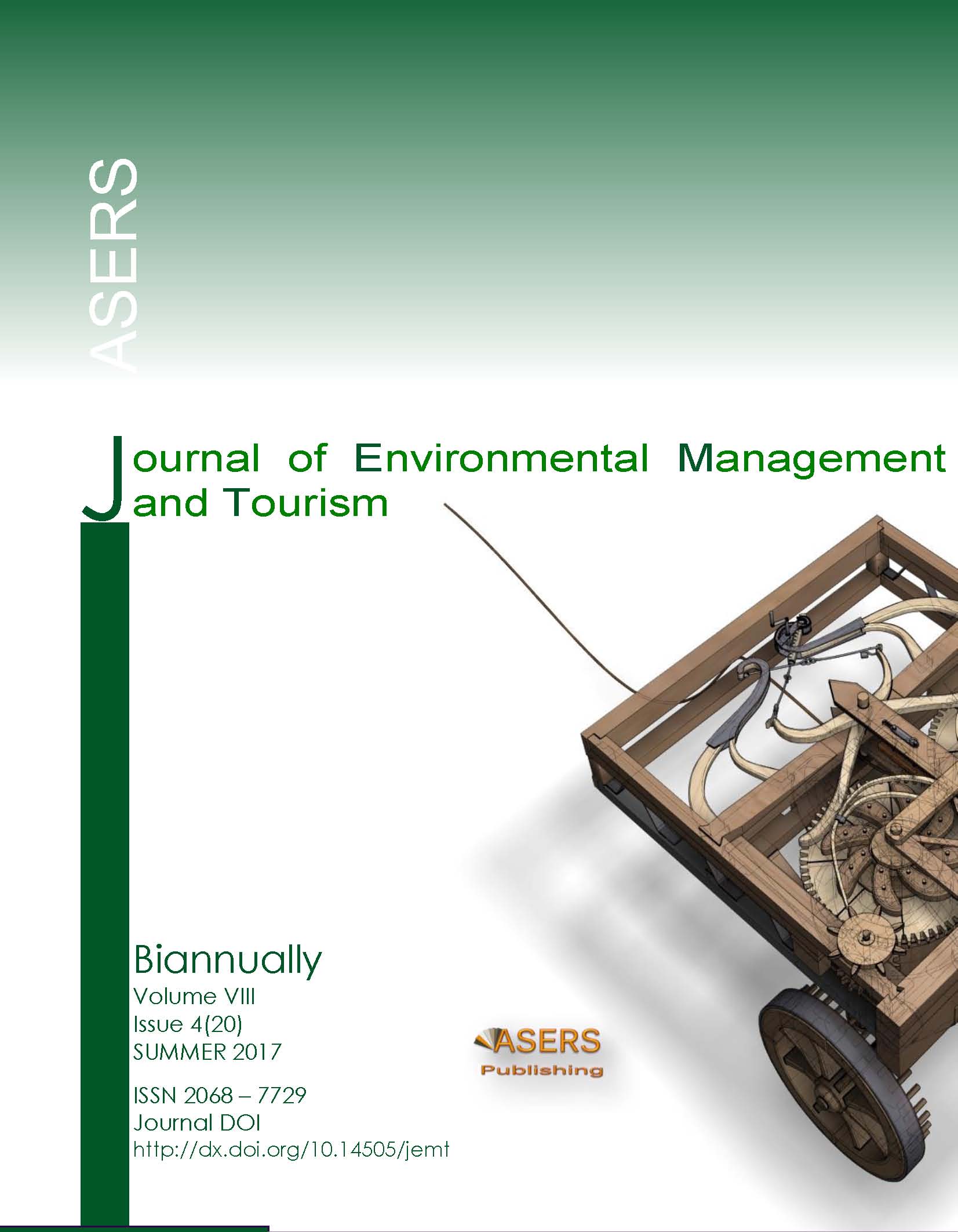 The Copyright Transfer Form to ASERS Publishing (The Publisher)
This form refers to the manuscript, which an author(s) was accepted for publication and was signed by all the authors.
The undersigned Author(s) of the above-mentioned Paper here transfer any and all copyright-rights in and to The Paper to The Publisher. The Author(s) warrants that The Paper is based on their original work and that the undersigned has the power and authority to make and execute this assignment. It is the author's responsibility to obtain written permission to quote material that has been previously published in any form. The Publisher recognizes the retained rights noted below and grants to the above authors and employers for whom the work performed royalty-free permission to reuse their materials below. Authors may reuse all or portions of the above Paper in other works, excepting the publication of the paper in the same form. Authors may reproduce or authorize others to reproduce the above Paper for the Author's personal use or for internal company use, provided that the source and The Publisher copyright notice are mentioned, that the copies are not used in any way that implies The Publisher endorsement of a product or service of an employer, and that the copies are not offered for sale as such. Authors are permitted to grant third party requests for reprinting, republishing or other types of reuse. The Authors may make limited distribution of all or portions of the above Paper prior to publication if they inform The Publisher of the nature and extent of such limited distribution prior there to. Authors retain all proprietary rights in any process, procedure, or article of manufacture described in The Paper. This agreement becomes null and void if and only if the above paper is not accepted and published by The Publisher, or is with drawn by the author(s) before acceptance by the Publisher.