WILLIAM NASSAU SENIOR AND THE RELATIONSHIP BETWEEN ABSTINENCE, CAPITAL AND INTEREST
Alessandro MORSELLI

University of Rome Unitelma Sapienza, Italy
Abstract
This paper highlights Senior's credit for having introduced the analysis of "abstinence" into the economic vocabulary and its importance in the formation of capital; and also, how the latter, with him, undergoes a strong improvement compared to the original formulations. It is reasonable to believe that Senior's influence was truly important, since all the subsequent efforts to extend the analysis of marginal utility to the distribution of resources over time by the concept of temporal rate derive from Senior's theory of abstinence.
References
[1] Augello, M.M., Guidi, M.E.L. 2007. L'economia divulgata. Stili e percorsi italiani, 1840-1922, Volume 3. Milano, FrancoAngeli. Centro Interuniversitario di documentazione sul Pensiero Economico Italiano. Biblioteca storica degli economisti italiani.
[2] Bailey, S. 1825. A critical dissertation on the nature, measure, and causes of value. London, R. Hunter..
[3] Barro, R.J. 1974. Are government bonds net wealth? Journal of Political Economy, 82(6): 1095-1117.
[4] Bowley, M. 1936. Nassau Senior's contribution to the methodology of economics. Economica, 3(11): 281–305.
[5] Bowley, M. 1937. Nassau Senior and classical economics. London George Allen & Unwin, 358 p.
[6] Brandford, DeLong, J. 1986. Senior's 'last hour': Suggested explanation of famous blunder. History of Political Economy, 18(2): 325-333.
[7] Conard, J. 1959. An introduction to the theory of interest. Berkeley and Los Angeles, University of California Press. Available at: https://archive.org/stream/in.ernet.dli.2015.138005/2015.138005.An-Introduction-To-The-Theory-Of-Interest_djvu.txt
[8] Depoortère, C. 2013. William Nassau Senior and David Ricardo on the method of political economy. Journal of the History of Economic Thought, 35(1): 19-42.
[9] De Marchi, N. 1987. Abstinence, in Eatwell J., Milgate M., Newman P., eds., "The New Palgrave: A Dictionary of Economics", (1): 8–9, London Macmillan.
[10] Ekelund, R., Hébert, R. 1975. A history of economic theory and method. New York, McGraw-Hill. ISBN: 0070191433, 9780070191433, 508 p.
[11] Fisher, I. 1930. The theory of interest. New York, The Macmillan Company. Available at: http://files.libertyfund.org/files/1416/0219_Bk.pdf
[12] Garegnani, P. 1984. Value and distribution in the classical economists and Marx. Oxford Economic Papers, 36(1): 291–325.
[13] Gootzeit, M.J. 1992. Senior's abstinence theory of the supply of business saving. Journal of the History of Economic Thought, 14(2): 244-256.
[14] Hupfel, S. 2010. The spitalfields acts and the classics: Ricardo, J.S. Mill, Bowring, and Senior on the London silk industry (1823 to 1841). The European Journal of the History of Economic Thought, 19(2): 165-195.
[15] Lloyd, W.F. 1834. A lecture on the notion of value. London, Roake and Varby. Available at: https://archive.org/details/lectureonnotiono00lloy/page/n4
[16] Longfield, M. 1834. Lectures on political economy. Dublin, Milliken.
[17] Malthus, T.R. 1821. An inquiry into those principles respecting the nature of demand and the necessity of consumption. London, Printed for R. Hunter.
[18] Malthus, T.R. 1836. Principles of political economy, considered with a view to their pratical applications, Second edition. London, Pickering. ISBN: 9781851961054, 439 p.
[19] Marx, K. 2006. Il Capitale, libro primo, in Classici dell'economia. Milano, Milano Finanza Editori.
[20] Meoli, U. 1972. Storia delle idee politiche economiche e sociali, volume quinto. Torino Utet. 919 p.
[21] Mill, J.S. 2006. Principi di economia politica, in Classici dell'economia. Utet, Libreria Torino. ISBN: 978-88-02-07263-0, 1276 p.
[22] Morselli, A. 2017. Crisi e ciclo economco. Un richiamo alla teoria malthusiana. Roma, Aracne. ISBN: 978-8825509304, 100 p.
[23] Ricossa, S. 1998. Dizionario di economia, Torino, Utet. ISBN: 8802052336, 9788802052335, 581 p.
[24] Rossitto, E. 1993. La metafora del capitale. Acireale, Galatea Editrice.
[25] Say, J.B. 1803. Traité d'économie politique. Paris, Deterville. Available at: https://www.institutcoppet.org/wp-content/uploads/2011/12/Traite-deconomie-politique-Jean-Baptiste-Say.pdf
[26] Senior, N.W. 1836. Principes fondamentaux de l'économie politique : Tires de leçons édites et inédites. Paris, Librairie Aillaud, 403 p.
[27] Senior, N.W., Whately, R. 1836. An outline of the science of political economy, reprint of economic classics, New York, Augustus M. Kelley, Bookseller, 1965, 249 p. Available at: http://digamo.free.fr/senior36.pdf
[28] Senior, N.W. (1847-52), Lectures, course II, lecture 9.
[29] Senior, N.W. (1847-52), Lectures, course II, lecture 8.
[30] Senior, N.W. 1848. J.S. mill on political economy. Edinburgh Review, 88: 293–339.
[31] Von Böhm-Bawerk, E. 1907. Capital and interest once more. Quarterly Journal of Economics, 21: 247–282.
[32] Von Böhm-Bawerk, E. 1930. The positive theory of capital. New York, GE. Stechert & Co, Vol. I, Chapter 1. Available at: https://mises-media.s3.amazonaws.com/The%20Positive%20Theory%20of%20Capital.pdf
[33] Whately, R. 1832. Introductory lectures on political economy, 2nd edition. London, J.W. Parker. Available at: https://oll.libertyfund.org/titles/whately-introductory-lectures-on-political-economy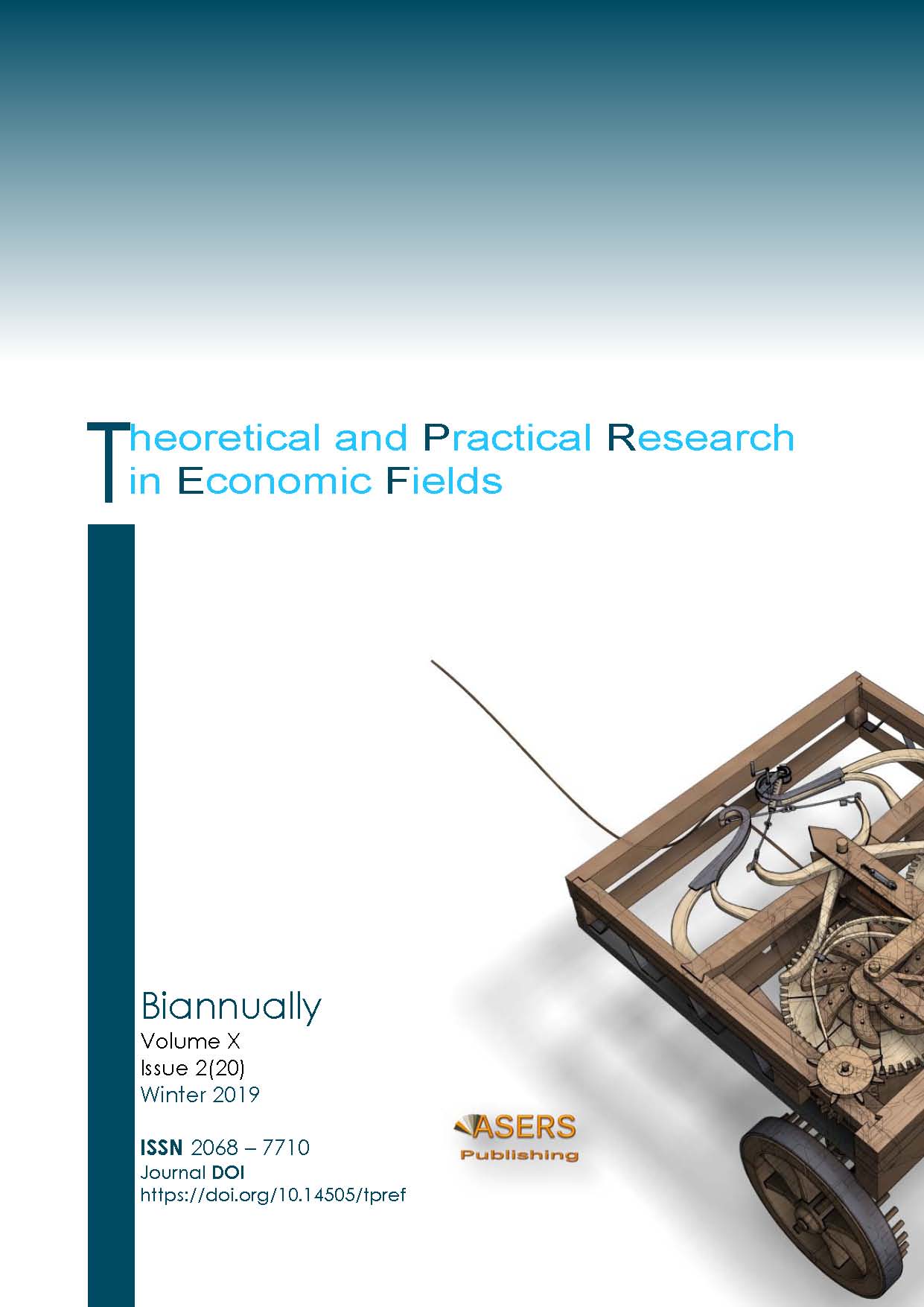 The Copyright Transfer Form to ASERS Publishing (The Publisher)
This form refers to the manuscript, which an author(s) was accepted for publication and was signed by all the authors.
The undersigned Author(s) of the above-mentioned Paper here transfer any and all copyright-rights in and to The Paper to The Publisher. The Author(s) warrants that The Paper is based on their original work and that the undersigned has the power and authority to make and execute this assignment. It is the author's responsibility to obtain written permission to quote material that has been previously published in any form. The Publisher recognizes the retained rights noted below and grants to the above authors and employers for whom the work performed royalty-free permission to reuse their materials below. Authors may reuse all or portions of the above Paper in other works, excepting the publication of the paper in the same form. Authors may reproduce or authorize others to reproduce the above Paper for the Author's personal use or for internal company use, provided that the source and The Publisher copyright notice are mentioned, that the copies are not used in any way that implies The Publisher endorsement of a product or service of an employer, and that the copies are not offered for sale as such. Authors are permitted to grant third party requests for reprinting, republishing or other types of reuse. The Authors may make limited distribution of all or portions of the above Paper prior to publication if they inform The Publisher of the nature and extent of such limited distribution prior there to. Authors retain all proprietary rights in any process, procedure, or article of manufacture described in The Paper. This agreement becomes null and void if and only if the above paper is not accepted and published by The Publisher, or is with drawn by the author(s) before acceptance by the Publisher.