THE ROLES OF THE PUBLIC SECTOR AND THE PRIVATE SECTOR IN THE ECONOMY OF NORTH CYPRUS: EMPIRICAL EVIDENCE FROM MARKOV SWITCHING
Turgut TURSOY

Department of Banking and Finance Near East University, Nicosia, North Cyprus
Abstract
This study purpose is to examine the regime shift of public sector and private sector investments on economic growth in North Cyprus using with the Markov Switching Regression technique for the period from the first quarter of the year 1982 to the last quarter of the year of 2015. Both sector investments having effects on the economic growth at the concerned period and method provide the necessary evidence for the regime shifts. Two-regime (growth path/recession path) model has been estimated to analyse the Markov-switching model, Markov transition probabilities and constant expected durations.
References
[1] Arrow, K. J., and Lind, R. C. 1978. Uncertainty and the evaluation of public investment decisions. In Uncertainty in Economics (pp. 403-421).
[2] Bryson, J. M., and Roering, W. D. 1987. Applying private-sector strategic planning in the public sector. Journal of the American Planning Association, 53(1): 9-22.
[3] Fama, E. F., and French, K. R. 1988. Dividend yields and expected stock returns. Journal of financial economics, 22(1): 3-25.
[4] Fong, W. M., and See, K. H. 2002. A Markov switching model of the conditional volatility of crude oil futures prices. Energy Economics, 24(1): 71-95.
[5] Frühwirth‐Schnatter, S. 2004. Estimating marginal likelihoods for mixture and Markov switching models using bridge sampling techniques. The Econometrics Journal, 7(1): 143-167.
[6] Goldfeld, S. M. and Quandt, R. E. 1973. A Markov Model for Switching Regressions, Journal of Econometrics, 3–16.
[7] Gunsel, N. R., Tursoy, T., and Rjoub, H. 2010. An empirical analysis of currency crises, fundamentals and speculative pressure. African Journal of Business Management, 4(6): 972 - 978.
[8] Hamilton, James D. 1996. Specification Testing in Markov-switching Time-series Models, Journal of Econometrics, 70: 127–157.
[9] Holtz-Eakin, D. 1992. Public-sector capital and the productivity puzzle (No. w4122). National bureau of economic research.
[10] Kim, C. J., Piger, J., and Startz, R. 2008. Estimation of Markov regime-switching regression models with endogenous switching. Journal of Econometrics, 143(2): 263-273.
[11] Maddala, G. S. 1986. Disequilibrium, Self-Selection, and Switching Models, Handbook of Econometrics, Chapter 28 in Z. Griliches& M. D. Intriligator (eds.), Handbook of Econometrics, Volume 3, Amsterdam: North- Holland.
[12] Perron, P., and Vogelsang, T. J. 1992. Nonstationarity and level shifts with an application to purchasing power parity. Journal of Business & Economic Statistics, 10(3): 301-320.
[13] Shahbaz, M., Loganathan, N., Sbia, R., and Afza, T. 2015. The effect of urbanization, affluence and trade openness on energy consumption: A time series analysis in Malaysia. Renewable and Sustainable Energy Reviews, 47: 683-693.
[14] Sims, C. A., Waggoner, D. F., and Zha, T. 2008. Methods for inference in large multiple-equation Markov-switching models. Journal of Econometrics, 146(2): 255-274.
[15] Türsoy, T. 2013. Forecasting Economic Growth Rate: the Case of North Cyprus, NEU Journal of Social Sciences, 6(1): 193-207.
[16] Tursoy, T., and Faisal, F. 2017. Validity of FH hypothesis in small isolated island economy: an application of the combined cointegration approach. Asia-Pacific Journal of Accounting & Economics, 1-11.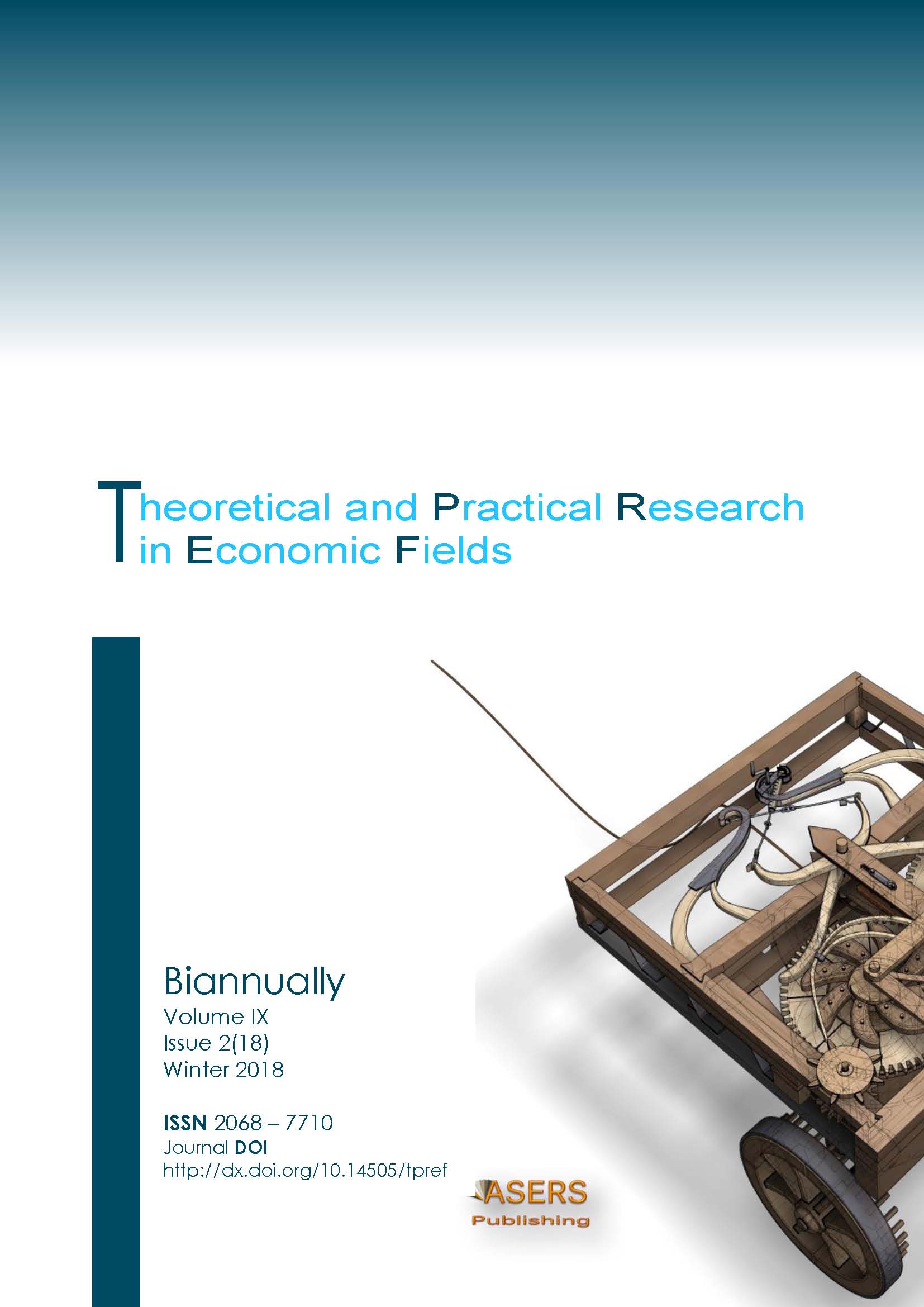 The Copyright Transfer Form to ASERS Publishing (The Publisher)
This form refers to the manuscript, which an author(s) was accepted for publication and was signed by all the authors.
The undersigned Author(s) of the above-mentioned Paper here transfer any and all copyright-rights in and to The Paper to The Publisher. The Author(s) warrants that The Paper is based on their original work and that the undersigned has the power and authority to make and execute this assignment. It is the author's responsibility to obtain written permission to quote material that has been previously published in any form. The Publisher recognizes the retained rights noted below and grants to the above authors and employers for whom the work performed royalty-free permission to reuse their materials below. Authors may reuse all or portions of the above Paper in other works, excepting the publication of the paper in the same form. Authors may reproduce or authorize others to reproduce the above Paper for the Author's personal use or for internal company use, provided that the source and The Publisher copyright notice are mentioned, that the copies are not used in any way that implies The Publisher endorsement of a product or service of an employer, and that the copies are not offered for sale as such. Authors are permitted to grant third party requests for reprinting, republishing or other types of reuse. The Authors may make limited distribution of all or portions of the above Paper prior to publication if they inform The Publisher of the nature and extent of such limited distribution prior there to. Authors retain all proprietary rights in any process, procedure, or article of manufacture described in The Paper. This agreement becomes null and void if and only if the above paper is not accepted and published by The Publisher, or is with drawn by the author(s) before acceptance by the Publisher.