TECHNICAL TRADING RULES AND TRADING SIGNALS IN THE BLACK MARKET FOR FOREIGN EXCHANGE IN SUDAN
Ibrahim A. ONOUR

School of Management Studies University of Khartoum, Sudan
Abstract
This paper aims to assess the level of departure of the actual black-market rate from its real level. Our finding indicates divergence of the actual black-market rate from the real level, ranging from 7% in October 2016 to about 38% in November 2017. This result implies 38% of the foreign exchange price in the black-market rate in November 2017 was due to manipulative trading strategies exerted by a few powerful traders in the market. The study concludes that in the very short term to curb increasing depreciation of the domestic currency rate in the black market, it is essential to control domestic liquidity expansion, and raise the cost (risk) of dealing in the black market by imposing higher penalty cost on dealers in this market.
References
[1] Bessembinder, H., and Chan, K. 1995. The Profitability of Technical Trading Rules in the Asian Stock Markets. Pacific-Basin Finance Journal, 3(2-3): 257-284. DOI: 10.1016/0927-538X(95)00002-3
[2] Caporale, G. M. and Cerrato, M. 2006. Black Market and Official Exchange Rates: Long-Run Equilibrium and Short-Run Dynamics (November 2006). CESifo Working Paper No. 1851. Available at: https://ssrn.com/abstract=949425
[3] Culbertson, W.P. 1989. Empirical Regularities in Black Markets for Currency, World Development, 17(12): 1907-1919.
[4] Dornbusch, R. et al. 1983. The Black Market for Dollars in Brazil. Quarterly Journal of Economics, 98: 25-40.
[5] Fama, E., and Blume, M. 1966. Filter Rules and Stock Market Trading Profits. Journal of Business, 39: 226-241.
[6] Fishelson, G. 1988. The Black Market for Foreign Exchange: An International Comparison. Economics Letters 27: 67-71.
[7] Gros, D. Dual Exchange Rate in the Presence of Incomplete Market Separation: Long-Run Effectiveness and Implications for Monetary Policy. IMF, WP/87/45,1987
[8] Gupta, S. 1984. Unrecorded Trade at Black Exchange Rates: Analysis, Implications, and Estimates. Aussenwirtschaft, 39: 75-90.
[9] Ito, A. 1999. Profits on Technical Trading Rules and Time-Varying Expected Returns: Evidence from Pacific-Basin Equity Markets. Pacific-Basin Finance Journal, 7(3-4): 283-330.
[10] Jadgeep, B., and Vegh C. 1990. Dual Exchange Markets under Incomplete Separation: An Optimizing Model," International Monetary Fund Staff Papers, 37(1): 146- 167.
[11] Jayaratnam A., Jayaratnam, A., and Mckinnon, A.R. 2003. How Does the Black-Market Exchange Premium Affect Foreign Direct Investment? http://citeseerx.ist.psu.edu/viewdoc/summary?doi=10.1.1.197.6736
[12] Kharas, H., and Pinto, B. 1989. Exchange Rate Rules, Black Market Premia, and Fiscal Deficits: The Bolivian Hyperinflation. Review of Economic Studies, 56: 435-47.
[13] Kho, B-C. 1996. Time-Varying Risk Premium, Volatility, and Technical Trading Rule Profits: Evidence from Foreign Currency Futures Markets, Journal of Financial Economics 41: 249-290.
[14] Kiguel, M., and O'Connell, S. 1995. Parallel Exchange Rate in Developing Countries. The World Bank Research Observer, 10(1): 21-52.
[15] Levich, R. M., and Thomas, L. R. 1993. The Significance of Technical Trading-Rule Profits in the Foreign Exchange Market: A Bootstrap Approach, Journal of International Money and Finance, 12: 451-474.
[16] Lizondo, J. S. 1987. Unification of Dual Exchange Market, Journal of International Economics, 22: 57-77.
[17] Makochekanwa, A. 2007. Zimbabwe's Hyperinflation Money Demand Model. University of Pretoria, department of economics, working paper series, 2007-12.
[18] Musila J., and AL-Zoud H. 2012. Exchange Rate Volatility and International Trade Flows in Sub-Saharan Africa: Empirical Evidence. Journal of African Business, 13(2): 115-122.
[19] Onour, I. 2000. Unification of Dual Foreign Exchange Markets. Economics of Planning (Journal), 33: 171-184.
[20] Onour, I., and Cameron, N. 1997. Parallel Market Premium and Real Official Exchange Rate Misalignment, Journal of Economic Development, 22(1): 25-41.
[21] Phylaktis, K. 1991. The Black Market for Dollars in Chile. Journal of Development Economics, 37(1-2): 155-172.
[22] Pinto B. 1989. Black Market Premia, Exchange Rate Unification and Inflation in Sub-Saharan Africa. World Bank Economic Review, 3: 321- 338.
[23] Pinto B. 1991. Black Markets for Foreign Exchange, Real Exchange Rates, and Inflation. Journal of International Economics, 30: 121-135. https://doi.org/10.1016/0022-1996(91)90008-T
[24] Ratner, M., and Leal, R. P C. 1999. Tests of Technical Trading Strategies in the Emerging Equity Markets of Latin America and Asia, Journal of Banking and Finance, 23 (12): 1887-1905.
[25] Rodriguez, C. 1978. A Stylized Model of the Devaluation-Inflation Spiral. IMF Staff Papers, 25: 76-89.
[26] Shachmurove, Y. 1999. The Premium in Black Foreign Exchange Markets: Evidence from Developing, Countries. Journal of Policy Modeling, 21(1): 1-39.
[27] Shahe E. M. and Shilpi, F. 2010. Is Black Market Exchange Rate a Good Indicator of Equilibrium Exchange Rate? A Simple Test with Evidence from South Asia. Available at: https://ssrn.com/abstract=1552885 or http://dx.doi.org/10.2139/ssrn.1552885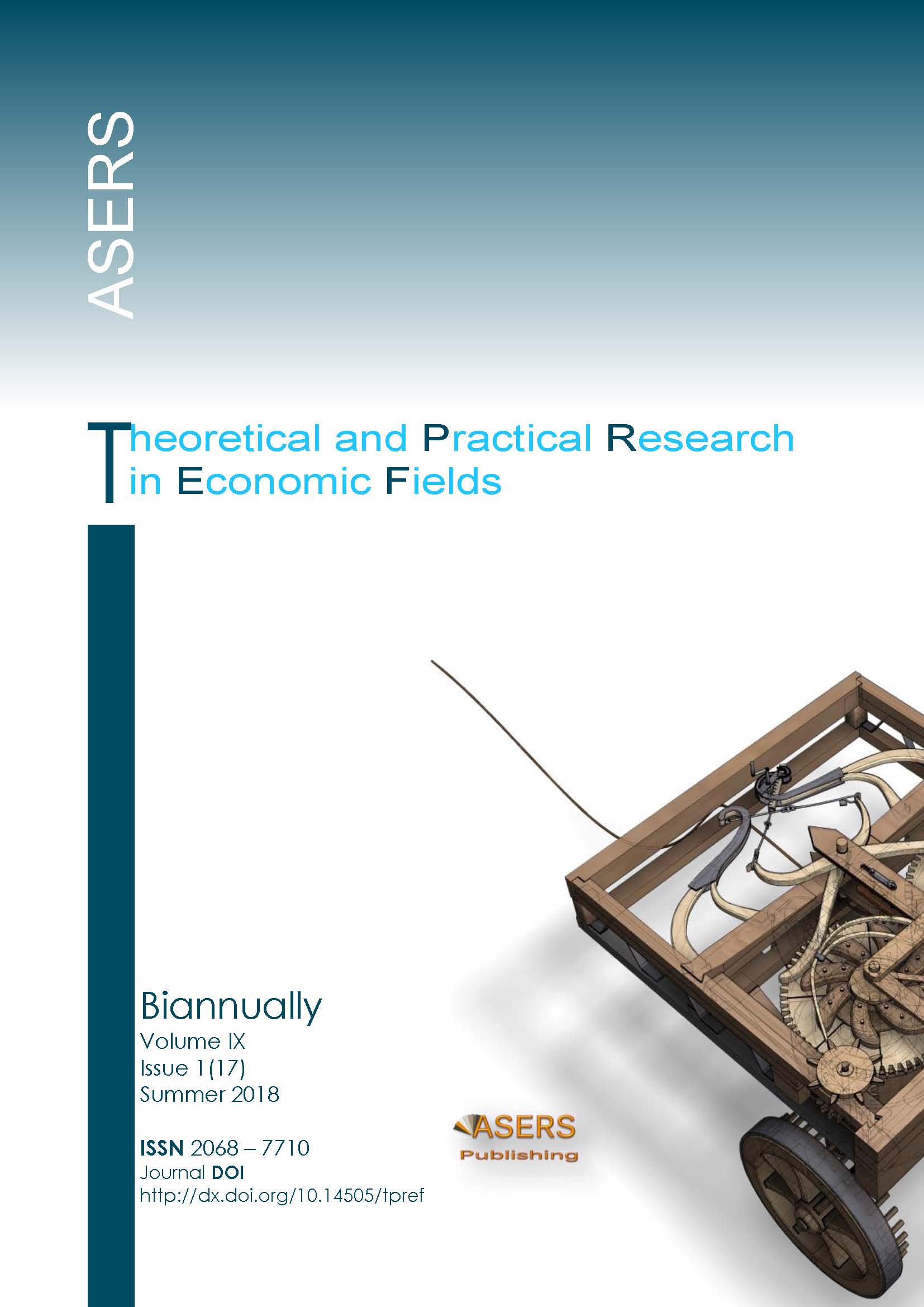 How to Cite
ONOUR, Ibrahim A.. TECHNICAL TRADING RULES AND TRADING SIGNALS IN THE BLACK MARKET FOR FOREIGN EXCHANGE IN SUDAN.
Theoretical and Practical Research in the Economic Fields
, [S.l.], v. 9, n. 1, p. 25-31, sep. 2018. ISSN 2068-7710. Available at: <
https://journals.aserspublishing.eu/tpref/article/view/2232
>. Date accessed: 02 oct. 2022.
The Copyright Transfer Form to ASERS Publishing (The Publisher)
This form refers to the manuscript, which an author(s) was accepted for publication and was signed by all the authors.
The undersigned Author(s) of the above-mentioned Paper here transfer any and all copyright-rights in and to The Paper to The Publisher. The Author(s) warrants that The Paper is based on their original work and that the undersigned has the power and authority to make and execute this assignment. It is the author's responsibility to obtain written permission to quote material that has been previously published in any form. The Publisher recognizes the retained rights noted below and grants to the above authors and employers for whom the work performed royalty-free permission to reuse their materials below. Authors may reuse all or portions of the above Paper in other works, excepting the publication of the paper in the same form. Authors may reproduce or authorize others to reproduce the above Paper for the Author's personal use or for internal company use, provided that the source and The Publisher copyright notice are mentioned, that the copies are not used in any way that implies The Publisher endorsement of a product or service of an employer, and that the copies are not offered for sale as such. Authors are permitted to grant third party requests for reprinting, republishing or other types of reuse. The Authors may make limited distribution of all or portions of the above Paper prior to publication if they inform The Publisher of the nature and extent of such limited distribution prior there to. Authors retain all proprietary rights in any process, procedure, or article of manufacture described in The Paper. This agreement becomes null and void if and only if the above paper is not accepted and published by The Publisher, or is with drawn by the author(s) before acceptance by the Publisher.