A New Keynesian Framework for Monetary Policy Analysis in Iran's Economy. A Dynamic Stochastic General Equilibrium Approach
Afshin HEIDARPOUR

Economic Studies Department, MAJLIS Research Center, Iran

Mosayeb PAHLAVANI

Faculty of Economics, University of Sistan and Baluchestan, Iran

Mohamadnabi SHAHIKI TASH

Faculty of Economics, University of Sistan and Baluchestan, Iran

Seyedkomail TAYEBI

Faculty of Economics and Adminstrative Sciences, University of Isfahan, Iran
Abstract
This paper focuses on New Keynesian framework for monetary policy analysis of Iran. It considers a dynamic stochastic general equilibrium (DSGE) models. This article expands a sensitivity analysis of the optimal rules to deep structural parameters and investigating properties of an optimal simple rule with respect to prevailing type of shocks which is the main purpose of the article. Finally, the study highlights how an optimal policy rule depends on model structure, on the model calibration and nominal rigidities.
According to the research findings, based on the theoretical expectations, the effect of a positive shock inflicted on the government investment leads to an increase and gradual accumulation of fixed capital formation in the public sector. Among estimated parameters, consumption is the first affected and reduces, then employment increases consequently, finally production will also be affected. Also with the shock of oil revenues, increased oil revenues which results in public investment at first, because of the increase in oil revenues, the government enhances development expenditure. Though, increase in development expenditure is more than increase in current expenditure. Enhancing development expenditure and construction spending causes total spending increase. As a result of increased production of oil income, consumption and total investment will rise. This leads to inflation too.
References
[1] Benchimol, J. (2011). Base line new Keynesian DSGE model, PhD Doctoral theses, Pantheon Sorbonne University.
[2] Canova, F. and Luca, S. (2009). Back to square one: Identification issues in DSGE models, Journal of Monetary Economics 56(4), 431 – 449.
[3] Christiano, L.J., Eichenbaum, M., and Evans, C. (2005). Nominal Rigidities and the Dynamic Effects of a Shock to Monetary Policy. Journal of Political Economy 113(1): 1–45. http://www.nber.org/papers/w8403.pdf

[4] Clarida, R., Gali,.J., and Gertler, M. (1999). The Science of Monetary Policy: A New Keynesian Perspective, Journal of Economic Literature XXXVII (December 1999): 1661–1707. http://dx.doi.org/10.1257/jel.37.4.1661
[5] Clarida, R., Gali, J., and Gertler, M. (2001). Optimal Monetary Policy in Closed Versus Open Economies, American Economic Review 91(2): 248 – 252. http://dx.doi.org/10.3386/w8604
[6] DeJong, D.N., Dave, C. (2007). Implementing Nonlinear Approximations Empirically, from Structural Macroeconometrics [Structural Macroeconometrics], Introductory Chapters, Princeton University Press. http://press.princeton.edu/chapters/s8436.pdf
[7] Fukava, K, (2012), Estimation of an Empirical FAVAR Model and DSGE Model for Evaluating Effects of Government Spending in Japan.
[8] Galí, Jordi (2002). New Perspectives on Monetary Policy, Inflation, and the Business Cycle. National Bureau of Economic Research Working Paper 8767. http://www.nber.org/papers/w8767.pdf
[9] Galí, J., (2008) Monetary Policy, Inflation, and the Business Cycle, Princeton University Press and copyrighted. http://www.press.princeton.edu/chapters/s8654.pdf

[10] Goodfriend, M and King, R. (1997). The New Neoclassical Synthesis and the Role of Monetary Policy, NBER Chapters, in: NBER Macroeconomics Annual, Volume 12, pages 231-296 National Bureau of Economic Research, Inc. http://www.nber.org/chapters/c11040
[11] Ireland Peter N., (2003), Implementing the Friedman Rule, Review of Economic Dynamics, PP. 120-134 http://dx.doi.org/10.1016/S1094-2025(02)00011-X
[12] Kavand, H., Ferris, S., (2011). The inflationary effects of stochastic resource revenues in resource-rich economies with less well-developed financial markets, Journal of Applied Economics, 44(29):1-10, http://dx.doi.org/10.1080/00036846.2011.581222
[13] Lou, D. (2008). Optimal Simple Money Rules in a Small Open economy, PhD Doctoral theses,
[14] Maliszewski, W. (2009). Fiscal Policy Rules for Oil Producing Countries: A Welfare-Based Assessment, IMF Working paper WP/09/126. https://www.imf.org/external/pubs/ft/wp/2009/wp09126.pdf
[15] McCallum, B. T. and Nelson, Edward, (2010). Money and Inflation: Some Critical Issues, Handbook of Monetary Economics, in: Benjamin M. Friedman and Michael Woodford (ed.), Handbook of Monetary Economics, edition 1, volume 3, chapter 3, pages 97-153 Elsevier. http://www.federalreserve.gov/pubs/feds/2010/201057/201057pap.pdf
[16] McCandless, G. (2008). The ABCs of RBCs: An Introduction to Dynamic Macroeconomic Models. Harvard University Press.
[17] Polanský, J.(2013). DSGE Models with Financial Frictions: A Theory and Applications to the Czech Economy
[18] Rotemberg, J. and Woodford, M. (1997), An optimization-based econometric framework for the evaluation of monetary policy. Cambridge, MA: National Bureau of Economic Research. NBER Working Paper,
[19] Semko, R. (2013). Optimal Economic Policy and Oil Price Shocks in Russia, Economic Research, ISSN 1331-677X , Volume 26(2): 69-82
[20] Svensson, Lars, E.O. (2009). Evaluating Monetary Policy, CEPR Discussion Papers 7481, C.E.P.R. Discussion Papers. http://ssrn.com/abstract=1507478
[21] Snowdon, B.(2005). Modern Macroeconomics: Its Origins, Development and current state, Northampton, MA: E.Elgar.
[22] Tavakolian, H. (2014). Estimating the Degree of Fiscal Dominance and its Welfare Costs in a Dynamic Stochastic General Equilibrium, Journal of Monetary and Banking Research, vol 7, number 21.
[23] Walsh, Carl E, (2010). Monetary Theory and policy'. 3rd ed. Cambridge, MA: MIT Press.
[24] Woodford, M. (1996). Control of the Public Debt: A Requirement for Price Stability?, NBER Working Paper, Number 5684.http://www.nber.org/papers/w5684.pdf
[25] Woodford, M. (1998). Public Debt and the Price Level, Manuscript, Princeton University.
[26] Woodford, M. (2003). Interest and Prices. Foundations of a Theory of Monetary Policy. Princeton University Press.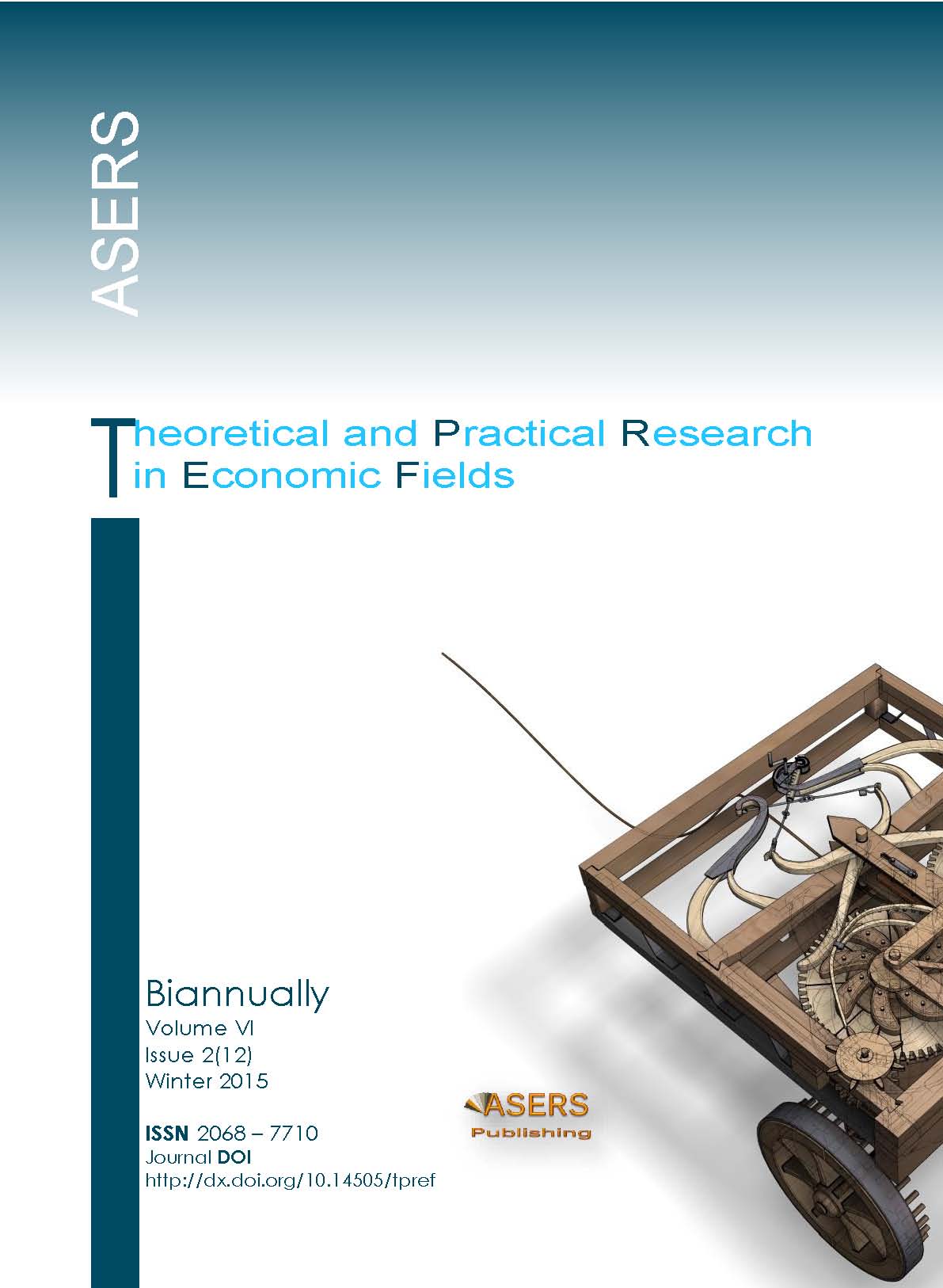 How to Cite
HEIDARPOUR, Afshin et al. A New Keynesian Framework for Monetary Policy Analysis in Iran's Economy. A Dynamic Stochastic General Equilibrium Approach.
Theoretical and Practical Research in the Economic Fields
, [S.l.], v. 6, n. 2, p. 97-116, july 2017. ISSN 2068-7710. Available at: <
https://journals.aserspublishing.eu/tpref/article/view/1236
>. Date accessed: 16 aug. 2022.
The Copyright Transfer Form to ASERS Publishing (The Publisher)
This form refers to the manuscript, which an author(s) was accepted for publication and was signed by all the authors.
The undersigned Author(s) of the above-mentioned Paper here transfer any and all copyright-rights in and to The Paper to The Publisher. The Author(s) warrants that The Paper is based on their original work and that the undersigned has the power and authority to make and execute this assignment. It is the author's responsibility to obtain written permission to quote material that has been previously published in any form. The Publisher recognizes the retained rights noted below and grants to the above authors and employers for whom the work performed royalty-free permission to reuse their materials below. Authors may reuse all or portions of the above Paper in other works, excepting the publication of the paper in the same form. Authors may reproduce or authorize others to reproduce the above Paper for the Author's personal use or for internal company use, provided that the source and The Publisher copyright notice are mentioned, that the copies are not used in any way that implies The Publisher endorsement of a product or service of an employer, and that the copies are not offered for sale as such. Authors are permitted to grant third party requests for reprinting, republishing or other types of reuse. The Authors may make limited distribution of all or portions of the above Paper prior to publication if they inform The Publisher of the nature and extent of such limited distribution prior there to. Authors retain all proprietary rights in any process, procedure, or article of manufacture described in The Paper. This agreement becomes null and void if and only if the above paper is not accepted and published by The Publisher, or is with drawn by the author(s) before acceptance by the Publisher.