SURFING ON THE TIDE? LEAST-DEVELOPED COUNTRIES TRADE DURING THE GREAT GLOBAL TRANSITION
Hubert ESCAITH

World Trade Organization, Switzerland

Bekele TAMENU

World Trade Organization, Switzerland
Abstract
The rebalancing of global demand towards large emerging countries and the resulting long-lasting cycle of high international commodity prices had a profound impact on LDC trade. This process contributed to a wider geographical diversification of LDCs' exports but led also to a greater reliance on those highly priced commodities. LDCs remain particularly vulnerable to external shocks; the 2008-2009 global crisis and the bumpy transitional recovery that followed illustrate the fragility of the recent trends. A slowdown in the growth of large emerging countries may end the commodity "super-cycle", deepening LDCs' structural trade imbalances. In such a perspective, renewed efforts towards extensive product diversification are called for. Fostering diversification has been supported for many years by preferential market access to develop and --more recently-- to emerging countries. But preferences alone are not sufficient to improve the supply-side capabilities of most LDCs. The new business models related to global value chains offer new opportunities to LDCs for export diversification and trade facilitation is one of the key components of this diversification strategy.
References
[1] Audiguier, C. (2012). The Impact of the Global Financial Crisis on the Least Developed Countries, FERDI Working Paper.
[2] Bureau, J-C, Chakir, R., Gallezot, J. (2006). The utilization of EU and US Trade Preferences for Developing Countries in the Agri-Food Sector, Institute for International Integration Studies. Discussion Paper 193.
[3] Buysa, P., Deichmann, U., Wheele, D. (2010). Road Network Upgrading: Overland Trade Expansion in Sub-Saharan Africa, Journal of African Economies, 19 (3): 399-432.
[4] Diakantoni, A. and H. Escaith. (2009). Mapping the Tariff Waters, WTO Staff Working Paper ERSD-2009-13
[5] Disdier, A-C, Fontagné, L., Mimouni, M. (2013). Tariff Liberalization and Trade Integration of Emerging Countries, CESIFO Working Paper No. 4425.
[6] Djankov, S., C. Freund; C-S. Pham. (2010). Trading on Time, Review of Economics and Statistics, 92(1): 166-173.
[7] Hoekman, B., Ozden, C. (2005). Trade Preferences and Differential Treatment of Developing Countries: A Selective Survey, World Bank - Research Department.
[8] Honeck, D. (2012). LDC Export Diversification, Employment Generation and the "Green Economy": What roles for tourism linkages?, WTO Staff Working Paper ERSD-2012-24.
[9] Hummels, D., Jun Ishii, and Kei-Mu Yi. (2001). The Nature and Growth of Vertical Specialization in World Trade, Journal of International Economics, 54(1): 75-96.
[10] Jara, A., Escaith, H. (2012). Global Value Chains, International Trade Statistics and Policymaking in a Flattening World, World Economics, 13(4): 5-18.
[11] Keck, A., Lendle, A. (2012). New evidence on preference utilization, WTO Staff Working Paper ERSD-2012-12.
[12] Lenzen, M., Kanemoto, K. Moran, D., Geschke, A. (2012). Mapping the structure of the world economy, Environmental Science & Technology, 46(15): 8374–8381.
[13] Mbaye, A.A, Gueye, A. (2014). SPS standards and international competitiveness in Africa: the case of Senegal' in Connecting to Global markets: Challenges and opportunities presented by WTO chair-holders; WTO.
[14] Milberg, W., Winkler, D. (2013). Outsourcing Economics: Global Value Chains in Capitalist Development, Cambridge University Press.
[15] Mohapatra, S., Ratha, D., Silwal, A. (2010). Outlook for Remittance Flows 2011-12: Recovery After the Crisis, But Risks Lie Ahead, Migration and Development Brief 13, Migration and Remittances Unit, World Bank: Washington DC.
[16] Sutton, J. (2012). Competing in Capabilities: The Globalization Process, Clarendon Lectures in Economics, Oxford University Press.
[17] Varma, S. (2009). Facilitating Temporary Labour Mobility in African Least-Developed Countries: Addressing Mode 4 Supply-Side Constraints, Issue Paper No. 6, International Centre for Trade and Sustainable Development (ICTSD): Geneva.
[18] Zedillo, E., Messerlin, P. Nielson, J. (2005). Trade for Development, UN Millenium Project.
*** ITC. (2010). ITC Trade Map Factsheet: LDC Trade Recovery in 2009, 29 January, Geneva.
*** ITC. (2013). LDC Services Exports: Trends and Success Stories, Geneva.
*** OECD and WTO. (2012). Trade in Value-Added: Concepts, Methodologies and Challenges, Made in the World Initiative http://www.wto.org/miwi
*** UNCTAD. 2007. Review of Maritime Transport, 2007, UNCTAD/RMT/2007.
*** World Bank. (2010). Outlook for Remittance Flows 2010-2011, Migration and Development Brief, World Bank, Washington, DC.
*** WTO. (2011). World Trade Report: The WTO and preferential trade agreements, from co-existence to coherence, Geneva.
*** WTO. (2013). LDC Services Waiver: Background Note by the Secretariat, JOB/SERV/135
*** WTO. (2013b). Fourth Global Review of Aid for Trade: "Connecting to value chains"', 8-10 July, Geneva.
*** WTO. (2013c). World Trade Report: Factors shaping the future of world trade, Geneva.
*** WTO. (2013d). Market access for products and services of export interest to least developed countries' WT/COMTD/LDC/W/58, September.
*** WTO and IDE-JETRO. (2011). Trade patterns and global value chains in East Asia: From Trade in Goods to Trade in Tasks, Geneva and Tokyo.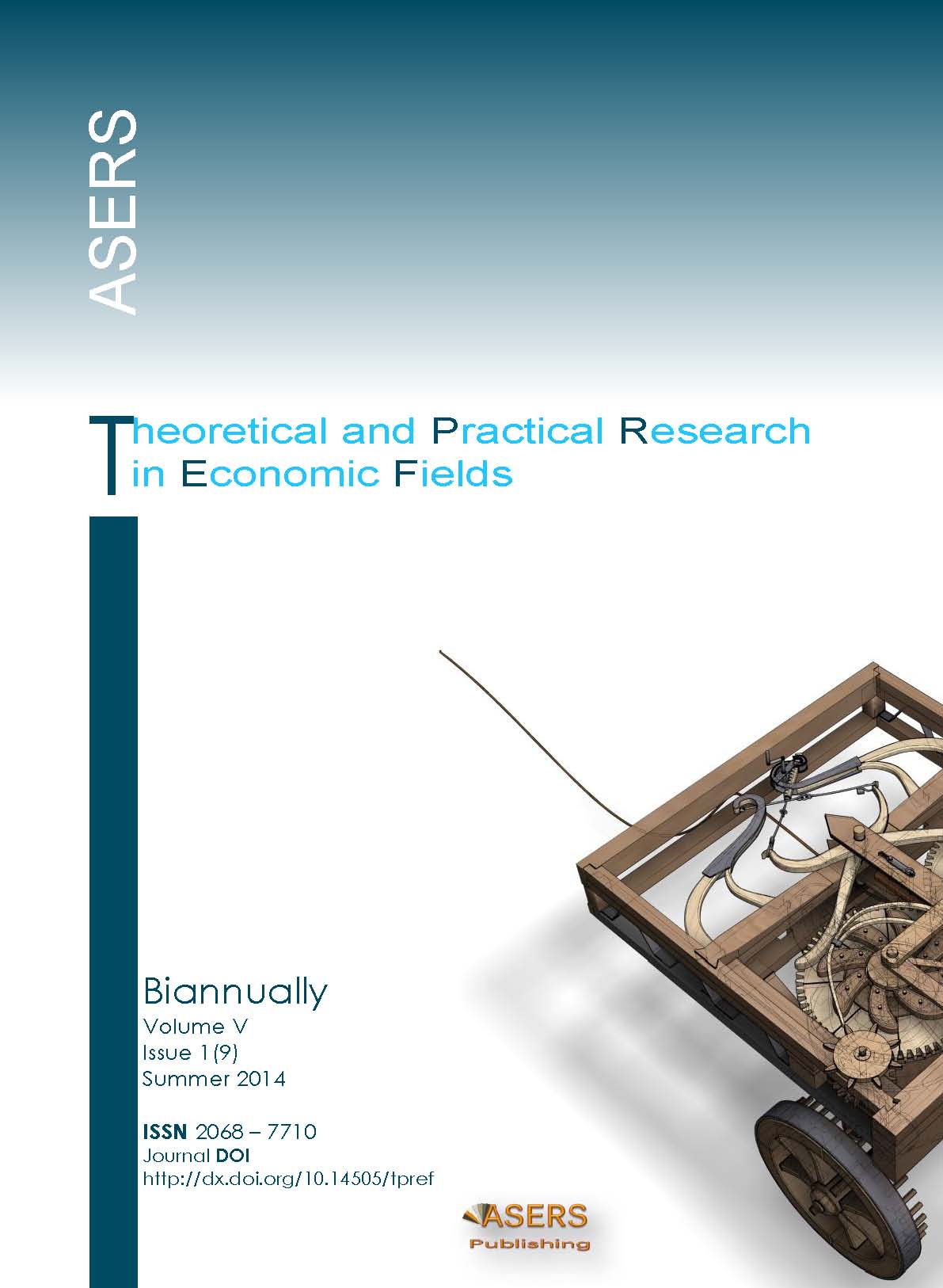 The Copyright Transfer Form to ASERS Publishing (The Publisher)
This form refers to the manuscript, which an author(s) was accepted for publication and was signed by all the authors.
The undersigned Author(s) of the above-mentioned Paper here transfer any and all copyright-rights in and to The Paper to The Publisher. The Author(s) warrants that The Paper is based on their original work and that the undersigned has the power and authority to make and execute this assignment. It is the author's responsibility to obtain written permission to quote material that has been previously published in any form. The Publisher recognizes the retained rights noted below and grants to the above authors and employers for whom the work performed royalty-free permission to reuse their materials below. Authors may reuse all or portions of the above Paper in other works, excepting the publication of the paper in the same form. Authors may reproduce or authorize others to reproduce the above Paper for the Author's personal use or for internal company use, provided that the source and The Publisher copyright notice are mentioned, that the copies are not used in any way that implies The Publisher endorsement of a product or service of an employer, and that the copies are not offered for sale as such. Authors are permitted to grant third party requests for reprinting, republishing or other types of reuse. The Authors may make limited distribution of all or portions of the above Paper prior to publication if they inform The Publisher of the nature and extent of such limited distribution prior there to. Authors retain all proprietary rights in any process, procedure, or article of manufacture described in The Paper. This agreement becomes null and void if and only if the above paper is not accepted and published by The Publisher, or is with drawn by the author(s) before acceptance by the Publisher.