Administrative Procedure: European Standards and Conclusions for Ukraine
Iryna V. BOIKO

Department of Administrative Law, Yaroslav Mudryi National Law University, Kharkiv, Ukraine

Oleksandr T. ZYMA

Department of Administrative Law, Yaroslav Mudryi National Law University, Kharkiv, Ukraine

Yuliia V. MEKH

Department of Administrative Law and Administrative Activities, Yaroslav Mudryi National Law University, Kharkiv, Ukraine

Olha M. SOLOVIOVA

Department of Administrative Law, Yaroslav Mudryi National Law University, Kharkiv, Ukraine

Valentyna A. SOMINA

Department of Administrative Law, Yaroslav Mudryi National Law University, Kharkiv, Ukraine
Abstract
The relevance of the scientific article is due to the necessity to search for models of legal regulation of public relations that arise in public administration with a private person, which would meet the European standards of administrative procedure. The purpose of the article is to study the European experience of administrative and procedural ordering of public relations in order to form ideas of implementation in the legal field of Ukraine. The leading methods of research were the analysis of European practices of administrative procedure, modelling of legal structures acceptable to Ukraine. As a result of the research, proposals for legislative initiatives on the procedure for adopting administrative acts were formed. Research can be helpful to law-abiding lawyers and law enforcement officials, law school educators, and public administration officials and officials seeking to apply good administration standards and practices to individual management matters.
References
[1] Barnes, J. 2017. Three generations of administrative procedures. In: S. Rose-Ackerman, P.L. Lindseth, B. Emerson (Eds.), Comparative Administrative Law, 302-318. Edward Elgar Publishing.
[2] Boyko, I.V. 2017. Administrative procedure: concepts, features and types. State Building and Local Government 33: 113-125.
[3] Boyko, I.V., Winter, O.T., and Solovyov, O.M. 2018. Administrative procedure as an institution of administrative law. Administrative Law Issues 2: 140-151.
[4] Broker, L. 2018. Inquisition principle in administrative law (administrative procedure and administrative process). In: I.M. Stolyarova (Ed.), Public Law Yearbook 2018: Principles of Administrative Procedures and Administrative Judiciary, 11-27. Infotropic Media.
[5] Cardona, F.P., and Freibert, A. 2007. The European administrative space and sigma assessments of EU candidate countries. Croatian Public Administration 7(1): 51-59.
[6] Charter of Fundamental Rights of the European Union. 2012. Official Journal of the European Union. https://eur-lex.europa.eu/legal-content/EN/TXT/?uri=CELEX:12012P/TXT.
[7] Cico, J. 2014. Basics of legislation on administrative procedures in Germany. In: I.M. Stolyarova (Ed.), Public Law Yearbook 2014: Administrative Process, 358-377. Infotropic Media.
[8] Dörig, H. 2015. The emergence of legislation on administrative procedures, its codification, as well as examples from recent judicial practice in Germany. In: I.M. Stolyarova (Ed.), Public Law Yearbook 2015: Administrative Process, 68-72. Infotropic Media.
[9] European Governance. A White Paper. 2001. Commission of European Communities. http://aei.pitt.edu/1188/1/european_governance_wp_COM_2001_428.pdf.
[10] European principles for public administration. 1998. SIGMA Papers No. 27.OECD Publishing. https://www.academia.edu/37924312/European_Principles_for_Public_Administration_OECD?auto=download.
[11] Galligan, D.J. 2004. Due process and fair procedures. A study of administrative procedures. Oxford University Press Inc.
[12] Kochanowski, J. 2008. For good administration. Right to Good Administration 60: 11-17.
[13] Koprić, I., Kovač, P., Đulabić, V., and Džinić, J. 2016. Legal remedies in administrative procedures in western balkans. ReSPA. http://www.respaweb.eu/11/library#respa-publications-2016-7.
[14] Kovač, P. 2018. Innovative administrative procedure law: mission impossible? The NISPAcee Journal of Public Administration and Policy 10(2): 93-117.
[15] Luchterhandt, O. 2006a. Administrative justice – a key institution of a democratic state of law. Administrative Procedures and Administrative Judiciary in Ukraine 1: 100-110.
[16] Luchterhandt, O. 2006b. Modern administrative procedural law and bill of Administrative Procedural Code of Ukraine. Administrative Procedures and Administrative Judiciary in Ukraine 1: 25-33.
[17] Melnyk, R.S. 2011. Institute of administrative procedure: some suggestions for its content. In: Administrative Law of Ukraine: State and Prospects for Development, 119-128. Institute of Power and Law named after V.M. Koretsky NAS of Ukraine.
[18] Podhalicz, M. 2019. III generation administration and social participation – evolution of the notion of participation in administrative procedure. Scientific Journal of Students 22(40): 109-125.
[19] Ponce, J. 2005. Good administration and administrative procedures. Indiana Journal of Global Legal Studies 12(2): 551-588.
[20] Shkolik, A. 2012. Challenges for the establishment of administrative procedure legislation at the present stage. Bulletin of the University of Lviv, Legal Series 55: 134-138.
[21] Tymoschuk, V.P. 2010. Administrative acts: procedure for adoption and termination. Konus-Yu.
[22] Vuchetich, D.R. 2018. On global trends in codification of administrative procedure. Proceedings of the Faculty of Law in Niš 78(56): 197-215.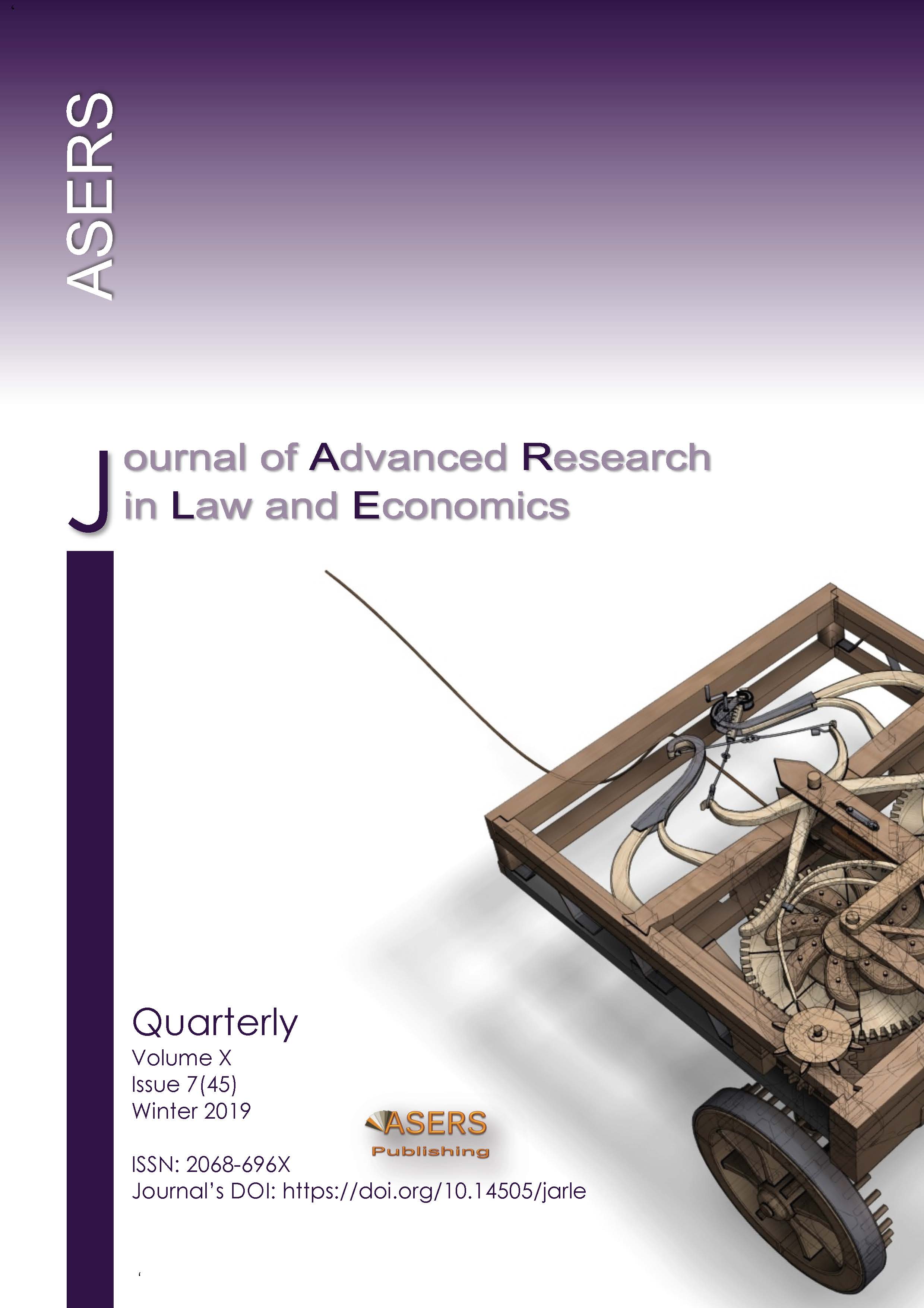 The Copyright Transfer Form to ASERS Publishing (The Publisher)
This form refers to the manuscript, which an author(s) was accepted for publication and was signed by all the authors.
The undersigned Author(s) of the above-mentioned Paper here transfer any and all copyright-rights in and to The Paper to The Publisher. The Author(s) warrants that The Paper is based on their original work and that the undersigned has the power and authority to make and execute this assignment. It is the author's responsibility to obtain written permission to quote material that has been previously published in any form. The Publisher recognizes the retained rights noted below and grants to the above authors and employers for whom the work performed royalty-free permission to reuse their materials below. Authors may reuse all or portions of the above Paper in other works, excepting the publication of the paper in the same form. Authors may reproduce or authorize others to reproduce the above Paper for the Author's personal use or for internal company use, provided that the source and The Publisher copyright notice are mentioned, that the copies are not used in any way that implies The Publisher endorsement of a product or service of an employer, and that the copies are not offered for sale as such. Authors are permitted to grant third party requests for reprinting, republishing or other types of reuse. The Authors may make limited distribution of all or portions of the above Paper prior to publication if they inform The Publisher of the nature and extent of such limited distribution prior there to. Authors retain all proprietary rights in any process, procedure, or article of manufacture described in The Paper. This agreement becomes null and void if and only if the above paper is not accepted and published by The Publisher, or is with drawn by the author(s) before acceptance by the Publisher.