Strategic Support for Accounting for the Investment Process in the Innovation Industry
Olim T. ASTANAKULOV

Department of Audit and Economic Analysis, Tashkent Institute of Finance, Uzbekistan

Khurshid S. ASATULLAEV

Department of Economics, Tashkent Institute of Finance, Uzbekistan

Nodira I. SAIDSAIDAXMEDOVA

Jizzakh Polytechnic Institute, Tashkent, Uzbekistan

Otamurod T. ERGASHEV

Tashkent Institute of Finance, Uzbekistan
Abstract
In modern conditions, the role and importance of investment policy pursued by machine-building enterprises are increasingly increasing. The purpose of the article is to study organizational-economic mechanism of formation of the investment policy companies. The author used General scientific and private methods of analysis; works of domestic and foreign scientists, monographs and lectures, periodicals, legislative and regulatory acts, statistical information. The scientific views on the management of the investment policy of the classics of economic thought are summarized, the investment theme is analyzed. It is concluded that the investment policy of machine-building enterprises is seen as a complex, interrelated and interdependent set of activities aimed at their further development. The algorithm of strategy of investment development of the machine-building enterprise of the region is offered. Given the specifics of the functioning of the engineering industry, the use of the algorithm will make it possible to identify factors that can affect the implementation of the investment project.
References
[1] Bekmansurov, R.H., Kovalenko, K.E., Utkina, K.M., Novikova, Y.A., Zatsarinnaya, Е.I., Rozentsvaig, A.I. 2019. State support for persons with disabilities in the field of entrepreneurship. Journal of Entrepreneurship Education, 22(2): 1528-2651.
[2] Downes, J, and Stone, D. 1978. Investors, corporate social performance and information disclosure: An empirical study. The Accounting Review, 53(1): 94–111. Available at: www.jstor.org/stable/245728.
[3] Egorova, A.O., and Egorova, A.O. 2017. Investment climate of the Russian Federation. Economics 4(25): 40-42.
[4] Iskovych-Lototsky, R.D., Bulyha, Y.V., Kobylyanska, I.M., Kotyra, A., Kalizhanova, A., Amirgaliyev, Y. 2019. Vibroabrasive machining of large-size products on hydropulse drive machines. Przeglad Elektrotechniczny 95(4): 36-40.
[5] Kapitonov, I.A., Voloshin, V.I., Korolev, V.G. 2019. Energy security of territories as a factor of sustainable development under the conditions of economic changes. International Journal of Energy Economics and Policy 9(6): 210-221.
[6] Kochetov, Y., Sokolova, I., Amirgaliyeva, S., Amirgaliyeva, Z. 2016. Alternating heuristic and exact method for the leader-follower facility location and design problem. Proceedings of the 12th International Conference on Electronics Computer and Computation, ICECCO 2015, 27-30 pp. September 2015, Almaty, Kazakhstan.
[7] Kosmin, A.D., Kuznetsova, O.P., and Kosmina, E.A. 2017. Problems of achieving a harmonious combination of teleological mechanisms of the market and the state. ITportal, 3(14). Available at: http://itportal.ru/science/ economy/problemy-dostizheniya-garmonichesko/.
[8] Lapidus, A., Abramov, I. 2018. Studying the methods for determining and maintaining sustainability of a construction firm. MATEC Web of Conferences 251: 05017.
[9] Lapidus, A., Khubaev, A., Bidov, T. 2018. Organizational and technological solutions justifying use of non-destructive methods of control when building monolithic constructions of civil buildings and structures. MATEC Web of Conferences 251: 05014.
[10] Maslennikov, V., Kalinina, I., Lyandau, Y., Mrochkovsky, N. 2018. Modern methods of improving activities in the construction industry. Proceedings of the 32nd International Business Information Management Association Conference, IBIMA 2018 – Vision 2020: Sustainable Economic Development and Application of Innovation Management from Regional expansion to Global Growth, 3884-3893 pp. 15-16 November. Seville, Spain.
[11] Miller, M.V. 1977. Debt and taxes. Journal of Finance, 32(2): 261-275
[12] Mishchenko, S., Naumenkova, S., Mishchenko, V., Ivanov, V., Lysenko, R. 2019. Growing discoordination between monetary and fiscal policies in Ukraine. Banks and Bank Systems, 14(2): 40-49.
[13] Popkova, E.G., Egorova, E.N., Popova, E., Pozdnyakova, U.A. 2019. The model of state management of economy on the basis of the internet of things. Studies in Computational Intelligence, 826: 1137-1144.
[14] Rudenko, I.V. 2015. Development of the role of the state in the economy. Bulletin of the Yugra State University, 54(39): 326-327.
[15] Semenyutina, A.V., Khuzhakhmetova, A.S., Lazarev, S.E., Semenyutina, V.A., and Sapronova, D.V. 2019. Scientific basis for the formation of multifunctional cluster dendrological expositions of collections of the Federal Research Center for Agroecology of the Russian Academy of Sciences. World Ecology Journal, 9(2): 39-63. DOI: https://doi.org/10.25726/worldjournals.pro/WEJ.2019.2.3.
[16] Shashkova, A.V. 2019. Corporate misconduct in the view of prospective criminalization. Espacios, 40(25): 8-27.
[17] Shashkova, A.V., Polovchenko, K.A., Volevodz, A.G. 2019. Questioning state corporations as special forms of legal entities. International Journal of Economics and Business Administration, VII(1): 186-203.
[18] Tambov, V.L. 2013. Methodological analysis and development of economic science. Social Sciences and Modernity, 4: 51.
[19] Tronin, S., Rodermel, T.A., Uspaeva, M.G., Shashkova, A.V., and Calesci, M. 2019. Formation of innovative strategies of regional economic development. Space and Culture, India, 7(2): 65-75. DOI: https://doi.org/10.20896/saci.v7i2.457.
[20] Urquhart, R. 1996. The trade wind, the statesman and the system of commerce: Sir James Steuart vision of political economy. European Journal of the History of Economic Thought, 3: 379.
[21] Villanova, F. 2014. The role of the state in the institutional support of the national economy. Economic Sciences, 1(10): 15.
[22] Volovik, A.Y., Krylik, L.V., Kobylyanska, I.M., Kotyra, A., Amirgaliyeva, S. 2018. Methods of stochastic diagnostic type observers. Proceedings of SPIE – The International Society for Optical Engineering, 10808: 108082.
[23] Zhigalo, E.A. 2014. Comparative analysis of theoretical approaches to the role of the state in the economy. Terra Economicus, 12(2): 28.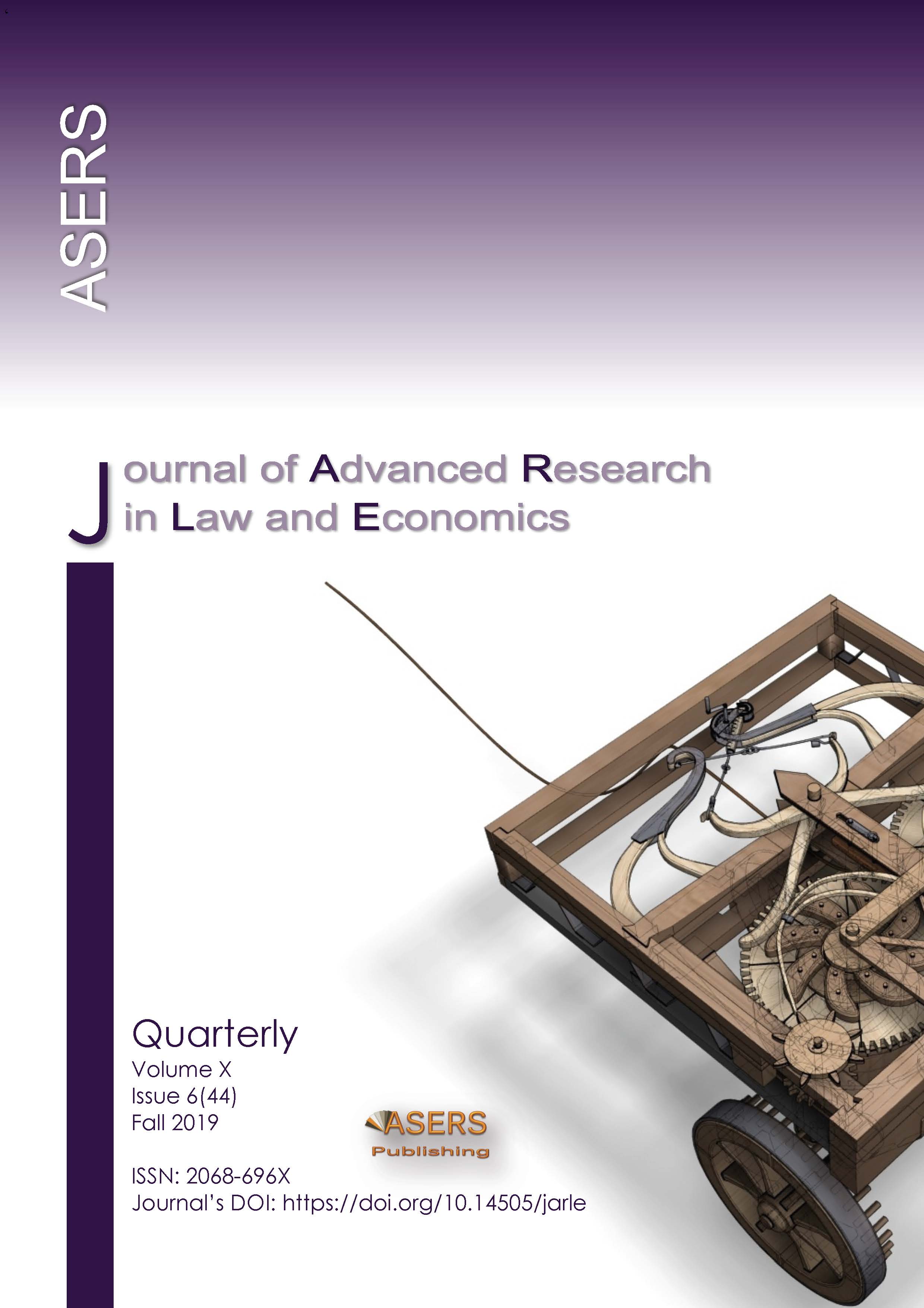 How to Cite
ASTANAKULOV, Olim T. et al. Strategic Support for Accounting for the Investment Process in the Innovation Industry.
Journal of Advanced Research in Law and Economics
, [S.l.], v. 10, n. 6, p. 1877-1883, sep. 2019. ISSN 2068-696X. Available at: <
https://journals.aserspublishing.eu/jarle/article/view/4977
>. Date accessed: 03 june 2023.
The Copyright Transfer Form to ASERS Publishing (The Publisher)
This form refers to the manuscript, which an author(s) was accepted for publication and was signed by all the authors.
The undersigned Author(s) of the above-mentioned Paper here transfer any and all copyright-rights in and to The Paper to The Publisher. The Author(s) warrants that The Paper is based on their original work and that the undersigned has the power and authority to make and execute this assignment. It is the author's responsibility to obtain written permission to quote material that has been previously published in any form. The Publisher recognizes the retained rights noted below and grants to the above authors and employers for whom the work performed royalty-free permission to reuse their materials below. Authors may reuse all or portions of the above Paper in other works, excepting the publication of the paper in the same form. Authors may reproduce or authorize others to reproduce the above Paper for the Author's personal use or for internal company use, provided that the source and The Publisher copyright notice are mentioned, that the copies are not used in any way that implies The Publisher endorsement of a product or service of an employer, and that the copies are not offered for sale as such. Authors are permitted to grant third party requests for reprinting, republishing or other types of reuse. The Authors may make limited distribution of all or portions of the above Paper prior to publication if they inform The Publisher of the nature and extent of such limited distribution prior there to. Authors retain all proprietary rights in any process, procedure, or article of manufacture described in The Paper. This agreement becomes null and void if and only if the above paper is not accepted and published by The Publisher, or is with drawn by the author(s) before acceptance by the Publisher.