Corporate Social Responsibility in Nigeria: Realities, Modalities and Possibilities
Adebukola E. OYEWUNMI

Department of Business Management, College of Business and Social Sciences, Covenant University, Nigeria

Olabode A. OYEWUNMI

Department of Business Management, College of Business and Social Sciences, Covenant University, Nigeria
Abstract
This conceptual paper provides a non-revisionist but contextual perspective on the largely controversial issue of corporate social responsibility. It expounds the dimensions of CSR by leveraging on specific global benchmarks whilst highlighting gaps applicable to Nigeria's business environment. In furtherance of this objective, the essence of the global oil economy is noted, conceptualizations are proffered and contextual issues are discussed. The paper argues that a flexible and innovative model is plausible as a platform to elevate the essence of CSR on multiple levels. It emphasizes the importance of harmonizing the political, business, environmental and legal aspects of CSR to promote corporate sustainability, broad based economic development and community wellbeing.
References
[1] Alabi, O.F., and Ntukekpo, S.S. 2012. Oil companies and corporate social responsibility in Nigeria: An empirical assessment of Chevron's community development projects in the Niger Delta. British Journal of Arts and Social Sciences, 4(2): 361-374.
[2] Amaeshi, K., Adi, B., Ogbechie, C., and Amao, O. 2006. Corporate social responsibility in Nigeria: Western mimicry or indigenous influences? NO 39-2006, ICCSR Research Paper Series- ISSN 1479-5124, The University of Nottingham, 4, 25.
[3] Boyle, E.P. 1993. Note, it's not easy being green: The psychology of racism, environmental discrimination, and the argument for modernizing equal protection analysis, 46 VAND, L. REV, 937, 968.
[4] Death, C., and Gabay, C. 2015. Doing biopolitics differently? Radical potential in the post- 2015 MDG and SDG debates. Globalizations, 12(4), 597-612, htpp://dx.doi:.org/10.1080/14747731.2015.1033172.
[5] Dickerson, C.M. 2005-2006. Harmonizing business laws in Africa: OHADA calls the tune. Columbia Journal of Transnational Law, 44: 18-73.
[6] Dimitrov, R.S. 2010. Inside Copenhagen: The state of climate governance. Global Environmental Politics,10(2), 18-24, doi:10.1162/glep.2010.10.2.18.
[7] Eckersley, R. 2012. Moving forward in the climate negotiations: Multilateralism or Minilateralism? Global Environmental Politics,12(12), 24-42, doi:10.1162/glep.a 00107.
[8] Friedman, M. 1970. The social responsibility of business is to increase its profits. New York Times.
[9] Gustafson, J.G. 2002. Corporate social responsibility: Are you giving back or just giving away? Business: The Ultimate Resource, 291-292, Bloomsbury Publishing, London.
[10] Hart, O.D. 1995. Firms, contracts and financial structure. Economic Journal, 105, 678-89.
[11] Helg, A. 2007. Corporate social responsibility from a Nigerian perspective. Handelshogskolan VID, Goteborgus Universitet. Masters Thesis, Spring Term 2007, 1-101.
[12] Jones, T.M. 1995. Instrumental stakeholder theory: A synthesis of ethics and economics. Academy of Management Review, 20, 404-37.
[13] Kasa, S., Gullberg, A.T., and Heggelund, G. 2008. The group of 77 in international climate negotiations: recent developments and future directions. International Environmental Agreements: Politics, Law and Economics, 8(2), 113-127.
[14] Keasey, K., Thompson, S., and Wright, M. 1997. The corporate governance problem-competing diagnoses and solutions in Chapter 1 of Corporate Governance: Economic, Management and Financial Issues, Oxford University Press.
[15] Oyewunmi, O.A., and Oyewunmi, A.E. 2016. Managing gas flaring and allied issues in the oil and gas industry: Reflections on Nigeria. Mediterranean Journal of Social Sciences, 7(4), 647.
[16] Qiang, W., and Rongrong, L. 2014. Cheaper oil: A turning point in Climate Paris talk? Renewable and Sustainable Energy Reviews, 52, 1186-1192. https://doi.org/10.1016/i.rser.2015.07.171.
[17] Rogoff, K. 2006. Oil and the global economy, Manuscript, Harvard University at https://www.nes.ru/dataupload/files/events/zvi-griliches. An earlier version of the essay was presented at the International Energy Forum Secretariat meeting in Riyadh, Saturday, November 19, 2005.
[18] Uwuigbe, U., and Egbide, B.C. 2012. Corporate social responsibility disclosures in Nigeria: A study of listed financial and non-financial firms. Journal of Management and Sustainability, 2(1), 160-169.
[19] Wohlgemuth, L., Carlsson, J., and Kifle, H. 1998. Institution building and leadership in Africa. Nordiska Afrikainstitutet Uppsala, 7-9, 27-28, 35.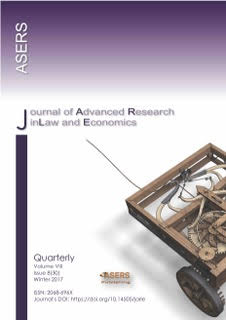 The Copyright Transfer Form to ASERS Publishing (The Publisher)
This form refers to the manuscript, which an author(s) was accepted for publication and was signed by all the authors.
The undersigned Author(s) of the above-mentioned Paper here transfer any and all copyright-rights in and to The Paper to The Publisher. The Author(s) warrants that The Paper is based on their original work and that the undersigned has the power and authority to make and execute this assignment. It is the author's responsibility to obtain written permission to quote material that has been previously published in any form. The Publisher recognizes the retained rights noted below and grants to the above authors and employers for whom the work performed royalty-free permission to reuse their materials below. Authors may reuse all or portions of the above Paper in other works, excepting the publication of the paper in the same form. Authors may reproduce or authorize others to reproduce the above Paper for the Author's personal use or for internal company use, provided that the source and The Publisher copyright notice are mentioned, that the copies are not used in any way that implies The Publisher endorsement of a product or service of an employer, and that the copies are not offered for sale as such. Authors are permitted to grant third party requests for reprinting, republishing or other types of reuse. The Authors may make limited distribution of all or portions of the above Paper prior to publication if they inform The Publisher of the nature and extent of such limited distribution prior there to. Authors retain all proprietary rights in any process, procedure, or article of manufacture described in The Paper. This agreement becomes null and void if and only if the above paper is not accepted and published by The Publisher, or is with drawn by the author(s) before acceptance by the Publisher.